For a very long time now, whenever guests have come to our house, two games have inevitably found their way onto the TV screen: Quiplash and Gang Beasts. At this year's EGX Razzed, I believe I found another game that will join their ranks: Big Crown: Showdown.
• Developer: Hyper Luminal Games
• Publisher: Sold Out
• Reviewed on: PC (with Xbox 360 pads)
• Also Available On: Xbox One, PlayStation 4, Switch
• Release Date: TBA
Set across three medieval worlds, each of five different levels, Big Crown: Showdown, sees players become knights and friends become enemies. In a mixture of platforming and party brawler combat, players traverse the levels trying to push other knights from the platforms or into the multitude of traps.
In the demo that I got to play during EGX Rezzed, the game lasted until one player got 20 points, which can be earned by either simply staying alive or by pushing other players off the map. The game really has only three controls which makes it immediately approachable: you can jump, punch and defend with your shield. Frankly, in the frenzy of the fight, that is all my scattered brain was able to remember, anyway. Although the controls are as simple as they can get, the combat actually has many layers, some of which were discovered to our peril. For example, attacks can be charged to be more powerful and shields only protect in the direction they're facing. So you can hold your shield all you like and still get kicked in the back and off the map.
The maps are the other enemy. The traps are everywhere, whether the swinging axes in the Kasseltoon (sky castle map) or returning tides in Zoggysands (desert map), and pushing your opponent right into the trap works too!
It is also impossible to keep the smile off your face (or, in case of yours truly, avoid swearing like a sailor) while playing the game. Apart from the unexpected attacks from your would-be friends and other silly ways to die, the game is also soaked in humour. The nights are adorable, especially when they take cover behind their shields. The 'POP!' with which they fly across the map when pushed instantly makes you laugh. The game-play is really dynamic and fast, and the created chaos of little knights jumping around the levels, trying to stay alive, is a big part of the overall atmosphere.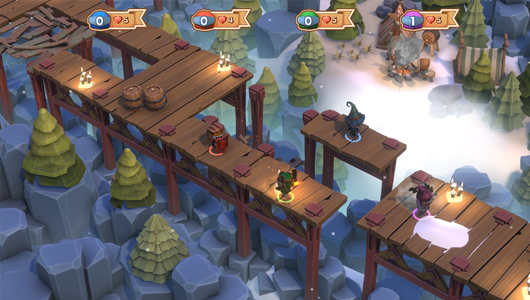 While I can see Big Crown: Showdown being really popular at our parties, this is also a game for all ages. Again, due to the simple controls, it can be played by kids with their families too.
While it is easy to pick up, the levels are not easy to master. In our group, those who had more experience with platforming also managed to stay alive longer and get more points throughout the game. However, and take this from the person who lost this game twice to everyone else, not being good at the game is equally fun. Like any good party game, the moment-to-moment parts of game-play stand out more than who actually came first or second in that round. I remember so very clearly when we all got so mistrusting of each other, that we would constantly walk with our shields up, to avoid ambush; or when BRB's own Coleman decided to have a pacifist run and would frantically jump away from anyone who would start getting close to him to attack; or when I finally made a jump I failed twice before, only to be pushed in the back by someone aiming at another player and missing.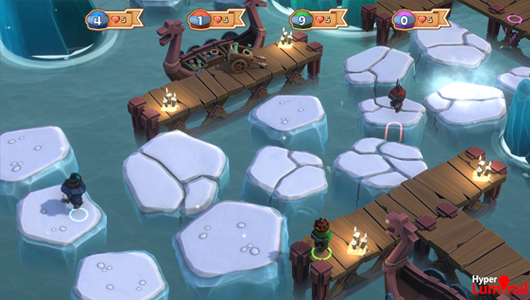 While waiting in line to have a go at Big Crown: Showdown, I noticed that one knight had an octopus on his head (part of the customisable knights' hats that can be purchased in-game with coins collected throughout the levels). I have asked developers about the octopus and he replied with an ominous, 'don't worry about it.' WHAT COULD IT MEAN?! However, he was right. Hats are cute but it's your friends you have to watch out for. I wholeheartedly recommend this fun game of betrayal and back-kicking in vibrant, beautiful and very deadly worlds.
Big Crown: Showdown has local and online multiplayer co-op.
Official Game Site
Tags: BRB @ EGX Rezzed, Co-Op, EGX Rezzed, EGX Rezzed 2018, Gang Beasts, Hyper Luminal Games, Knights, Local co-op, Medieval, Multiplayer, Octopuss, Part Brawler, platforming, Quiplash, Sold Out