Cards Against Humanity has opened the door wide for adult only party games and S**t Happens walked through it, with its head held high. This is a card game that, in many ways, is not dissimilar to Timeline. While initially, that might sound like a stretch, bare with me.
• Designer: Andy Breckman
• Publisher: Goliath Games
• Number of Players: 2-8
• Playing Time: 20-60 mins

In Timeline, players arrange cards with historical or pop culture events in chronological order, creating – you guessed it – a timeline. The objective of the game is to get rid of all your cards by correctly placing them in their right order. In Sh**t Happens players are also making a timeline of sorts, called the Lane of Pain, arranging the cards in the order from poopy events (excuse our PG rephrasing) to the poopiest. The player who is first to get 10 cards in their proper order wins the game. The events in the cards range from quite relatable ones, such as 'Ingrowing Toenail' to purposefully humorously exaggerated ones such as 'Your F***ing Ex Wins F***ing Lottery'. All cards are accompanied by a mystery rating, determined by a panel of counselors, therapists, social workers and other similar professionals, and with a little drawing, that are just as humorous, if not more, than the event itself.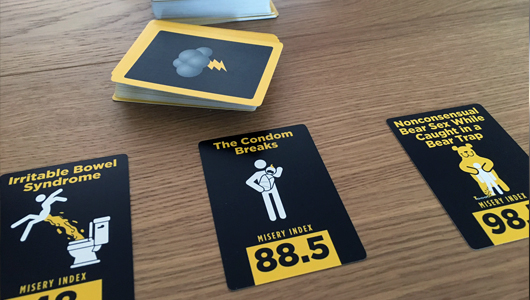 There are a couple of things players have to immediately let go to fully enjoy Sh**t Happens. First of all, qualified professionals or not, everyone experiences events differently. For example, someone might find that arguments with co-workers are not such a big deal, while others will find it extremely stressful. Second of all, even within the established timeline of poopy events, the game is not always consistent. Bodily harm overall ranks up quite high on the misery scale, but surely losing your pinky would be worse than accidentally posting a naked picture on Facebook? This is just logical, professional opinion not needed.
However, players are not poking in the dark when trying to guesstimate the misery level of the cards. Some of them, make sense completely. For example, accidentally watching porn of your parents is not as bad as watching it with them. Also, if one player guesses the position of the card wrong, the next player will have more information about which ballpark of numbers that particular event's scale falls into. The more players that fail to guess the correct position of the card, the more information the next person has.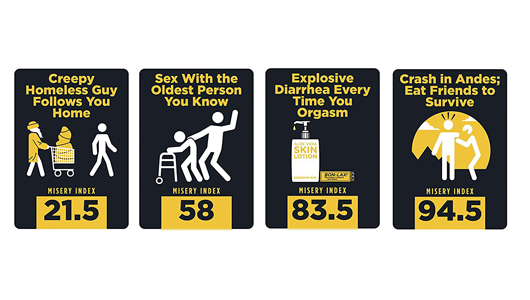 At the end of the game, winning hardly matters. It has pleasantly surprised me how many stories and conversations the events described on the cards have started around the table. Ranging from 'I also ran in the open car door when I was cycling, that was bad!' to some stories that were, indeed, too much information. Somewhere, while playing, the game turned from trying to guess numbers to bonding, reminiscing, laughing at the illustrations and just having fun. Unlike, Cards Against Humanity, S**t Happens is less likely to be offensive and does not try to be as controversial. It is simply a collection of really, really bad events imaginable and unimaginable. Yes, at some point this game will outstay its welcome. Either, players will begin to learn the values on the cards, although with a deck of 200 that will take some time, or the concept will lose its novelty. However, even so, the game has enough longevity to justify the initial purchase.
It goes without saying that S**t Happens is designed for the audiences of 18 years and above. While there is nothing in there that will necessarily surprise a late teen, parents should look through the cards and, maybe remove some of the dicier cards from the set before letting their teens play it. As for the adult audiences, this game will find its place in any group. It has a sense of humour that will resonate with many, while rules and gameplay are approachable for gamers and non-gamers alike.
Easy to learn and play
Lots of sense of humour
A great catalyst for conversations
The misery tracker concept raises some questions, since everyone experiences events differently
The novelty of the game will run out after several playthroughs
S**t Happens may not be original in terms of its theme or even game mechanics, but it will, despite the subject, pleasantly surprise you. It understands that in party games, players want to have fun, socialize, share stories and laugh, not focus on minute rule details. This is not the game that will require your undivided attention and focus, rather it is a catalyst and a supplement to people getting together and having a good time.
Review copy provided by Playtime PR
Official Website
Tags: Andy Breckman, Cards Against Humanity, Goliath Games, S**t Happens, Timeline