Ex-Machina, a directorial debut by Alex Garland, has been one of the strongest films of 2014. It raised some complicated questions, had beautiful execution and a clear vision that distinguished it immediately among many others sci-fi properties. It would be fair to say, that the expectations for the next Alex Garland film were high.
When Annihilation was revealed as his next project, this announcement was followed by the trail of discouraging news. Paramount thought the movie was 'too brainy', limited its cinematic release only to stateside, giving the worldwide showing to Netflix. Alex Garland has been openly and understandably upset by the studio's decision. Following the films the likes of The Cloverfield Paradox and Bright, that were disappointing as the latest of Netflix releases, it made some wonder: is Annihilation bad or, at best, just average?
• Director: Alex Garland
• Exhibition: 2D
• Rating: R
• Run Time: 115 minutes

So let me set the record straight: Annihilation is brilliant, Alex Garland and us, the viewers, were robbed of seeing this film as it was meant to be viewed. While there is definitely something appealing to getting in your sweats and rejoicing in the comfort of your own sofa, no home screen can adequately capture the beauty of the wide shots and the complexity of rainbow shimmer of the world of Annihilation.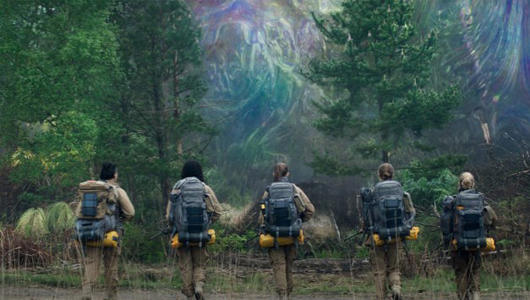 Loosely adapted from the novel by Jeff VanderMeer, by Alex Garland, who also returned to the director's chair for the second time, the film follows the cellular biology professor, Lena (Natalie Portman). We meet Lena mourning the disappearance of her husband Kane (Oscar Isaac), an elite serviceman. The film is set in motion, when Kane suddenly returns, acting very peculiarly and his health rapidly deteriorating. Lena discovers that her husband was sent on a mission into a mysterious shimmer that has developed as the result of the asteroid collision, and that no one, except for Kane, has ever made their way back. Lena decides to join the next mission into the shimmer headed by phycologist Dr. Ventress (Jennifer Jason Leigh) with paramedic Anya Thorensen (Gina Rodriguez), anthropologist Cass Sheppard (Tuva Novotny) and physicist Josie Radeck (Tessa Thompson). Every member of the team is of the understanding that the mission will almost certainly be suicidal, yet they have their own reasons for going there. The film also breaks away from the unfortunate trope of clever people making stupid decisions, as characters react intelligently to the outright fantastical world as well as use their own specific skills to explain what is happening around them.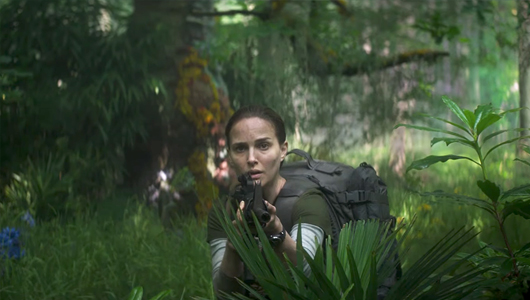 Addressing the obvious, Annihilation has a central, diverse, female cast and in the current cinematic climate that is a more than a welcome addition. Except for one throwaway comment at the beginning of the movie that previous missions into the shimmer were all male, the composition of this expedition is never questioned or treated as anything but on par with a normal. Annihilation also passes the Bechdel test with flying colours. Furthermore, every member of the cast gets their own time to shine. Tessa Thompson delivers some of her most heart wrenching of performances. Gina Rodriguez could not have been further away from one of her most well-known role in the TV show Jane the Virgin, showing an incredible range and a powerful performance. Jennifer Jason Leigh is seemingly incapable of bad acting, Tuva Novonty is equally rememberable and Natalie Portman easily carries the central role.
Annihilation, is not a horror film, nor is its focus to scare, but it did have one of the most terrifying and gut-punching scenes, quite possibly, to date. It worked in a complete tandem with the science and the logic of the world, building upon what has been previously established and delivering a staggering conclusion to it in a way that will stay with you long after you finished watching it.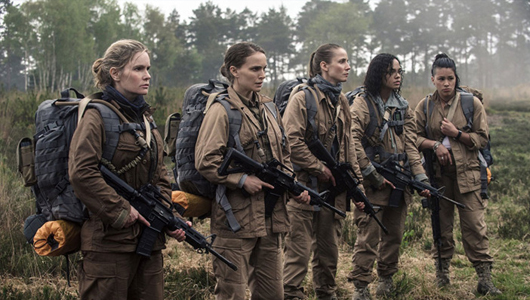 The world is mysterious, and so there is an ambiguity in how it presented and discussed. Especially, towards the latter parts of the movie, it could be beneficial to look at the scenes in terms of their emotional delivery and how they relate to the development of the characters, rather than trying to examine them under the magnifying glass of logic. Annihilation is not a film that will chew up and explain its every plot point, but rather the viewers will have to spot visual queues and details that provide a fuller context to the world and what is happening in it. The film tackles the complicated issues of depression and self-destruction, the themes of which are both reflected in the shimmer world and in the character's themselves. The ending, therefore, might feel ambiguous or unsatisfactory to some, but, personally, it finished on the perfect note. It does not give easy answers or tells viewers how they meant to feel at that moment. To me, there is no question of what happened, but rather a wider speculation on what might follow as the screen turns black.
A nuanced exploration of complicated relatable themes in a sci-fi setting
Great performances by all
Has one of the most punching and terrifying scenes on screen
This film will not spoon feed you all of its secrets
This is not a film for everyone
Alex Garland did not make a safe choice with Annihilation. It will not appeal to some people, either through its body-horror elements or with its sci-fi notes. However, it also proved that Ex-Machina was not a happy accident and that the mind behind it is not afraid to dig further into compelling storytelling and complex themes, taking his second directorial work to the next level. Annihilation never gives easy answers and, at times, it is definitely not an easy watch, either. Yet it is also a full-package sci-fi movie, whose challenge of important and relatable topics never disappear inside the fantastical world.
The author has paid subscription to Netflix
Official Movie Site
Tags: Alex Garland, Ex Machina, Gina Rodriguez, Jane the Virgin, Jennifer Jason Leigh, Natalie Portman, Netflix, Oscar Isaac, Paramount, Tessa Thompson, Tuva Novotny