Comic Turns is a new storytelling game designed and illustrated by Karen Rubins and it is currently on Kickstarter. It is Karen's first foray into board game design, but the game is built around her experience and knowledge as a comic artist and educator.
• Developer: Karen Rubins
• Publisher: Karen Rubins
• Number of Players: 1-6
• Playing Time: 5-20 mins
The main objective of the game is to facilitate and encourage creativity and make stories through play. Therefore the rules are purposefully fluid, suggesting a couple of ways to play, but ultimately allowing players to do what works best for them, whether competitively or cooperatively. However, no matter how players decide to approach it, they will be playing cards on the table and use the images to create a narrative. Just as the gameplay itself, the images are purposefully simple. There is no text, so they can be understood in any language. There are also no specific characters or locations. The images are just used as a base; a starting point for the story that can be interpreted in any way.
In that way, Comic Turns is a sister of Rory's Story Cubes, a game that has the same objectives and equally adaptable gameplay but uses dices with simple icons instead of images. Rory's Story Cubes had a lot of success in the educational environments, and even after the first game of Comic Turns, it is obvious it can have the same appeal. The simplicity of rules and images allows for it to be easily explained by teachers (even if they did not have previous experience of board games) and played by kids. As Comic Turns is slightly more narratively focused than Rory's Story Cubes both games could comfortably co-exist in one environment.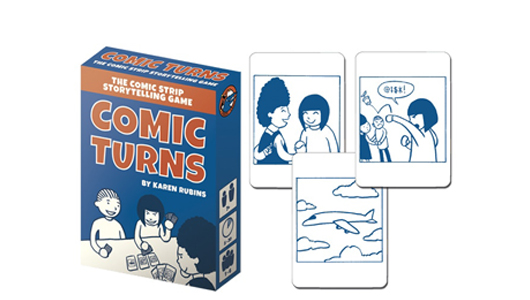 While its educational aspect is its strongest point, Comic Turns can also be enjoyed simply as a storytelling game by adults and kids. It will be an easy game to introduce to a more casual gaming group or even to those who never played board games before. It could be a starting point for those who want to get into storytelling games and Role Playing, giving people a basic understanding of how narratives work and are constructed before they move on onto something more challenging, like Once Upon a Time or Dungeons & Dragons. However, if you have played more complex and layered storytelling games, Comic Turns might feel a little too basic. Here, the lack of direction or a firm sense of theme might discourage more experienced players, looking for more of a narrative challenge, where the restrictions of the gameplay are what makes the game fun and competitive.
Finally, the portable nature of the game — it is the size of the standard deck of playing cards — makes it easy to bring along while traveling, or even carry it in your bag on an everyday basis. Comic Turns does not need much space to play and can comfortably fit on the itsy-bitsy tables of trains and airplanes. The card format of the game also creates a potential for possible expansions, for example, including extra blank cards where players can draw their own panels to add to the set. I have been provided a print-and-play version of the game, therefore cannot comment on the final quality of the cards.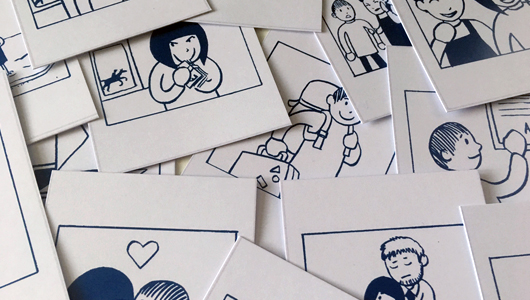 While it might struggle to appeal to adult board gamers, Comic Turns has a great potential to become an excellent educational device in schools and even at home, helping kids foster their creativity and learn the basics of storytelling. It transgresses languages and locations, with its simple, yet clear artwork and players can easily adapt the rules of the game to how they want to play it.
Check out Comic Turns on Kickstarter here.
Official Game Site
Tags: comics, Dixit, Education, Karen Rubins, kickstarter, Once Upon a Time, Rory's Story Cubes, storytelling