Touted as one of the first (and only) cooperative Virtual Reality Escape Rooms in Sydney, Sydney Virtual Reality Rooms is a humble, family-friendly startup in the heart of the city that hopes to capitalise on the VR zeitgeist surrounding units such as the Vive and the Oculus Rift. Crossed with traditional escape room puzzles and narrative, the experience is currently available in two flavours; either Space "COSMOS" or Thriller "MIND HORROR".
Mon – Thur $49 per person (includes 10% online discount) or $54.45 (walk-in and phone booking price)
Fri – Sun, Public Holidays $59 per person (includes 10% online discount) or $65.55 (walk-in and phone booking price)
Having grown up on a healthy dose of Laser Tag rooms, arcades, LAN Cafes and SEGA World in Sydney, experiencing VR Rooms Cosmos adventure was the next logical step. The concept of 'escape rooms' have risen over the last 5-10 years and yet the idea of being locked in a room, timed against the clock with an interactive narrative and cooperative live role playing puzzles – never really appealed to me.
VR Rooms employs a much more economical, cheaper experiences that pays for itself, using a number of Vive VR systems, basic gaming chairs, headsets and wireless connection running from a server not unlike a traditional LAN Café setup. Players can talk to each other wirelessly and across the room and work together to solve a number of puzzles against the clock in an attempt to 'escape'.
This was also my first foray into both extended time with the HTC Vive and VR in general as well as any cooperative or multiplayer interaction. The results were both as expected, appealing in short doses, but also underwhelming in regards to value for money. Whilst the time was booked for up to an hour at a cost of $57 per person on the weekend, we were in and out of the room in 32 minutes 40 flat, making me wish the three of us has spent more time mucking around.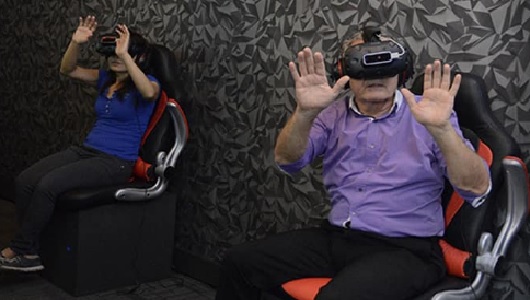 "Virtual Reality Rooms is Sydney's first Virtual Reality Escape Game – based in Sydney's city center, with 6 rooms, accommodating up to 36 players at a time (2 to 6 players per room). It's a unique and exciting experience for Corporate team building, large events and getting out and having a blast with family and friends"
Originally only planning to go in with 2 people, it was good to have at least 3 as the Cosmos room could handle up to 4 or a larger 3 v 3 across two rooms. VR Rooms has a leaderboard in the lobby with the current 1st place sitting at just over 20 mins.
3 people as well was the right number in regards to gameplay, allowing one of us to emerge as the 'leader' coordinating the other two players with another being a support unit for the puzzles. As an example two of us were perfect for shooting and fending off targets whilst the third player manipulated the environment to the solve the puzzle.
Not unlike diving into a round of paintball, VR Rooms does come with a number of disclaimers, including motion sickness and the need to use bathrooms for extended play time. Before going into the rooms there is a brief tutorial video that lightly explains some of the experience, but perhaps what was missing most was any sort of tutorial or instruction for the motion controls and navigation.
Although Cosmos used the HTC Vive rig, a few differences were that there were no physical motion controllers in fact the entire experience and game worked based solely on the movements of your existing hands and fingers. The chairs were also rigged with an alarm buzzer that communicated with "HQ" back at reception for emergencies and if you got stuck –specifically if you needed to be warped to other players.
Hand controls were fluid and lag free, and although it took maybe 5 minutes to figure them out it became a rather simple exercise of holding hands straight out and open to 'fly', raise the left hand on its own to control object or fire lasers out of the palm of the right hand alone. Looking down and seeing a virtual pair of legs, arms shoulders and hands is still a very novel concept and being able to use my right hand fingers to touch an imaginary interface on my left wrist to bring up all the controls and actions was simple and intuitive.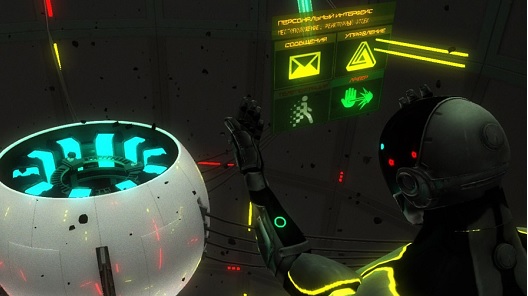 "TEAMWORK, THINKING AND FUN TO COMPLETE YOUR ADVENTURE: As a team, you'll need to work together to complete your adventure which could require battling enemies by shooting lasers from your hand, flying through space, finding secret passwords, piecing together puzzles or uncovering the deepest, darkest secrets of a maniac's mind. Be delighted by your new world, puzzled by what to do during your adventure and exhilarated as you defeat enemies and solve puzzles together to complete your adventure before time runs out. Communicate with your team mates and friendly Adventure Masters through your headsets and seek guidance if required from your Adventure Master."
Cosmos consists of 4-5 story beats that players will find themselves in, the first of which is simply figuring out both the controls and how to leave the pods you find yourself strapped into. There is some backstory about a all-consuming black hole and an ever present game master narrating, however throughout my time in the adventure I can't recall a single moment of specifically listening to any of it.
The room we were in was set up such that the headphones didn't seemingly have microphones but I was able to hear the other two people through my headset. Rather than wait for instruction it was also easy to take off on our own directing each other and generally trying to figure out the puzzles.
Cosmos also doesn't come with clues per say, rather five or six rooms in which you end spending a number of minutes looking around trying to determine exactly what you can/ can't interact with and what the end goal is. As mentioned previously this varies, from looking at your virtual avatars across the room and reading numbers above each other's heads (as you can't see your own) to flying around a room collecting floating energy balls or more traditional 3D puzzles pieces that require manipulation to make form a key.
At some point during the game we were advised that we only had 40 minutes before we were ejected from our avatars, but then the game ended all too suddenly and before we knew it it was over, the credits rolled and we were out. Even if that hour was largely spent; sticking fingers up at each other and making lewd gestures or flying into each other crotch.
As a whole experience, VR Rooms might want to consider taking a few cues from actual escape rooms, either incorporating physical props or heating, cooling the room or manipulating wind and fans as that would add to some immersion, especially of being in space or being sucked out an airlock.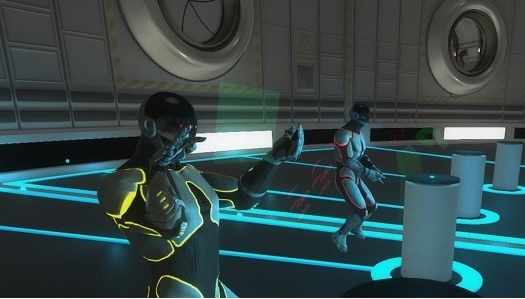 "We use powerful Asus Commercial Workstations built specifically for Virtual Reality Rooms with NVIDIA GTX1080 graphics cards and i7-7700 processors. The HTC Vive virtual reality headset takes you into an entirely different world where you're fully immersed in the adventure and it feels like reality. The Leap Motion added to the headset tracks hand movements, enabling you the freedom to fly, swim and truly move in the virtual reality world."
VR Rooms was accommodating, offering free photos, and beverages although the quality of the rooms and the expense associated with offsetting the cost of buying the Vive setups as well as renting out the rooms is carried over the customer experience. Maybe if Cosmos was longer, or actually an hour long experience that could be completed earlier but would fail you if not but as it stands for discerning players who knew what they were doing there is little replay ability and can be speed run in under 20 minutes.
Cosmos and Mind Horror are just the two main attractions at VR Rooms, with room to grow and change over time. Currently VR Rooms is looking to try cheaper and slightly more commercial single player rooms for anyone who wants to do and try VR but without the overhead cost and setup. With this in mind a catalogue is available with all current and popular VR title including Star Trek Bridge Crew and other titles through Steam. In the coming years, if the price comes down this sort of walk in- and play VR will become as ubiquitous as arcades with the literal ability to pop on a headset and for next to no cost spend 15-20 minutes in another world.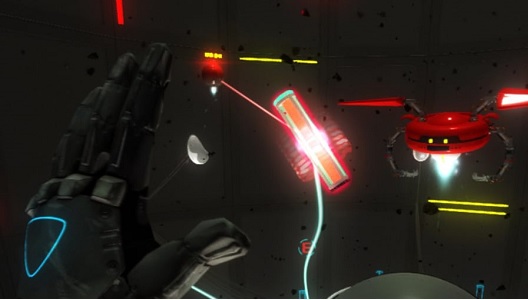 A quick Google of Sydney city alone already shows:
Break the Code Escape room Sydney
Virtual Reality Rooms
Virtual Room Sydney – Virtual Reality Sydney Adventure
(The) VR Corner
Currently the city location and cost at 3-5 times that of a standard movie ticket means, VR Rooms is a novel experience but not one I would do every weekend and yet is still a cheaper alternative to the hundreds of dollars and space required to set up my own rig.
Professional set up & business model
Very accommodating/ family friendly
Flawless cooperative multiplayer
Cost & access are prohibitive
Clues and narrative not clear
Not long enough for the 1hr time that was paid for
Hopefully other companies follow suit and competition will drive down the price, as well as over time, similar to LAN cafes when costs are mitigated as it costs little resources to stick 3 guys in a dark room and strap a visor their heads for one hour whilst they try to escape!
The author paid to experience Cosmos
Official Virtual Reality Rooms Site
Tags: Australia, Cosmos, Escape Rooms, Event, HTC Vive, Oculus Rift, Sydney, Virtual Reality, VR