This week starting the 5th of February, I was fortunate enough to be able to visit, experience and participate in the 2nd annual Asia Pacific Digital Week. 2018 also marked the opening of a specific and specialised Digitisation Hub, based in Singapore and to celebrate the teams were presented across the region with hands-on displays and presentations.
What eventuated is my first true (extended) VR experience with the Vive, some experimentation with Windows Mixed Reality as well as hands-on with a propriety AR set of glasses still in development.
There were some stands based on 3D Printing and just how cheap and ubiquitous it has become for companies to 'manufacture' parts in 3D, as well as a deep dive into some new initiatives around AI and programming. The new offices in Singapore have originated out of Pullach, Germany where the "Digital Basecamp" is located and it is no surprise that the Germans are leading the way with testing across the UK and now in Australia as well.
"Digital week is a timely reminder of the importance of thinking digital first"
The Digitalisation Hub is a $30 Million project in the Asia Pacific to accelerate innovation and extend its lead in digital transformation, a strategic initiative to rapidly identify, develop and trial emergent digital technologies for industrial applications in the region and beyond.
These initiatives and programs will continue to develop in the future – from Virtual and Augmented Reality applications to cutting-edge automation and new technology developments such as Beacon. It is these projects that will change the way we do business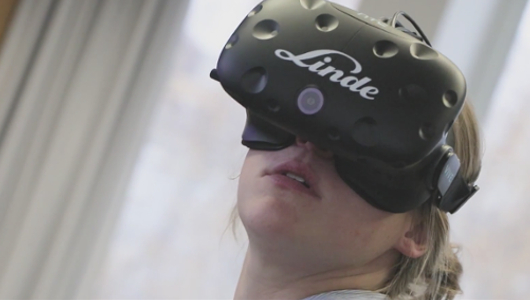 Virtual Reality
My foray into VR was brief, but none the less overwhelming and slightly startling. Although I have used VR headsets before, it was the vertigo and sense of height I wasn't expecting
Using the Vive, unlike the Windows Mixed Reality, the Vive utilized the larger set up of motion tracking cameras as well as full headset and noise cancelling headphones. On top of that, for this demo the presenters had a fan blowing at participants and a plank of wood to walk across on the floor.
Such that when I found myself standing in a city on the side of the road with a lift behind me, the illusion was rather good. What is interesting is that while I can tell that the world is not real and/or virtual and the graphics were hardly realistic, it is the simple joy of turning your head or looking up and seeing the world in the distance that struck me, and to be able to control the game with your body.
"We always focus on one question in particular: how can we use the data we own to help our clients and at the same time, develop new business opportunities," – Philipp Karmires, head of digitalisation
"Many a visitor here has had a sudden rush of vertigo, desperately reaching out for a handrail that is only virtual," – Nanna Thiele, program manager for digitalisation
Walking into the lift, I was presented with a few buttons leading to different 'games' but was instructed to go to the top- and this is where I fell apart.
The lift opened into mid-air on the side of the building, 100 floors up. With only a plank of wood, I was supposed to traverse the gap, picking up doughnuts as I went to reach a cake, suspended at the end.
Needless to say, despite my best efforts and knowing that I was both at work and standing on the floor, my body froze up and refused to move. Eventually, I was able to lower myself to the floor and reach out, with my legs still in the 'lift' stretching out to get doughnuts. Looking down past the plank to the street below- seeing the doughnuts I knocked off fall 100 stories was almost too much.
Although brief, it left me with a rush, that took time to overcome an recover from. Unlike the Windows Mixed reality, where I was sitting down and moving laterally, I didn't have nearly the same reaction from the top of a building then I did with the Vive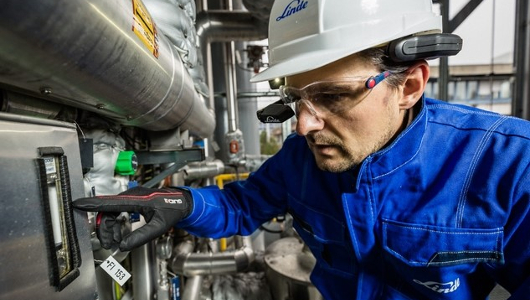 Augmented Reality
AR, similar to the much-maligned "Google Glass" is another new technology albeit simpler in execution and already built in, to some degree, in our everyday lives. What I was able to test out and try was basic video or Skype functionality projected on the glasses whilst doing other tasks.
Currently, the camera is still quite top heavy and large and would require a user to be attached at the hip with a power supply and unit, however, especially in Australia the ability to get live support from the other side of the country or multitask opens up possibilities. It's that flexibility that is innovative, as imagine being able to feed a camera into a pipe – or a body; and see the video feed in HD, live in your "mind's eye" whilst also receiving live support from a remote location
Cameras built into the glasses record what the user is seeing, and these images can be transmitted to a service centre around the corner or thousands of kilometres away.
The glasses are usually combined with a headset and microphone so the wearer and service centre personnel can communicate with one another. Developed in-house these proprietary glasses are an excellent tool to perform troubleshooting, inspections, maintenance and audits.
Because the staff in the service centre is seeing exactly what is in front of the wearer, it is easy to provide instructions and to gain a realistic idea of the on-site conditions.
A secondary function for AR that has yet to be fully realized is in seeing and placing virtual objects in the real world- without actually doing it. Being able to go into any space and "size it up" as well as overlay 1:1 scale images to see what can fit where can save time and money for companies as well as transport and manufacturing costs.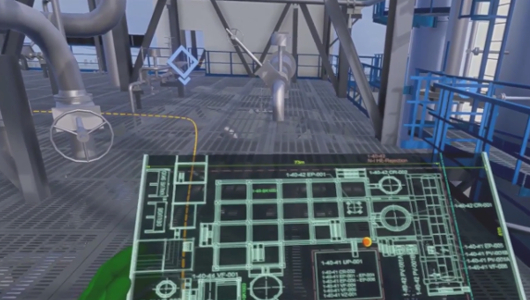 Mixed Reality
It wasn't always like this. In a pre-VR era, clients used to approve plant designs based on 1:50 scale models, handcrafted by model making departments. Split up into partitions, each covering two square metres and safely stored in Plexiglas boxes, the replicas were loaded onto trucks and shipped to clients.
When joined together, they would become walkable sites the size of a tennis court.
And while humans must have felt like giants passing through those miniature model facilities, with VR goggles, it's the other way around: clients gain a compelling view of a plant's real-world dimensions.
The Windows Mixed Reality set up was slightly less impressive than the Vive, but had more immediate practical applications. The controller had to be adjusted for my left handed-ness but I was given free rein to move around the world, by pulling the trigger and warping forward. Some reports in games like Fallout VR have reported that the 'warping' is jarring, but as a first time user in first-person at least I found it easy and quick to pick up.
The simulation was of a basic manufacturing plant and vehicle, but I was able to climb up ladders and stairs to the roof and look down. Whilst the sandbox and graphics were more technical and basic than immersive, the point is that Windows MR works as a cheap pre-visualization tool and one that could allow for developers to find faults and design flaws before a finished product is actually constructed.
Artificial Intelligence
Artificial Intelligence or computer learning programs might be familiar with gamers and programmers alike, and the thought of AI taking over the world is the stuff of science fiction it sometimes less interesting and more alarming to realize just how prevalent and in control AI has become.
Find out, for example, that your company only has 4 people assigned to monitoring and reporting all traffic and statistics routed through a multinational company's website and that they sit back and reply of complex AI to find and track user movements and trends is more than a little eye-opening.
When you consider all the cameras just in, oh I don't know – London- and that it is actually AI sorting through the data and deciding and making judgements for actual humans to then act on, is next level. Such that another initiative of the Digital Hub is an algorithm that has tapped into large amounts of data on road conditions, accident frequency, weather, etc. to predict the safest delivery routes.
An eight-week pilot showed it can predict dangerous road situations with 75% accuracy. This can save companies an estimated one million euro per year – but more important, it will prevent accidents.
The weather, seasons, events and the business location impact customer requirements and make them hard to predict. Artificial intelligence is used to forecast demand for at customers' sites. The AI Demand Planner is predicted to reduce unnecessary deliveries by 90,000 units per year in the UK alone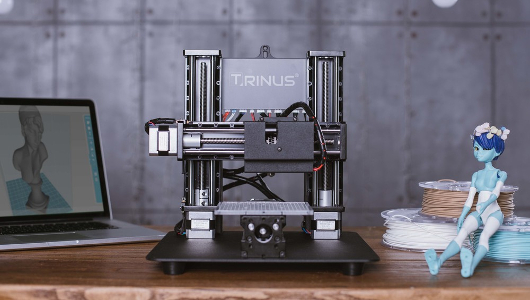 3D Printing
The 3D Printing on display was little more than a look up close at how 3D printing works and was churning out Dinosaur skulls and skeleton keys for people to take. This sort of printing, in Australia at least, has become more normalized in the last 5 or so years and it is not unusual to see serious hobbyist, cosplayers or engineers using their own rig.
The printer on display for a "high end hobbyist" printer for under $1000AU with a KG of plastic costing less than $30AU – At this price it is within the realm of possibility for companies to use these to make small parts, spare parts and replacement or concept pieces en mass, with the right software plans and know-how. The keys being made, on the sly, were usable to replace coins, in shopping centres where a token was required first to collect a chained shopping trolley. Bypassing this simple mechanism only meant printing a "key" with the head the same shape and width as the token, but one that could be pulled out after socketing and worn on a keychain.
A paperless society
As an example, in any given company time sheets and cover sheets account for approximately 17,000 pieces of paper a year. Calculated that this manual entry of data costs a company around $270, 600 (AUD) per year in terms of time and labour, with this in mind, a proposal was submitted to the Asia-Pacific Innovation Seed Fund for the development of an alternative, paperless solution which would save both times – and trees.
The paperless solution for tracking working hours already saves 17,000 pieces of paper a year and once extended will eliminate the need to manually enter up to 40,000 more.
Asia-Pacific innovation seed funds will mostly go toward the development of this application as well as conducting a proof of concept trial at the Sydney site where things are already underway: Right now, they have two teams developing two different solutions in parallel – one on SAP and the other on Microsoft SharePoint. The team then plan to compare the two and select the best to take through to user-acceptance testing. But the paperless vision won't stop there. The proposal is to eventually extend the application to replace the current manual fill log system too, processing another 20,000 to 40,000 pages per year at the SOC alone.
"This solution will help our sites get to where they should be in this day and age," he says, "That means daily productivity reports being delivered to production managers via smartphone, process drift, as well as productivity trends, being automatically identified and a host of other benefits that come with digitalisation."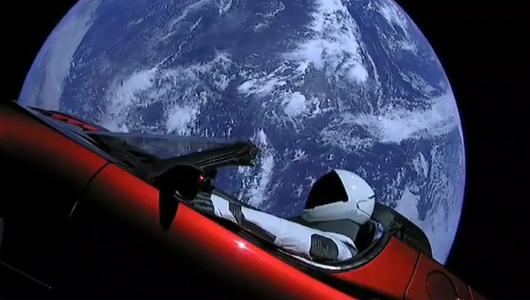 This final vision of a paperless society is not just a utopian one – it is happening right now, around the world. Coupled with this are innovations across all sorts of wearable and programmable technologies that cover the full spectrum of Internet of Things.
My experience in VR is what grounded the excursion but like many people, I have almost, very nearly been won over by the abilities present in VR and look forward to the next great innovation. In a week where Elon Musk is sending Tesla's to Mars, I'm once again excited for the future and may our AI overlords have mercy on our souls!
Official Company Site
Tags: AR, Artificial Intelligence, Asia Pacific, Digital Week 2018, Digitsation, Event, VR