Last week I visited a galaxy far, far away to embark on a mission filled with danger… tackling a Westfield shopping center during the Boxing day sales. After fighting through the crowds of shoppers, I checked out a temporary installation from The VOID called Star Wars: Secrets of the Empire.
Described as a "whole-body, fully immersive experience," The VOID takes what you think Virtual Reality is, mixes practices seen in a 4D cinema and basically creates the closest thing to a Holodeck possible. Players team up in groups of four, kitted out in VR helmets with tactical vests before taking to a briefing room and awaiting further instructions.
After a run down of the mission from Cassian Andor, players are tasked with traveling to the lava planet of Mustafar, infiltrating an Imperial base disguised as Storm Troopers and intercepting top-secret cargo that the Empire is transporting. Also, you're led by the guiding of K-2SO – the galaxy's sassiest droid.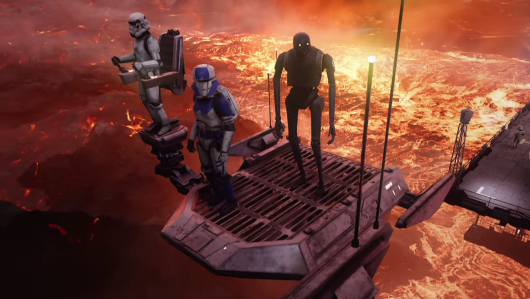 What follows is an experience that is slightly jarring to begin with, as you physically walk onto a space shuttle, take a seat and feel the floor rumble to simulate take off. Pretty soon after I adjusted to the sensation of walking around with a VR helmet on thanks to the 1:1 scale of the room with the simulation's surroundings. After stepping off the shuttle to the outside world, hot winds and the smell of sepulcher accompany Mustafar's flowing streams of lava before entering the Imperial base.
Pretty soon into the experience the direction shifts from blending in as Storm Troopers (probably not helped my insistence to do the Macarena to test the hand tracking), to turning into a straight up shooter. Wielding an E-11 rifle, the game becomes a shooting gallery that allows you to stand and fight – taking a barrage of blaster fire in the process. Alternatively, you can take cover and either pop-up to take shots or blind fire entirely. Though getting shot in game doesn't seem to result in any kind of penalty or game over screen, strong vibrating shocks can be felt through various sections of your vest.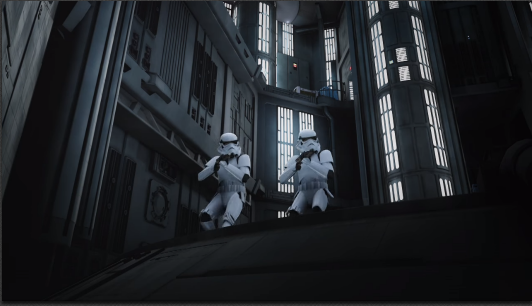 Unfortunately, for as impressive experience Secrets of the Empire is, it's awfully short. It is stated on the official website that you should "plan to spend at least 30 minutes" at one of The VOID locations but in reality that's probably 10-15 minutes of gameplay and the rest on queuing, storing personal belongings and setting up the equipment.
Behind the high entry fee and short game time is not only a true showcase of the VR dream, but also the ability to walk through and take part in a franchise I've loved my whole life. I've also discovered that while my opinion on the movie Rouge One: A Star Wars Story has been pretty tepid, its environment makes for some really entertaining video game experiences.
If you're interested in checking out Star Wars: Secrets of the Empire for yourself, it runs until the 07th March 2018 at the Westfield shopping center in Shepherd's Bush, London. Tickets typically cost £32.50 and any children attending will have to be over the age of ten.
Tickets to this experience we published by the Author
Official Website
Tags: 4D, Alan Tudyk, Cassian Andor, Diego Luna, ILMxLAB, K-2SO, Lucasfilm, Rouge One: A Star Wars Story, Star Wars: Secrets of the Empire, The Void, Virtual Reality, VR