November has been a bumper month for DC, starting with the much-maligned Justice League movie and then ending on a strong note with the CW Network showcasing their Arrowverse crossover; Crisis on Earth-X. In a year filled with superhero shenanigans, Crisis is a poignant reminder to fans of the heart that really drives this family of franchises.
https://youtu.be/6T-jPN-VCoA
Crisis on Earth-X is an odd beast, as it sits as a 4 hour, 4-part serial but within four larger series of The Flash, Arrow, Supergirl and Legends of Tomorrow. The 4th such crossover event, it is the first time though, that it stands on its own with a unique introduction, title scene and logo. Simply put, it pushes the boundaries of both the production of these shows as well as sneakily competing with DCs' other movie franchise Justice League.
The Brave and the Bold
Now in the sixth season, Arrow has gone from strength to strength leading the charge of a new wave of superhero shows post-Smallville in 2012. The Flash followed 2 years after and entered untested waters, seemingly the light of Arrow's darkness, reverting to a less serious Saturday morning cartoon style format. If Arrow was pitched to the 30 something-year-old adults who grew up on Smallville, The Flash was capitalising on the current crop of 20-something hipsters.
After two seasons of The Flash though, The CW still wasn't done and took all the B-Grade supporting cast of both shows, churning out Legends of Tomorrow, obstinately the ham-fisted leftovers of arguably two great shows. The result was a show that truly fit the live-action catoonishness of a Saturday morning serial, with more adult progressive themes but outlandish ridiculous plots and slapstick humour. It was the show nobody asked for, but everyone loved.
Supergirl was late to the party and originally developed for CBS. The CW took another risk, buying them out and saving it from the chopping block; not only breathing new life into a tired format but seemingly canonising Supergirl as part of the Arrowverse forever.
"The Brave and the Bold" was the first foray into what has become an annual tradition, originally as standalone episodes within the current series that feature opposing characters of either The Flash or Arrow. It's a cute idea and one that signals a high point in each season usually around the middle of November. As the years have gone on, and the casts have grown, expectations have risen as well as the budgets which lead to some of the biggest issues in Crisis on Earth- X but also the reason it refreshingly does something different to what fans expected.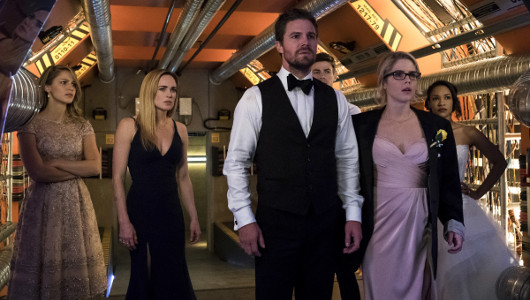 Heroes Join Forces
In 2015 heroes joined forces in the 2nd annual crossover "Legends of today/tomorrow" which was then followed by "Invasion" in 2016, loosely based on the 1989 DC comic. Whereas 'Heroes Join Forces' was a soft rebooted introduction for Legends of Tomorrow, "Invasion" part 1 & 2 solidified the larger universe as well as the multiverse theory of 52 different Earths of which Supergirl exists on the 38th.
Crisis on Earth-X adds to this, doubling the length of the crossover and rather than a story that hops between each series, is almost unrecognisable in that the Supergirl episode flows seamlessly into The Flash and Arrow & Legends.
In 2017, the cast of characters is so huge though that it suffers, having to remove some key characters from even being present or making up sudden excuses that others are not available for half the show. This is most notable toward the end of Part 1 & through Part's 2 &3 as the story follows a predictable arc of introduction, exposition, capture and then resolution.
As a whole this is more jarring, when the week after the normal episodes return within their respective series, seemingly forgetting about last week's all-encompassing invasion.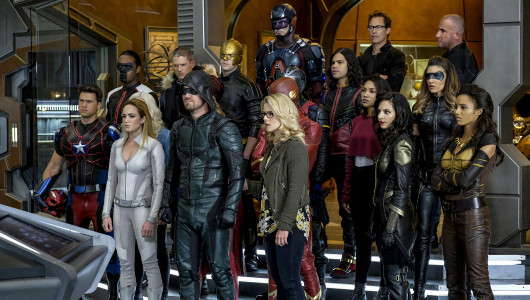 The Crisis on Earth-X
Other pacing issues common to such an event is that almost nothing is explained. Moving swiftly, especially in the last two episodes, through so much action, there are nods left and right to fans as well as references that require extended viewing of multiple seasons to understand. Despite having 4 hrs to play with, the producers would prefer loose logic and try and true shortcuts, no longer needing to explain how Supergirl (Melissa Burnoist) travels between Earth 38 & Earth 1, or why there is an evil reverse Flash still running around, or who Metallo and Red Tornado are.
Due to scheduling, the first part of Crisis is basically a Supergirl episode and yet, as shown in any trailer, is based around Barry Allen's (Grant Guston) wedding to Iris West (Candice Patton). The net result is a strange Supergirl / Flash episode that showcases her ability to sing at their wedding and true to form is more of a superhero sleepover than any action or exposition.
The titular Nazis from Earth-X as seen in the trailers play second fiddle to the meeting and greeting of different heroes, family reunions and lots and lots of talking about love, life and marriages. As a single episode, Part 1 of Crisis is not overly strong but when viewed as a whole does a good job of masking exactly the true nature of what this cross-over is about.
Where The CW has got it right over blockbusters like Justice League, is that within 4hrs there is plenty of time for the little moments. Important conversations between characters that have been left all season are explored and there is a general sense of family and familiarity between all the actors. The final half of part 4 brings all the feels and is one of the best pieces of television this year.
Seeing Mick Rory (Dominic Purcell) in almost every scene, either drinking, sleeping of hitting on every woman was highly amusing, if only for their reactions and shows how to approach this sort of tortured character on purpose as opposed to the unintended sexism of Justice League. As was seeing the different interpretations of favourite characters on Earth-X relate to each other.
Cross-overs or parallel and evil versions of our favourite shows have been done before, especially in science-fiction such as Star Trek or Stargate. The Earth-X Nazis perform less of an overwhelming invasion on Earth 1 rather than a mirror, matching the current issues of the characters, bringing them to the fore and shining a light on an alternative that both grows our heroes and allows them to deal with residual issues. It's the tears in Barry Allen's eyes during the wedding or the growth of Jax (Franz Drameh) as Firestorm that the show is really about.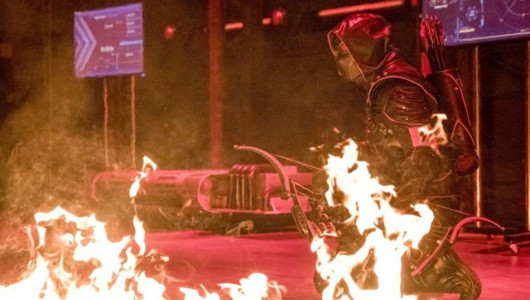 Where all four series are going, and what has been slowly sneaking in recently on television, that sets any of these DC properties apart from their movie franchises or even comics, is just how progressive they are. Only in 2017 would audiences see a bisexual/lesbian one night stand, or two gay male superheroes kiss, not to mention Nazis marching down American streets to gatecrash an interracial wedding where a number of the characters are prominently Jewish.
These countercultural decisions are what keep multiple versions of essentially the same show fresh, and Legends of Tomorrow is leading the charge. Since Sara Lance (Caity Lotz) took over leading lady there has been a shift towards pro-feminist episodes and whole episodes in both The Flash and Legends that are essentially led by a band of female cast members.
A lot could be said about the portrayal of Nazis in the show, the lack of care or the characterization that were evident. In general, it was a smart move to capitalize on the recent Nazi zeitgeist in American media, whilst sidestepping some of the horrors associated with a full invasion.
Crisis on Eath-X is essential viewing that at the very least for anyone not in the know, will pique the interest in all four franchises. With sometimes 20 heroes on screen at once fighting hand in hand, with effects and bows & arrows and some lovingly created tracking shots of The Flash and Supergirl there is something here for everyone.
Is long enough to give each character time to shine
The action and tracking shots are some of best in this genre
Cameos and returning bad guys
Feels separate to the rest of the seasons currently
The series may never return to Earth-X again
Nazis
Crisis on Eath-X embodies the heart of The Flash, the action of Arrow and the sly wit of Legends capped off by double duty from Supergirl. None of the series is left in the same place they began and for now and into 2018, the future of DC on TV- looks bright!
Official Show Site
Tags: Arrow, cross-over, CW, dc, Earth-X, Legends of Tomorrow, Nazis, supergirl, The Flash, TV