Something new for readers of the blog – an unboxing article! While most of the internet handles this type of content with an unboxing video, we're not exactly like every other site out there (partly as we are too stupid to do more video content!) While we did give some consideration to an audio unboxing via one of our podcasts – something that we could still swap to in future – we thought that might be a little odd and does not really give the chance to show off images of what the contents actually look like. We also might attached a review score going forward, but didn't think that was entirely fair for the first time out of the box.
This content is made for you though, so we welcome any comments you may have about how you would like to see this presented in future. Note that we also feel that this stops just short of being a full advert but we were (and will be) supplied these boxes with the understanding that this was in return for the creation of content. (If you feel that this crosses into being an advert, feel free to see it as such.)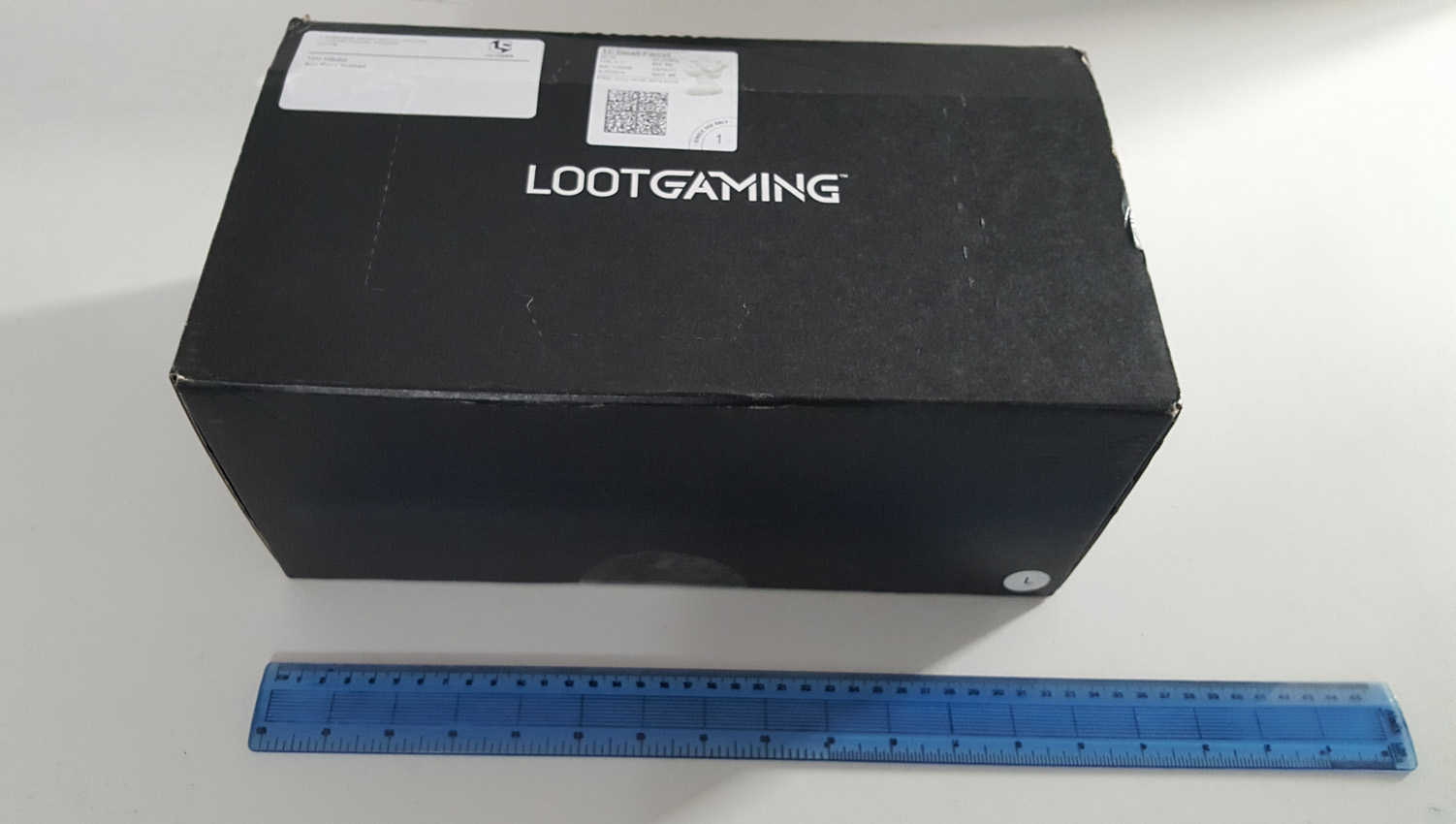 This was the first time I had received any type of Lootcrate service, so I had no idea what to expect. This package turned up at my office and was someone abandoned on the ground floor office (presumably by Royal Mail.) Not an issue for me as I work in quite a small building but could be an issue for some people getting sent to their work and obviously too big to fit through your home letterbox. (Ruler shown for scale.)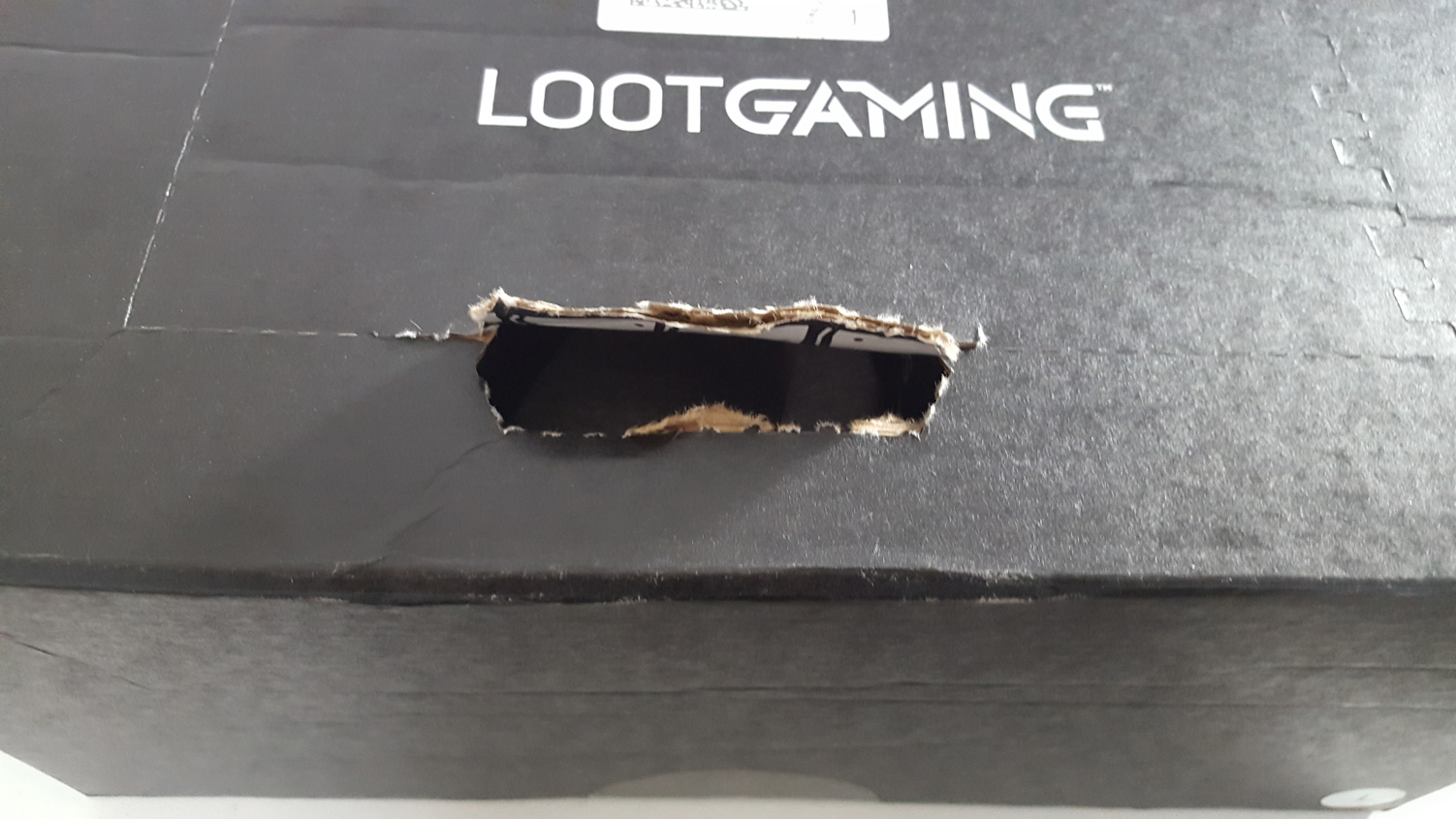 Not knowing any better I attacked opening the box from the tab and removable panel on the top of the box – I only mention this as it may have been a mistake – admittedly not a life-threateningly important mistake but a mistake nonetheless. Unbeknownst to me at the time, there is a castle (or Fortress) pattern on the inside of the box that does not get entirely ruined if you just undo the sealing sticker at the bottom of the box, which I had to do anyway to get the larger components out of the box. I am not sure anyone would particularly care about keeping the box but it would have been nice to possibly have been warned or just not have the tab at all.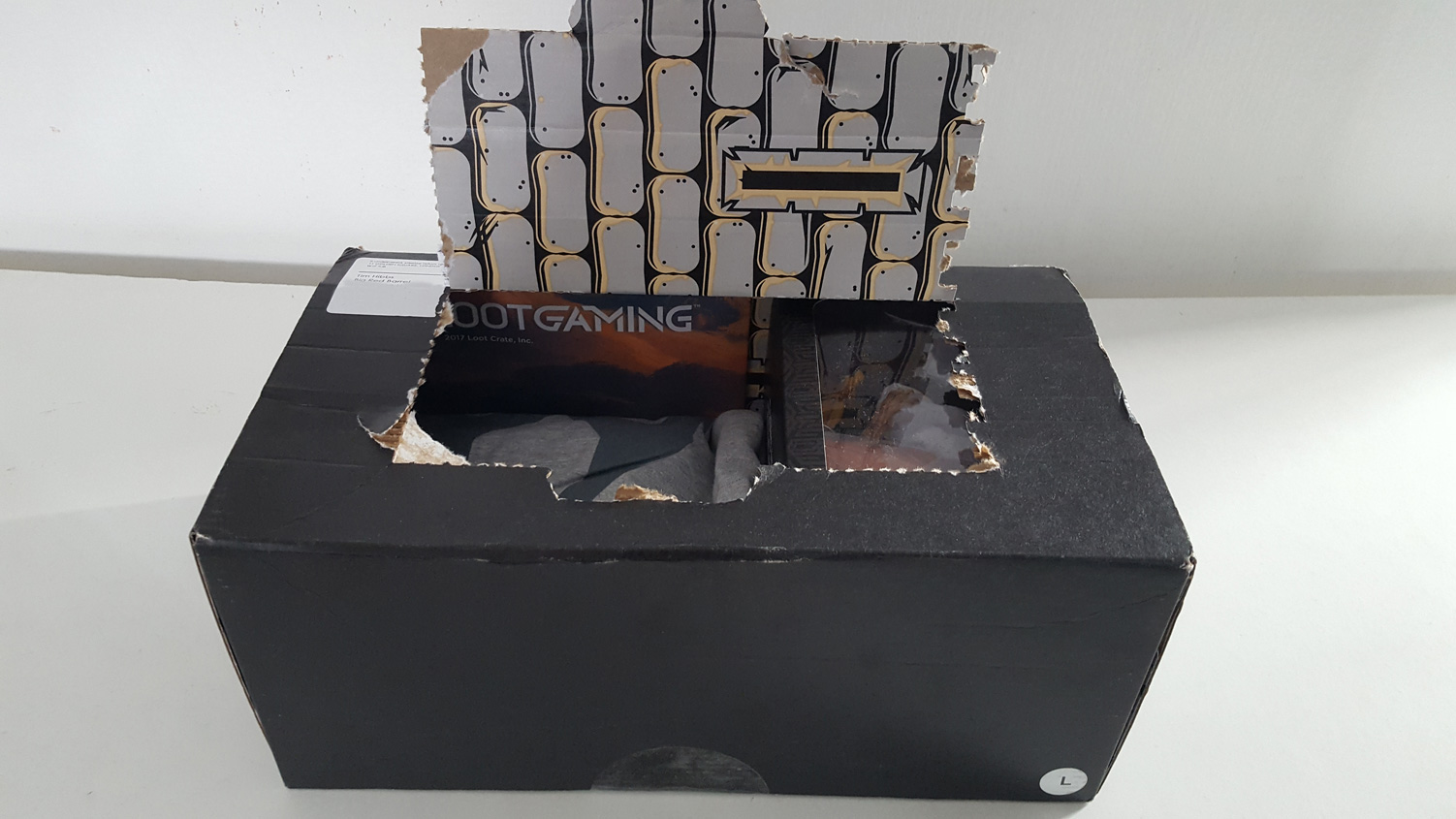 So, enough waffling! Time to dive into the box itself. I had no idea what was going to be the box prior to opening, so at this stage I was quite excited to see what was in the box!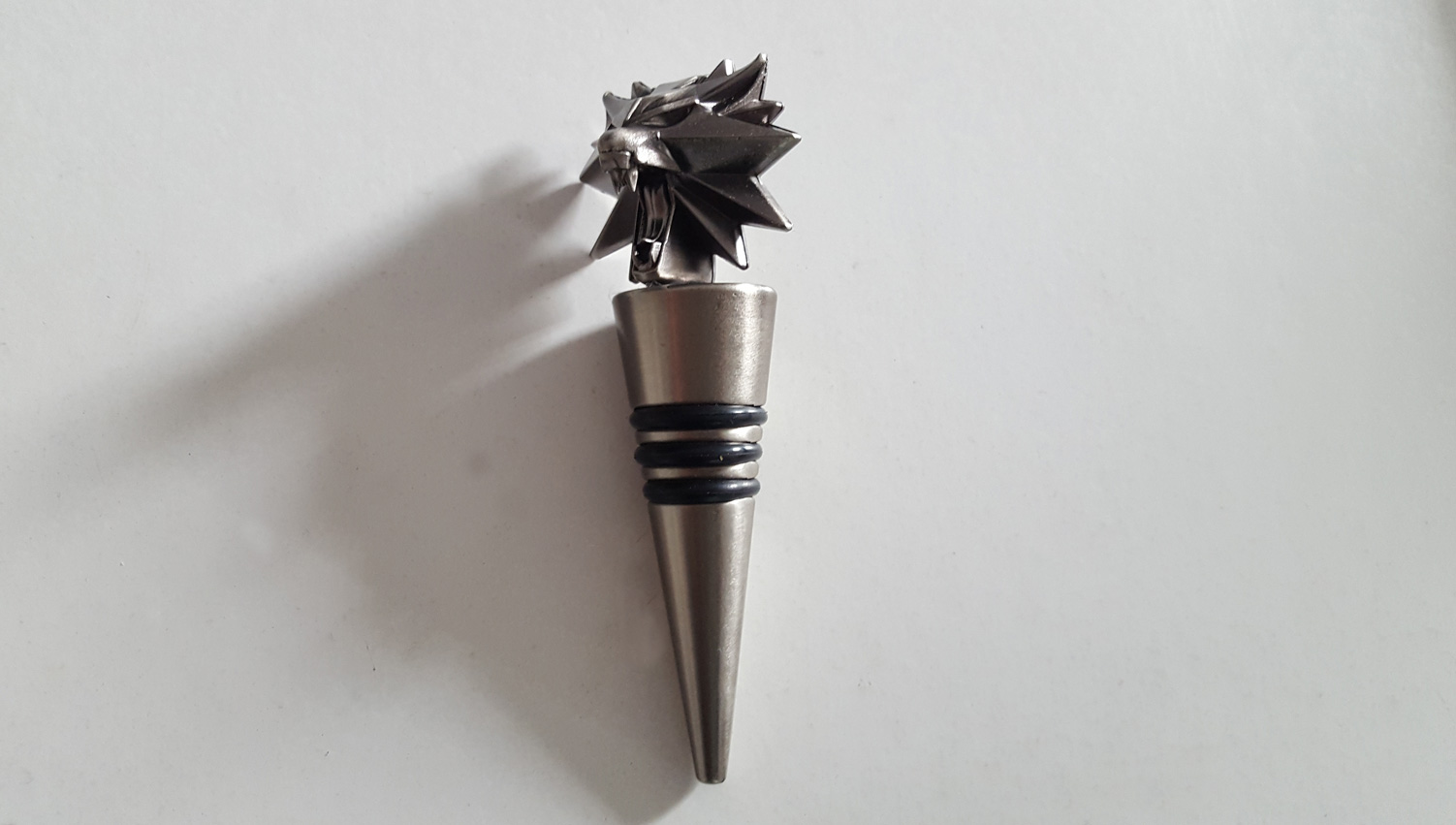 First item out of the box was a Witcher: Wild Hunt metal wine stopper. As it relates to alcohol, it seems thematically appropriate – although not so sure that Geralt would have the need to ever stop the flow of wine or be in a fit state to find and use a stopper if he did. That said it has a nice weight to it and feels of a high quality. Oddly, it wasn't in the presentation box that comes with it when it arrived but rattling around loosely in the box – didn't seem to damage itself or anything else but still odd.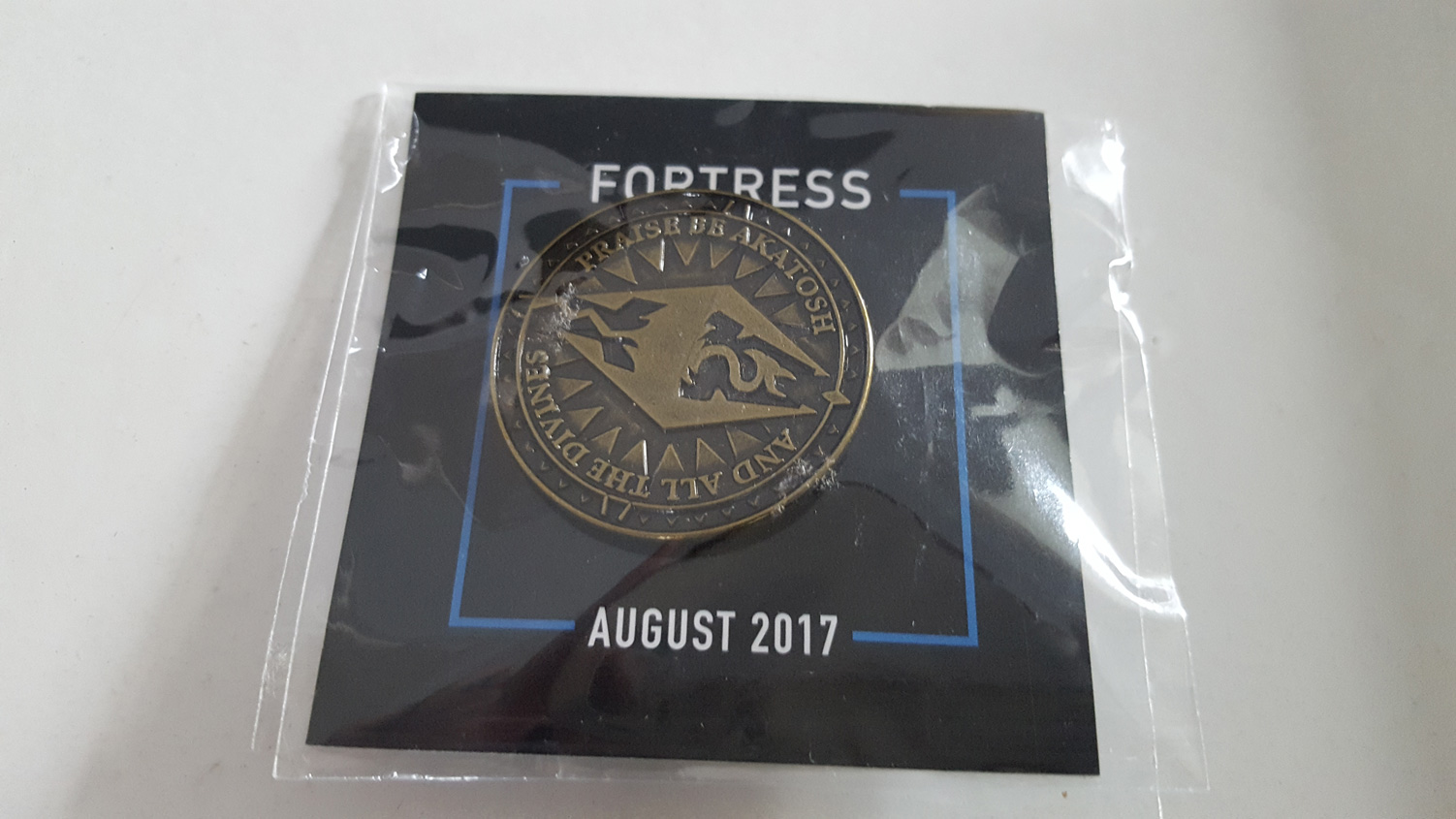 Next out of the box – a Elder Scrolls V: Skyrim coin badge! Dovakhiin! And all that. I didn't play that much of Skyrim when it first came out and so didn't see enough of the game to know what the "Praise be Akatosh…" phrase emblazoned on the pin badge. However, probably a good time to get re-immersed in this world with the Switch and VR versions heading our way. Still not sure what I'll do with a pin badge though!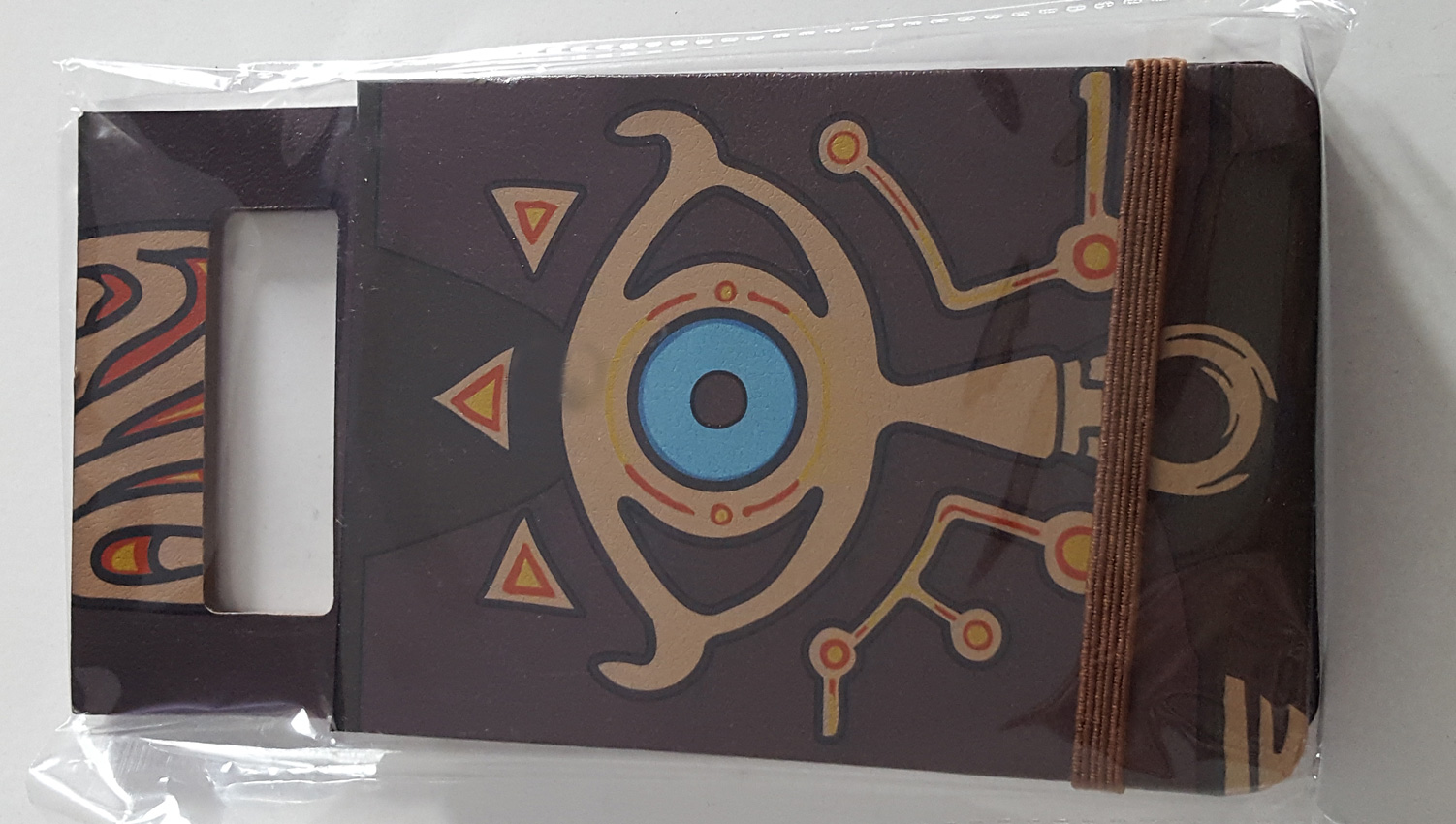 Next – A Legend of Zelda Breath of the Wild notebook! Long term fans will know that I am not the best person to gift a Zelda item to (having never really cared for the games) and while this looks nice from the outside, closer inspection shows that it is not quite made to the same high standard as the rest of the items in the box. That said, likely to be the most useful item of all to me as I am always using notebooks for blogging purposes.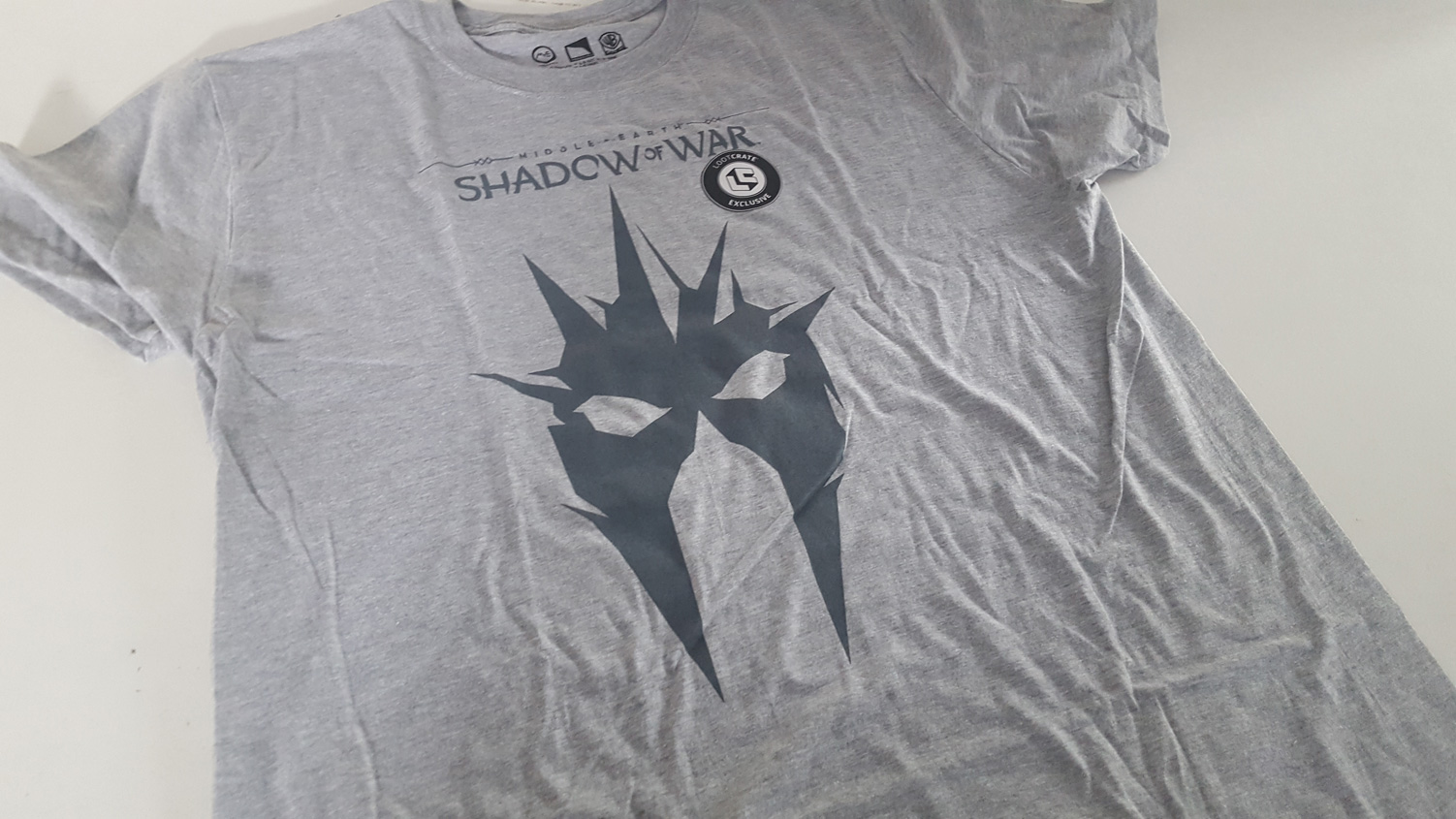 A Middle Earth: Shadow of War T-shirt – The only item for a current "new" game. A slightly plain one-colour design but nevertheless a nice quality T-shirt, I like the Nazgul design and good that it is a Lootcrate exclusive.
A large Legend of Zelda Breath of the Wild poster is also in the box but I always disregard posters that have been folded as they literally never sit right.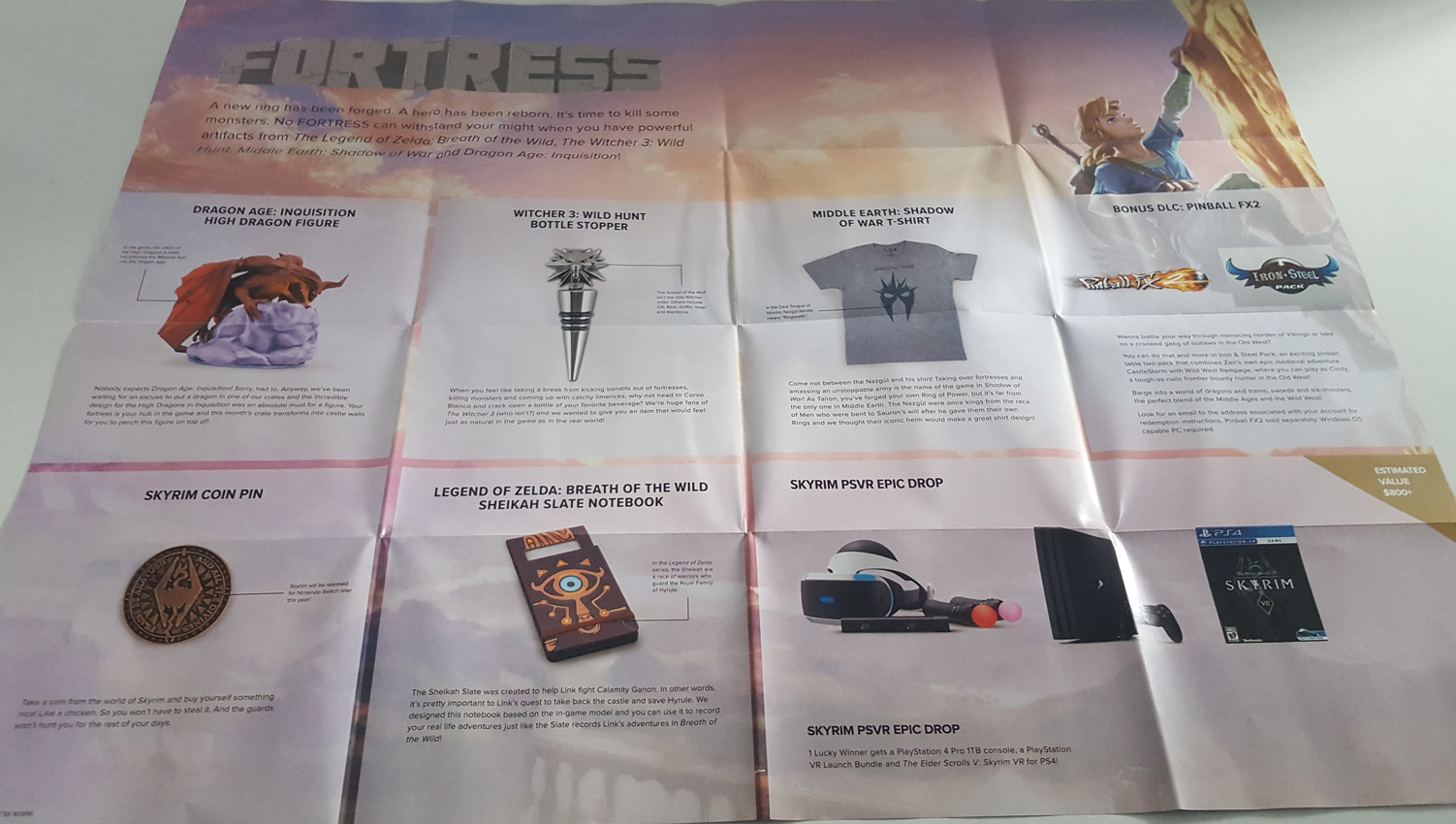 The reverse of the poster also contains details on the rest of the items in the box. Handy as this made me realise that I had not been in receipt of the digital items in the box – which included the Iron & Steel bonus pack for Pinball FX2 (which I do actually own as I purchased for the VR functionality.) This is a nice bonus but relies on the recipient of the box owning the base game. The poster also notes that one lucky winner gets delivery of a PS4 Pro, a PS VR Launch Bundle and Skyrim VR.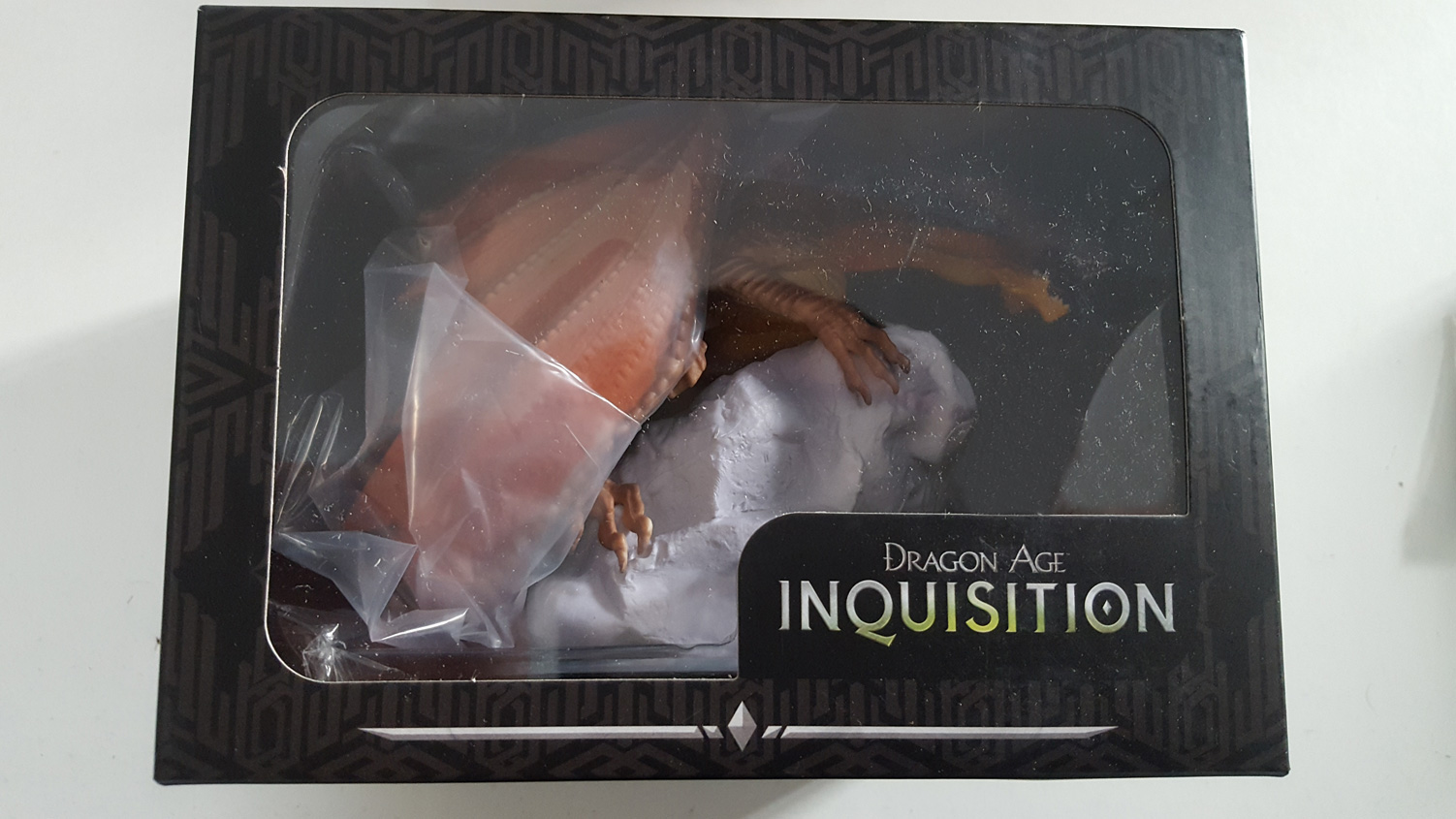 The last item out of the box (mainly as it didn't come out until I re-opened the box) was a Dragon Age Inquisition High Dragon. For anyone that doesn't know, this last and largest item could hardly have been more ideal. My wife is a huge Dragon Age fan and we had a dragon themed wedding. We literally have a nest of dragon eggs from our wedding that this High Dragon can guard over in perpetuity. The model is highly detailed and appears to be a really nice quality. Also helps that he is Big and Red!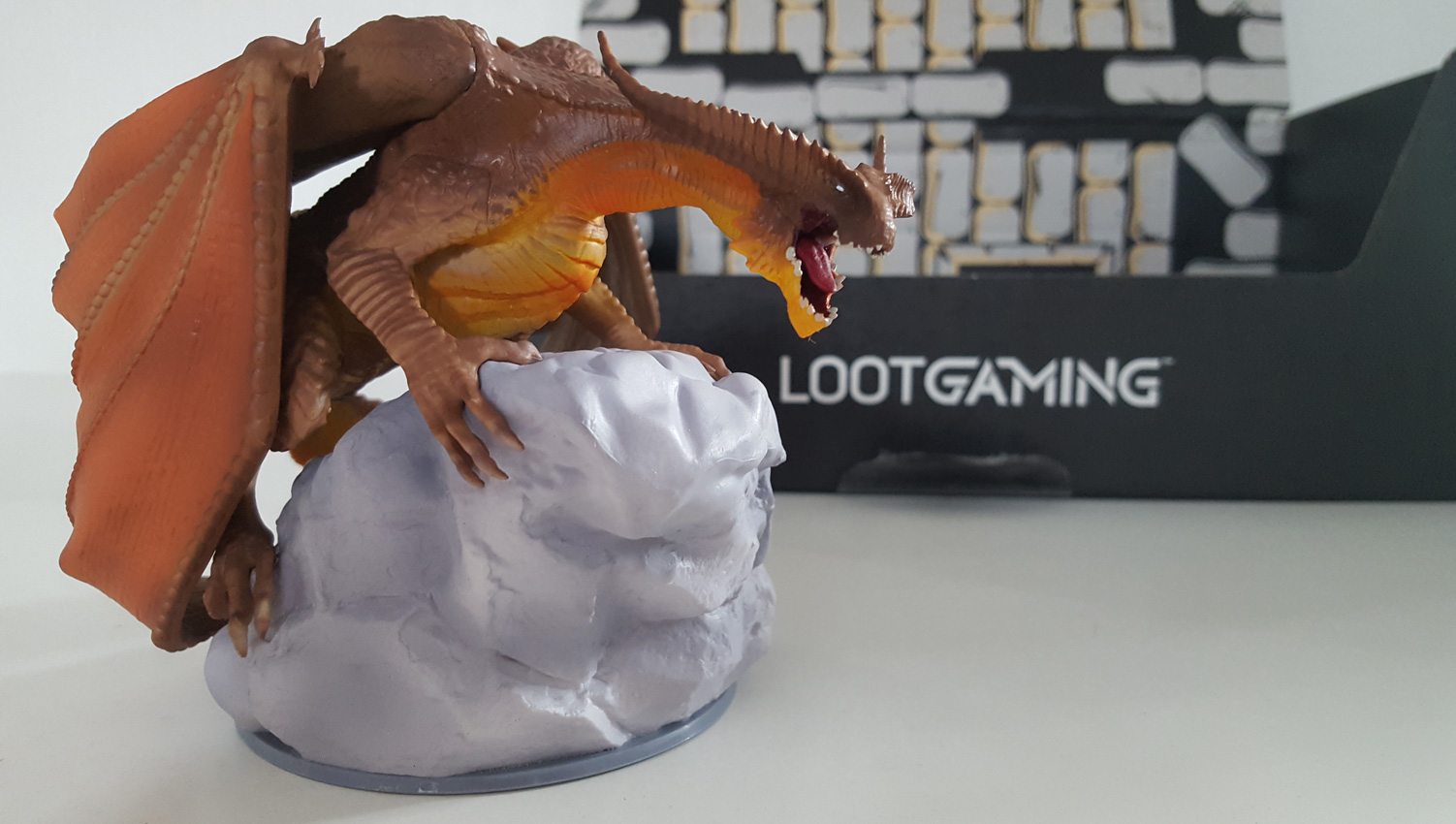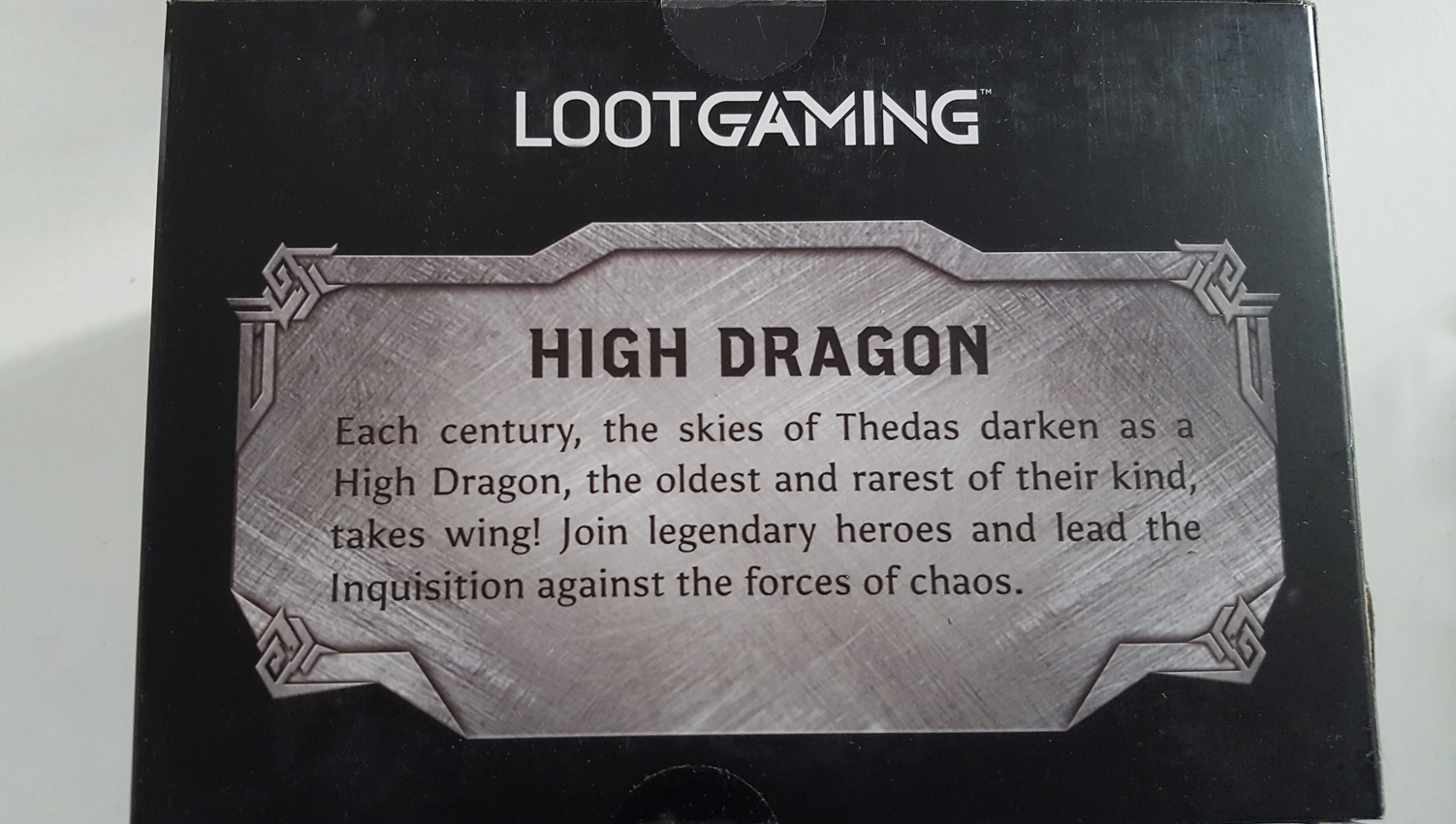 Overall, I was quite pleased with the contents of my first Lootcrate. I was not able to see exactly how much a similar figure would normally sell for as the one that came in the box, but I would be reasonably happy to have paid £20-25 for – which stacks up quite well given that this level of box is £28 a month. There is always the issue with these type of boxes that you will end up with lots of items that do not conform to the tastes of the recipient.
Lootcrate helps circumnavigate this issue slightly by having various boxes that you can choose from, some in categories such as Gaming, Anime or Movies with some then further broken down into individual properties such as Halo or Firefly. However, this could still be an issue even with a game that you like. Point in case – you may be the biggest Witcher fan but this month's offering may not be much good to you if you don't drink wine.
The Lootcrate website does claim that each Gaming box will have $60 of value in it. So, even if there are some items you are not keen on you should average out to be okay. I was worried once I had received the box when I saw that all the items were fantasy based (as I have always been more inclined to be a fan of sci-fi) but I was still pleased with the items overall.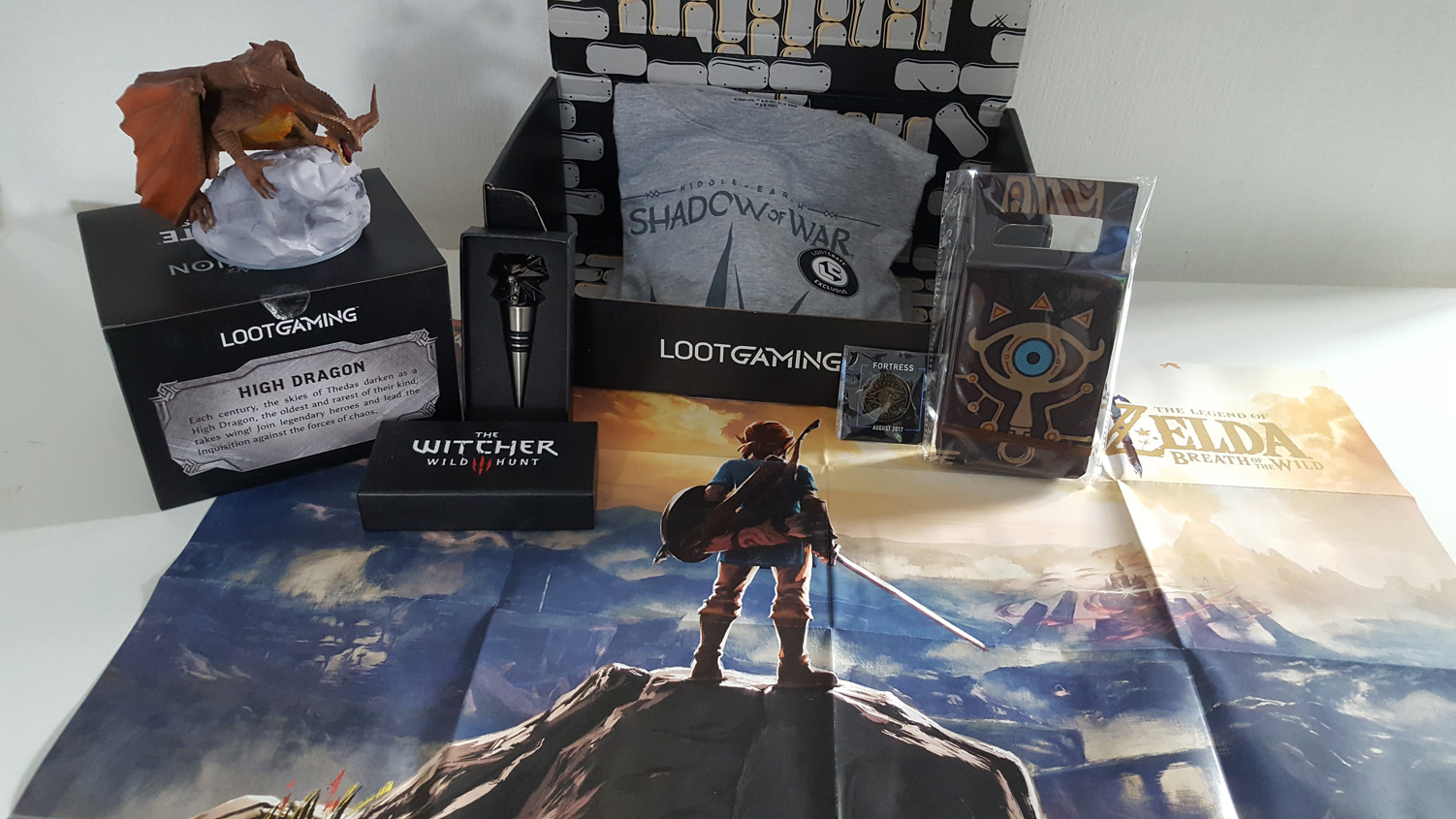 Tags: A Legend of Zelda Breath of the Wild, Dragon Age: Inquisition, Middle-earth: Shadow of War, Skyrim, Skyrim VR, The Elder Scrolls V, Witcher: Wild Hunt