I didn't know how to feel when I first saw the trailer for Patriots Day. It has only been four years since the the April 15th Boston Marathon bombing that took the lives of three people, including an eight year old boy, and injuring hundreds more. It felt to me far too soon to be making entertainment out of such a tragic event. The trailer itself looked fine, but because of how soon after the attack the movie was coming out I was apprehensive, and by the time I had decided I actually wanted to see it it's cinema run had ended.
[youtube id="_c9IpI_pNGI" align="center" maxwidth="530″]
• Director: Peter Berg
• Exhibition: DVD
• Rating: 15
• Run Time: 133 minutes

Now it's out on home release and finally I got the chance to watch it on DVD, and I'm happy to say my apprehension was misplaced. What could have been a shallow, action heavy propaganda piece, using a real tragedy to enforce how great America is turned out to be a tense, moving, and emotionally driven crime/thriller respectfully celebrating the strength of the people of the city of Boston in the face of tragedy.
The story of Patriots Day begins the night before the bombing, and introduces the stories key characters; Police officers, victims, hostages, and even the bombers themselves, absolutely everyone of importance is set up in the first 15 minutes.
It's one of the most tense and uncomfortable starts to any movie I've watched in years, thanks in no small part to the fact that these are characters based on real people, and we, the viewer, know exactly what is about to happen to them. The story occasionally cuts back to these characters, developing them further and giving their keys scenes, no matter how big or small, real emotional impact when they finally arrive.
The main focus, however, is Tommy Saunders, played by Mark Wahlberg, a Boston City Police officer on duty at the Boston Marathon during the attack. But unlike the other main characters in Patriots Day Saunders isn't based on real person. Instead he is an amalgamation of several real life officers who were there on the day of the attack, and later during the manhunt for the bombers.
Saunders isn't the hero of this story. He is a narrative device created to join together all the key moments of the incident that played out over a four day investigation, connecting everything together to give what would otherwise be a fragmented narrative a tight structure… and Wahlbeg knows this. Even when he's giving some of the strongest performance of his career he never tries to steal the scene. He knows this story is about Boston, and because of that, so do we.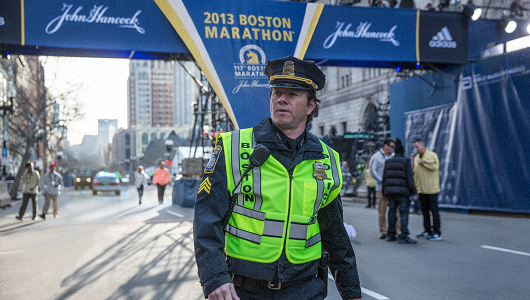 If you watched the news four years ago as it was unfolding then you already know exactly what happens; The Tsarnaev brothers set off two home made bombs near the finish line of the Boston Marathon, leading to a four day manhunt throughout the city involving local law enforcement agencies and the FBI.
Certain liberties have been taken in order to compress the four day manhunt into a 2 hours and 23 minutes, but it doesn't take anything away from the drama. Every scene, whether it be Mark Wahlberg crying in the arms of his wife after returning home from the bombing, or J.K. Simmons as Sergeant Jeff Pugliese buying coffee, absolutely drips with tension.
There were a couple of times were one liners slipped out that felt unnecessary, but these moments were rare and offered some respite from the drama so it's not too much of a complaint.
The cast of Patriots Day is amazing with the aforementioned Mark Wahlberg and J.K. Simmons joined by, Kevin Bacon as FBI Special Agent Richard DesLauriers, and John Goodman Boston Police Commissioner Ed Davis to name a few, but these are only a small selection of the quality of talent on screen during this movie.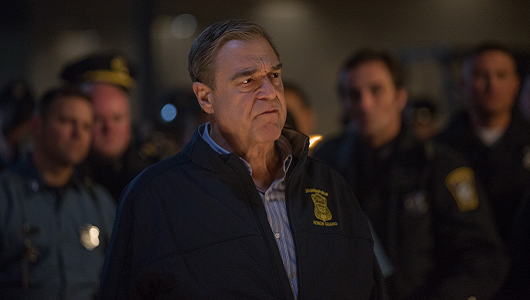 Director Peter Berg seems to excel when making true to life movies, such as Friday Night Lights, and Deepwater Horizon, and this is no exception. He manages to pull some spectacular performances out of his cast, and make the story genuinely exciting while managing to remain respectful to tragedy that inspired it. The cinematography is fantastic, giving a events a truly gritty realism that is usually only seen from the likes of David Ayer.
The aftermath of the bombing is particularity harrowing, and not for the feint of heart. It is claustrophobic and bloody as hell, but never ventures into exploitative 'gore porn' territory for shock value like it so easily could have.
The tension is heightened further with the incredible score by Trent Reznor and Atticus Ross, the duo responsible for the music of The Social Network and The Girl With The Dragon Tattoo. It is full of beautiful and haunting tones that glide seamlessly into the realm of the exciting when appropriate, perfectly complimenting the tone of the scene being played out on screen. They truly are an amazing team, and I can't wait to see what else they do together, especially with a new Nine Inch Nails EP on the horizon.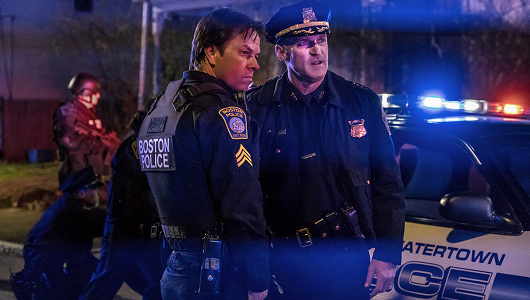 The DVD extras are fantastic too and offer a short series of mini interview/documentaries. Researching the Day is a cool behind the scenes documentary about the research that went into the movie, with interviews with director Peter Berg and other production staff, including Mark Wahlberg. Seeing how much care and attention went into the production, and how much support it got from the people of Boston ads a lot of credibility to the movie itself.
However, the most interesting of the extras for me is Boston Strong: True Stories of Courage, a series of three videos, each one focussed on a different person who was there; Dr. Jeffery Kalish, a surgeon at one of the hospitals that day, Dun Ming (played by Jimmy O. Yang in the movie itself), a young man taken hostage by the terrorists, and Sgt. Jeff Pugliese. To see their stories play out on screen is one thing, but to hear the first hand accounts from the people it actually happened to is something else entirely. These people are true heroes.
Great cast
Respectful handling of 'source material'
Trent Reznor and Atticus Ross score is amazing
Patriots Day is one of the best crime/thrillers I've seen in a long time, and I'm so glad I gave it a chance. Not only is it entertaining, it is emotionally charged and highly respectful of the incident that it is based on. Whether you like true stories, crime/thrillers, or just watching great movies, I cannot recommend Patriots Day highly enough.
Grapevine Digital  provided a review copy of Patriots Day
Official Movie Site
Tags: j.k. simmons, John Goodman, Lionsgate, Mark Wahlberg, patriots day, Peter Berg