Releasing Injustice: Gods Among Us in 2013 caused some genuine surprise all around with fighting game fans, myself included. Originally palmed off as another lacklustre Mortal Kombat vs DC Universe, a huge advertising campaign soon brought NeverRealm's latest title a large amount of traction and thankfully, it delivered. Now with the arrival of its eagerly awaited sequel – aptly titled Injustice 2, I was keen to see if it could build on the success of before or if this is just more of the same.
• Developer: NetherRealm Studios
• Publisher: Warner Bros. Interactive Entertainment
• Reviewed on: PlayStation 4
• Also Available On: Xbox One
• Release Date: Available Now

Following on from the events of Injustice: Gods Among Us, the landscape of this universe has started to return to some semblance of normality… or as normal as you can get for a DC property. The Regime has been disbanded following their defeat, with Superman incarcerated in a special red sun prison cell designed to dull his powers. Batman as Bruce Wayne has led the charge on not only rebuilding Gotham and Metropolis but also overseeing the punishments put in place for other Regime members. Wonder Woman and Black Adam have gone into hiding whilst choosing to raise the freshly arrived Supergirl, to aid their cause of freeing Superman. Meanwhile, a new villainous group led by Gorilla Grodd have made presence known and with the help of a mysterious benefactor, are threatening to bring forth a new danger to this world.
Much like its previous installment, the story mode follows some interesting roads (aided by DC's current line of Injustice comics) and will likely entertain even the most casual of fanboys. Unlike Gods Among Us however, it feels shorter this time around – I'm not sure whether or not this is the case or just feels so after a few clunky excuses to bring each roster member into the story.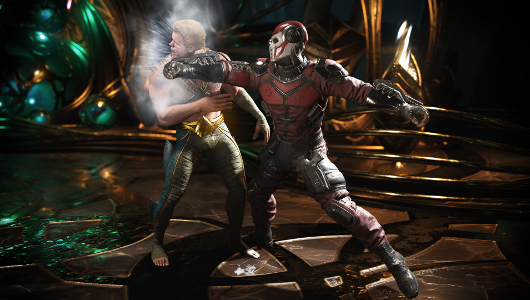 Alongside the impressive story mode there is an actual fighting game in place and just as NeverRealm's track record has shown over the past six years (since returning to greatness with their Mortal Kombat reboot), it's definitely one worth playing. There's enough of a difference in fighting styles given to this robust roster of DC goodies and baddies when compared to the fighters of Mortal Kombat so that Injustice 2 doesn't just feel like a clone in tights. Fatalities are once again swapped out with super moves – which are powered up by taking damage/landing attacks and activated using the left and right triggers, unleashing a super move unique to each fighter. These can be used multiple times during a fight and come in handy in a pinch if you've been wailed on the whole match (kind of like the blue shell of fighting games).  Super moves can be blocked, however, so there's no need to worry about your win/loss record being tarnished by someone spamming the high powered attacks.
Something I'm a big fan of is the new Multiverse mode which acts as a type of challenge system and is a good way to grind out your fighter's stats. Presented with five different versions of Earth from alternate universes, you must fight in a series of matches against different versions of the game's roster and with different conditions tied to them – for example, fighting in matches where you are attacked by small tornadoes every now and then or health drops appear sporadically. Not only does the Multiverse mode offer some challenge (with each version of earth being made available for a limited amount of time) but it's also a good way to pick up some new equipment or shaders to deck your fighter out with.
One big addition made this year is the introduction of upgradable armour, weapons and abilities – which also means unlocking said upgrades. Each unlockable comes with its own benefits, raising your fighter's stats or adding new moves to their set. Grabbing your new shinies are done through competing in various story modes or unlocking Loot Boxes (here, appropriately named Mother Boxes), which may put some players off as they can be purchased with an in-game currency and yes, that means microtransactions too. On this one instance of including microtransactions in a full priced console release, I'd actually argue that they're really non-intrusive as the game seems to reward you for absolutely anything you do and I did have to double check to see that they were actually sold as NetherRealm has decided not to forcefully advertise them to each player.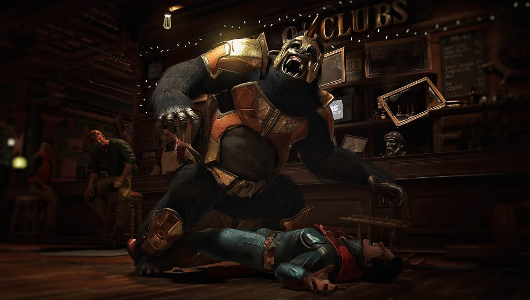 While the inclusion of character upgrades had been added this year, their inclusion in the game's story mode seems non-existent – which is odd considering how much focus had been put on the feature pre-release. Upon finishing the story and checking out the numerous prizes thrown my way, I found that each unlockable is level restricted and requires you to grind out each character. This of course caused me to indulge in something I usually steer clear off in a fighting game and actually played online.
Just as every fighting game should at launch (I'm glaring your way Street Fighter V) Injustice 2 performs solidly online – following its launch day patch. There are choices of Player, Ranked or Private matches that you can join and be matched at random. If you prefer to take control with your fights, you can enter Room Matchmaking where you can assess your opponent's win/loss record and ping levels before making your choice of who to layeth the smackdown upon. Providing your opponent doesn't have an awful ping (something like 250ms), connections to each fight are relatively quick and the gameplay runs as smooth as playing locally.
Fun and fluid gameplay
Another excellent story mode to satisfy any comic book fan
Introduction of upgradable fighters and equipment inspires extra playtime
Shorter feeling story mode than the previous title
Although non-intrusive, this full priced title includes microtransactions
Initially, my excitement for Injustice 2 had been diluted by my worry of the new upgradeable equipment element over-complicating the simple joys of a fighting game. Thankfully, its inclusion has proved to be a fun incentive to further explore the game's other modes, rather than just a one-and-done (though fun) story mode. Partnered with the game's reliable online modes and what appears to be an everlasting Multiverse mode, this should be a must-have game for fans of fighters or comics alike.
Review copy provided by publisher
Official Game Site
Tags: Injustice 2, NetherRealm Studios, PlayStation 4, Warner Bros. Interactive Entertainment, Xbox One