This coming weekend will be the UK Games Expo, the biggest UK-based convention for board, card and other tabletop games, over at the NEC in Birmingham. There are a tonne of games available to try out but recently there has been a splurge of board games inspired by or directly based on video games! This list takes a look at what titles will be available at the UK Games Expo to try out. Of course, you might be reading this in the future, in which case these games may already be out and you can go buy them! If so, I'm very jealous of you.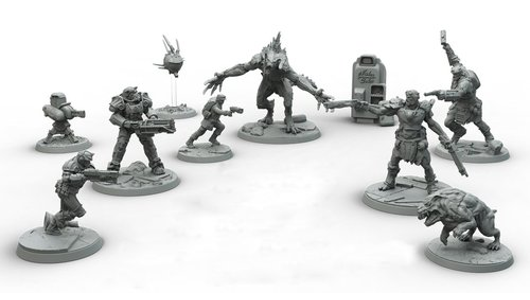 A sprawling tabletop game featuring 32 hot millimetres of iconic characters and factions rendered in stunning plastic. That's show-off scale for miniatures games – just look at those beauties
Add to this wasteland scenery, a narrative campaign, a crew you'll customise and develop over the course of a narrative campaign, or through one-off scenarios. This is a truly epic box of toys for any fan of the Fallout universe! It should be available to see, if not yet to buy, at the Modiphius booth, number H5.
Prepare to die all over again in cardboard and plastic form with Dark Souls The Board Game. Featuring a box full of gorgeous "miniatures" (those legendary bosses are not exactly miniature!) and all the brutal challenge you might expect. You and a group of friends take on a collection of memorable mini-bosses and bosses from the Dark Souls series, controlled by a cunning AI card system which will definitely take a few deaths to learn how to overcome. Check it out at Steamforged Games booth, number C12.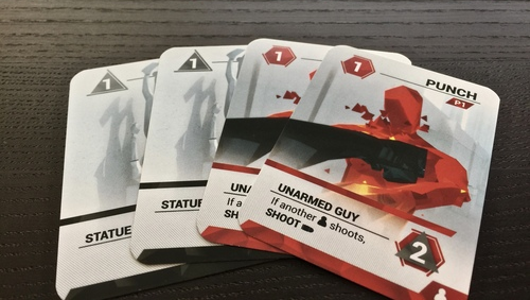 SUPERHOT is the super slick first-person shooter where time only moves when you move, perhaps the best candidate for truly converting an FPS into card game form! This card game version features a series of enemies and their bullets to be overcome by playing cards from your hand, but the ones you defeat are added to your deck as new, more powerful cards you'll be able to use later! Available to buy from Board & Dice booth H2.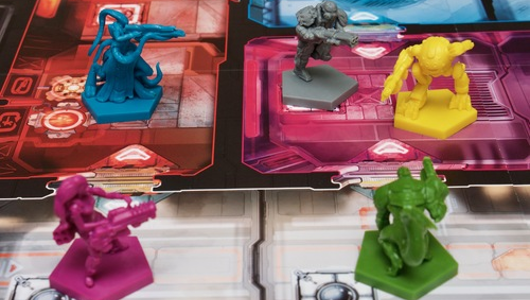 If Superhot attempts to faithfully recreate a strategic FPS, Adrenaline aims to give you the feel of a chaotic arena death match. Obviously, it isn't "first-person" but it is dynamic, exciting, and with a tonne of ridiculous weapons. You'll be running around blasting your opponents and trying not to run out of ammo. It has some very clever systems and was one of my favourite board games from last year. Adrenaline (and its new expansion material) will be available to play at the Czech Games Edition booth, B12.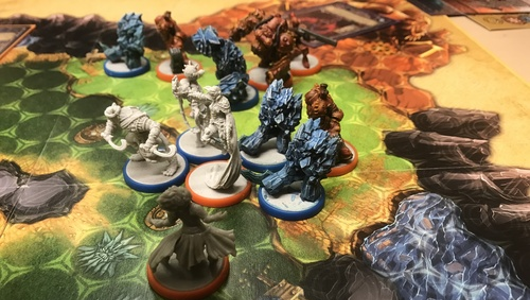 Fans of MOBA games should definitely check out Guards of Atlantis, board gaming's take on League of Legends. Each player takes control of a hero and moves them around using their unique hand of action cards which can be improved and expanded by defeating enemy minions. Get your minions to the enemy base to win. Better yet, multiple players can form teams and play together for the full MOBA experience! Check it out at the Wolff Designa booth, number D1.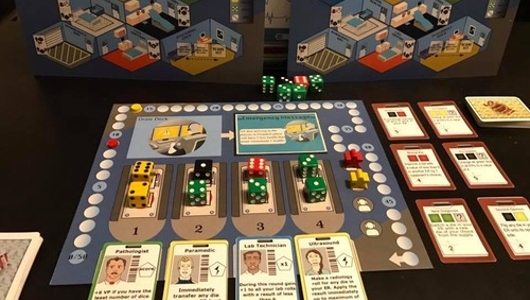 Anyone remember Theme Hospital? Dice Hospital is kinda that, but with dice! Each die – of course, represents a patient with the number on top being their remaining health, which if nothing else has me laughing at the idea alone. Players compete to heal the most patients and impress the authorities, who don't like ill people clogging up the streets. Watch out for the unexpected emergencies! Dice Hospital will be available to try at the Alley Cat Games booth, number B1.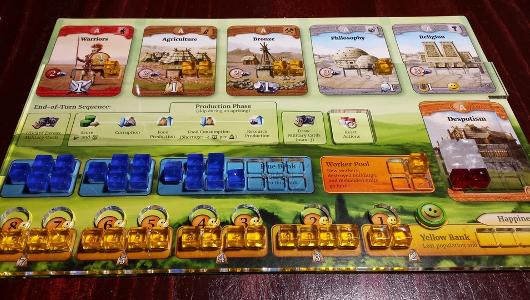 Anyone who loves nothing more than being buried up to the neck in the statistics of Civilisation and the many games that follow its lead will relish the deep and ingenious Through the Ages, a card-based game that lets you develop your civilisation through the whole of recorded history. This beast is not really for the feint of heart but is a rewarding challenge for a group of Civ-loving friends! It and its new expansion will be available at the Czech Games Edition booth, number B12.
---
There are of course more than a few new board and card games to try out at the UK Games Expo this year, from surviving in the first Martian colony, conquering New York in The Godfather, to discovering the mysterious Lovecraftian city of Carcosa. To discover more games, check out my list over at Creaking Shelves!
Tags: Adrenaline, BRB @ UKGE, Dark Souls - The Board Game, Dice Hospital, Fallout: Wasteland Warfare, Guards of Atlantis: Tabletop MOBA, SUPERHOT Card Game, Through the Ages: A New Story of Civilization