Following the release and success of Telltale's The Walking Dead back in 2012, players and critics alike were left wondering just what other licences would fit into the company's same style of adventure game? Little would we know that just five years on, huge names like Game of Thrones, Borderlands and Batman would join the line-up to varying degrees of success – all the while expanding on that first Zombie licence that sky rocketed Telltale into success.
Now it's time for Marvel to join the party with their colourful space comedy title, Guardians of the Galaxy but does it bring the same humour and charm we've come to love from comics, cartoons and the big screen?
• Developer: Telltale Games
• Publisher: Telltale Games
• Reviewed on: PlayStation 4
• Also Available On: Xbox One, PC, Android & iOS
• Release Date: Available Now

Meeting a similar set up as to last year's Batman series, the Guardians are shown not as to follow a canonical arc's continuation but rather one put in place for the game itself. We see the team are already established, flying aboard the Milano and have taken part in many missions together already.
Answering a distress call from the Nova Corps, it's up to Star-Lord and friends to face the might of Thanos and prevent him from obtaining the Eternity Forge – an ancient and mysterious artefact which can only spell bad news when in the hands of The Mad Titan.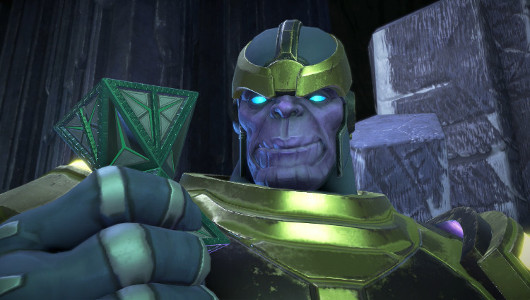 Like almost every title created using the Telltale Tool, Guardians of the Galaxy uses the same updated point and click/interactive movie style of mechanics you're probably used to by now (outside from Telltale, check Kings Quest or Life is Strange). Moving around each environment presents you with moments to either talk to other characters, solve light puzzles or both until you've figured out the right combination to trigger the next scene. When it comes to exploration, it seems each game under the Telltale banner tries to add something different to mix things up a bit – Tales from the Borderlands brought a bionic eye, for Batman there was a detective mode, this time Star-Lord is given the ability to change levels of height using his Boot Jets and a Time Scanner to see actions that have occurred in the past to help solve puzzles.
Scrolling through dialogue choices are usually presented with positive, neutral or negative choices (often switching the latter for sarcastic) and though there's no good/evil play-through per se, the decisions you make can impact the feelings of your crew. Siding with Gamora's logical views over Rocket's hare-brained schemes will obviously upset your little Racoon buddy and that's something you probably don't want to do to the guy that can strip your ship's engine to build powerful weapons.
Outside of exploration or conversations, there are action scenes and as you've probably guessed, that's all controlled using the often dreaded quick time event. While I myself have never really been bothered by QTEs used in Adventure Games such as this, I've definitely been irritated by their use in other genres (see LocoCycle or Spider-Man 3) and certainly see how others may be quick to anger at the mere mention of button prompts. In Guardians, these prompts are used effectively enough – displaying a cross followed by a square to perform a series of attacks with a circle to then avoid taking a hit yourself, but at times I feel like I should be doing more to receive the type of payoff shown on screen.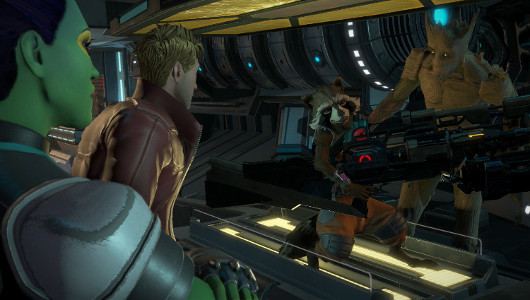 Something that's never been executed in Telltale's titles correctly is gunplay, usually amounting to two or three game over screens due to slow movement and awkward controls. Things have changed in the release of Guardians, with aiming sections either being given a much more generous allotment of time to make your move or having been removed altogether. While removing the former aiming frustrations are surely beneficial to the player's mood, I couldn't help but feel (much like with the aforementioned QTEs) like I should have been doing more than just spamming the L2 and R2 triggers in quick succession.
Guardians of the Galaxy looks great. Peter Quill (AKA Star-Lord), Rocket Racoon and Groot would all look at home in any of the current licence's incarnations, while both Gamora and Drax the Destroyer have donned more of a comic book vibe than their fellow team members. But it's not just the Guardians themselves that help to bring this world to life, with amazing backdrops like the spaceship Milano, Celestial base of Knowhere and colourful skies of space, the fact that this game is running on a now twelve-year-old engine had almost been cast out of my mind completely.
While I'm not sure that Telltale will ever be able to top its vocal cast of Tales from the Borderlands, they have a damn good here. Scott Porter heads up the cast as the wisecracking Quill, Emily O'Brien as the deadly Gamora, Brandon Paul Eells provides the completely literal Drax's voice and Telltale's good luck charm Adam Harrington is the lovable Groot. A special mention has to be made to Nolan North's reprisal of Rocket Racoon as if it wasn't for a handful of brief twinges here and there, I'm convinced that this is as close as you could have got to actually bringing Bradly Cooper back for the role.
Even with the effort put into a game's writing, visuals and casting, the sword that Telltale always seems to fall on is their technical issues – luckily for Guardians, this isn't the case. From starting the game and through its full one and a half hours story, I'm happy to say that there was no slowdown, no stuttering and no crashes. However, there was a problem at the very end of the game where though the credits section played, there were no actual credits. Not a huge problem for me as I could just activate them through the main menu as an alternative but I'd imagine those working on the game would be rather miffed.
This is, of course, part one of a series that has four more instalments incoming (currently scheduled throughout 2017), so mileage may vary in terms of story, length and technical quality when we move forward. However, Tangled up in Blue feels like a good start. I found that there was enough crammed into this short episode to get me excited enough for the rest of Guardians – not to mention the upcoming movie sequel, and I even found myself taking the time to play through the game again to see just what I missed the first time around.
Excellent looking characters and environments.
Funny writing that's backed up by top voice acting.
A must-have for fans of Telltale and Guardians of the Galaxy alike.
At 1 hour 30 minutes, this short episode may be off-putting to some.
Unexciting gunplay sections that amount to no more that button mashing.
Very minor technical issues.
Though episode one is short, it's definitely sweet! Thanks to some great choices made in bringing this Marvel licence to life through games – including a great voice cast, colourful vistas, exciting soundtrack and excellent writing, Guardians of the Galaxy: The Telltale Series lets you experience a comic universe like never before. For fans of both Telltale games and comic properties, consider this a recommendation.
Oh, and by the way, Bob Dylan's Tangled Up in Blue doesn't actually play anywhere in the game.
The review copy of this title was purchased by the author.
Official Game Site
Tags: Android, Guardians of the Galaxy, iOS, Marvel, PC, PlayStation 4, Tangled Up in Blue, telltale, Xbox One