The Nintendo Switch is less than two weeks old but there are already a bevy of accessories for the intrepid gamer to choose from. With it being a handheld console, there is a lot of emphasis on ease of use and portability but as it can also be docked at home, quality is also important.
Thanks to Big Boy PR, I have received a few such items to test out.
---
LucidSound LS20 Amplified Universal Gaming Headset
• Manufacturer: LucidSound
• Key Specifications: Rechargeable Battery for Powered Amplification, Detachable Boom Mic
• Compatibility: Nintendo Switch, PlayStation 4, Xbox One, PC, PlayStation VR, iOS, Android
• Release Date: Available Now

The first thing I have noticed with the LucidSound LS20 headset is the build quality. With a mix of metal and plastic in the headband, it feels sturdy and substantial. Once over my ears, the weight of the headset actually seems to make it more secure too as when bending over to pick something up, it doesn't immediately move, like my current day-to-day headset.
If I have a complaint about the design, though it has to be the size of the cups. I have big ears (please don't tease) and I never get a completely comfortable position with them. There is always a gap that lets my audio out and external sounds in.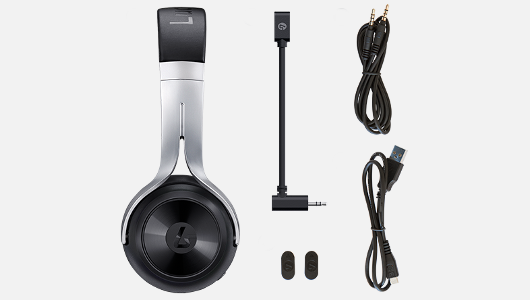 However, the quality of the audio from it is superb. It is both clear and deep. As well as trying it out with the Switch, I have also used it with my phone for some music and it performs admirably. Holding down the power button changes the equalisation settings on the device too, though they are more for other devices (with a blue (PS4), purple (Xbox One) or red (PC) light to signify its current setting). More usefully for the Switch, there is also a bass boost option that works very well indeed.
While there is a detachable boom mic, I have only been able to test this on my PS4 currently due to the current lack of voice parties on Switch. However, it works really well and I haven't received any complaints from my audience. There is also an inline mic but this is poor, with patchy sound quality.
Official Site
---
snakebyte Nintendo Switch Starter:Kit
• Manufacturer: snakebyte
• Key Specifications: Carry Bag, Stereo Earbuds, Cleaning Cloth, Screen Protector, Control Caps, Game Cases
• Compatibility: Nintendo Switch
• Release Date: Available Now

As a starter kit, this set actually functions quite well and covers you for most of what you'll need.
Firstly, the case is nicely designed. It comfortably sits the console with both Joy-Con controller's attached. There are also two elastic fabric straps that will provide extra security when the device is in there, though I tend not to use it as it becomes too fiddly to keep doing and undoing them. While the cover is soft plastic, it feels secure enough that dropping it will still protect the tablet. I also like the cloth pocket inside the case and use it to hold the cloth and earphones easily.
What I don't like about the case though is the fact that the Joy-Con shoulder buttons cause it to be raised in it, meaning it doesn't quite sit flush with the console. It's a relatively minor issue overall but it's just something I have noticed.
I really like the screen protector that comes with the kit as it is a glass one. It is solid, easy to put on and substantial enough to do its job. I have tested the touch controls with it on too and it doesn't seem to impact them at all.
As I am going all-digital with the Switch, I couldn't make use of the game case. I also don't like the stick pads either though this is a personal preference and not a judgment on them. They seem to work fine and only come off when you want them to.
However, I was able to make use of the earphones and screen cloth that make up the rest of the kit and they both function fine. I wasn't impressed with the sound quality of the earphones but they work in a pinch.
Official Site
---
Venom In-Ear Stereo Gaming Headset
• Manufacturer: Venom
• Key Specifications: 13mm Speaker Drivers, In-Line Volume Control Unit, Adjustable Microphone
• Compatibility: Nintendo Switch, PC, PlayStation 4, Xbox One, Xbox 360
• Release Date: Available Now

The Venom in-ear headset is certainly eye-catching, with a nice design and bold colours. Its compact nature makes it easier to transport than the LS20 but you do make some sacrifices with that.
While I find the design aesthetically pleasing, I can't say it's entirely comfortable or easy to use. It always takes me a little longer than I'd like to get the soft ear-hooks in place due to the size of my ears (I said don't tease!). Once in place though, the sound quality is poor too, giving off a mostly tinny sound.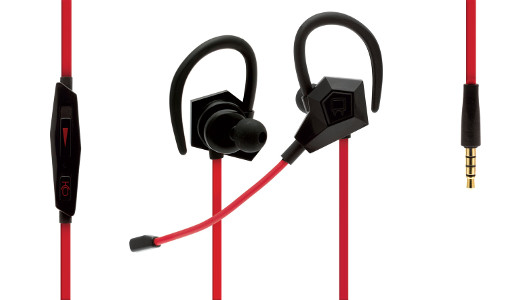 I have also tried the mic with my PS4 and the audio was disappointing. Again, like the earphones in the starter kit, they will do in a pinch but the LS20 is a better option. However, one aspect I do like about the Venom set is the controls built into the line. The in-line volume control is nice and useful.
Official Site
---
Review versions provided by Big Boy PR
Join the forum discussion on this post
Tags: Accessories, LucidSound, LucidSound LS20 Amplified Universal Gaming Headset, Nintendo Switch, snakebyte, Snakebyte Nintendo Switch Starter:Kit, Venom, Venom In-Ear Stereo Gaming Headset