If there is a genre of games that I feel needs to make a resurgence, it's the arcade racer. It piqued with Burnout Paradise and since then, we've had pale imitations that don't live up to the sheer fun inherent in these titles.
Moto Racer 4 is the latest arcade racer from Microïds and Anuman that attempts to bring the genre back and while it does some things I quite enjoy, the label 'pale imitation' fits.
[youtube id="6xEi-yxAJ5Q" align="center" maxwidth="530″]
• Developer: Microïds, Anuman
• Publisher: Microïds, Artefacts Studio
• Reviewed on: PlayStation 4
• Also Available On: Xbox One, PC, Mac
• Release Date: Available Now

To begin with, Moto Racer 4 wears its arcade racer ambitions on its sleeve. Its loud menu music and colourful mid-action background immediately informs you that this is meant to be fun. When you load up your first race, you are met by vibrant environments, colourful bikes and even more thumping music. As you begin, you'll notice the game is not entirely constricted by the laws of physics either, we can careen around a corner, rubbing the barrier without immediately falling off.
Unfortunately, it doesn't take long for the cracks to show. As the opening logos attest, the game runs on the Unreal 4 engine. I've seen some impressive games on this platform and it must be said, Moto Racer 4 is simply not one of them. The game looks like a late PlayStation 3 title at times with flat textures and foliage popping in. There are also frequent frame-drops which distract rather than break the game.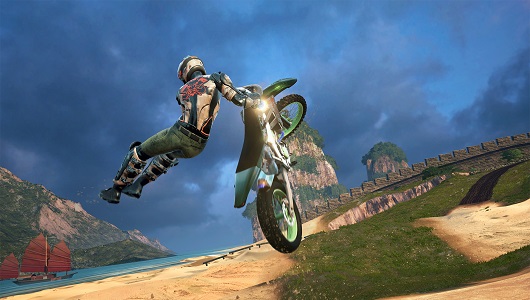 One of the primary reasons I asked to review this game, outside of my love for arcade racers, was the inclusion of VR support. At the time of writing, the game only supports the headset in time attack and hot lap modes but the developers promise to add more support via patches. However, if the image quality remains the same, I'm not sure I'll wait around. The game takes several steps backwards in VR, with the draw distance becoming incredibly short. While it works fine, and didn't make me feel unwell, it looks incredibly poor in this mode.
Once I got over my disappointment in the visuals though, I found the career mode to be intriguing. Like many games nowadays, the campaign is gated via a total number of stars. The game sets out what earns you one, two or three stars – however, instead of completing the mission and seeing what you earn, you choose what you're aiming for. For instance, you can choose to go straight for the three star goal but that will be incredibly difficult. If you do lose, you then get a negative star score, which subtracts from your total. This makes every mission into a risk/reward choice.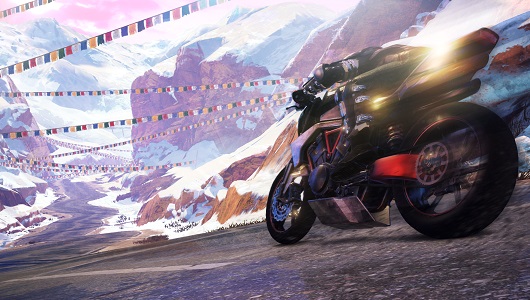 As you progress through the game, you'll race through numerous courses across multiple environments. Within each track, you'll also find new routes and shortcuts to exploit. To unlock new tracks, characters or upgrades, you need to earn style points. These are accumulated by performing tricks, near-misses and jumps during the course of races, hot laps and time attacks. Points are also taken for crashes or running off the road so you still have that risk/reward system at work.
The different characters in the game have their own characteristics and a choice of two motorcycles; a dirt bike for muddy tracks and a sports motorcycle for asphalt racing. While the addition of dirt bikes may suggest other types of tasks, like score or trick challenges, it actually just means that the terrain changes and you still race and perform hot laps on those tracks.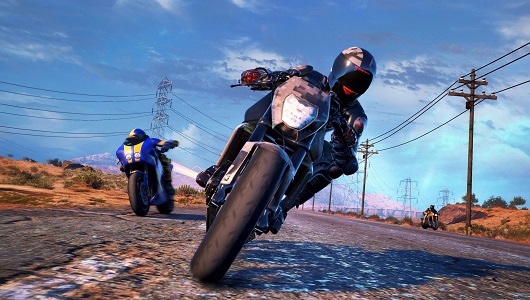 Outside of career, you also get the commendable split-screen multiplayer mode (commendable as it's so rare nowadays) and an online mode. This takes the form of a simple race lobby but the races themselves perform fine with little to no lag noticeable. Unlike the game's opponents though, your online opponents tend to be fair. At later stages of the game, it seemed like the computer controlled opponents I was facing had incredible rubber banding enabled but I wasn't given the same leeway when I fell behind.
The arcade gameplay is simple and fun
The career structure is novel
The visuals are disappointing, especially in VR
The difficulty can be unforgiving
Moto Racer 4 is a fun, arcade racer that lacks some polish. The developers appear to be serious about supporting it post-launch so hopefully they can add some further refinements to the game. In the end, if you really like the genre and are willing to ignore some rough edges, this may be a decent purchase, however, if it's the VR implementation you're interested in, I'd hold off if I were you.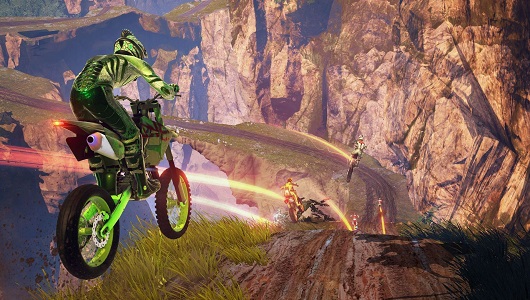 Review copy provided by PQube
Official Game Site
Tags: Anuman, Artefacts Studio, Mac, Microïds, Moto Racer 4, PC, PlayStation 4, Playstation VR, Xbox One