Meet Samuel. He is a bit of a rich douche. He drinks pretentiously small cups of coffee, the cost of which you could have used as a downpayment for your flat. He has never lifted a finger to do any kind of work. In fact, the hardest bit of exercise he has done was to throw money at the waitress. He is a narcissist. His girlfriend should have dumped him a long time ago. But don't worry, because karma catches up with Samuel in the shape of the septic truck that sent him straight to Hell.
• Developer: Perfectly Paranormal
• Publisher: Curve Digital
• Reviewed on: Xbox One
• Also Available On: Ps4 and PC
• Release Date: 14th October 2016
Samuel figures out fairly quickly that Hell is not so much to his liking, so he strikes a deal with Death to get the hell out of Hell. Oh, and Death is the guy in the baseball cap, who has a crush on War (she's so out of his league, by the way!) and likes to say the word 'faeces' a lot. Back to Samuel's story: Death promises that if Samuel lives 'manually' for the next 24 hours, he can have his life back.
This is where you as the player find out that Samuel can do absolutely nothing by himself. I am serious; you have to instruct Samuel to blink and breathe because he won't do it by himself. If you forget to blink, the whole screen becomes blurry, and if you forget to breathe (in and out!), Sam's face goes a nasty shade of blue, and he passes out. While you are pressing the buttons for these actions, remember that you also need to walk, dress, open doors and later drive (that evil shift stick!), among other things. I found walking surprisingly challenging, as each leg is assigned to respective bumper buttons, which should be pushed in order, or Samuel falls to the ground and does a painful-looking splits shakes. Moving your body is a hard job (go figure!), well done brain!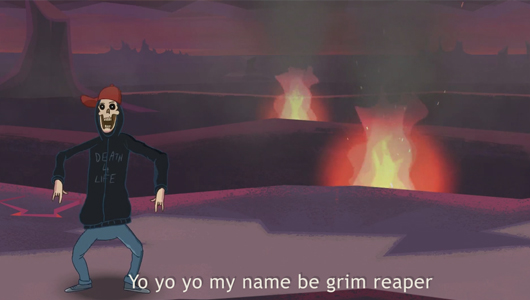 To my relief, I found out that Samuel can't actually die. Otherwise, the death screen would interrupt my gameplay every other minute, as I forget to breathe or do something else essential to life. However, fainting or causing Samuel significant damage has implications on the further gameplay and dialogue.
While trying to remember the combinations of buttons to push to make Samuel move, without falling to the ground breathless, sounds like a chore, it really doesn't feel that way when playing. Mainly because you are too busy laughing. In fact, I can't remember the last time I played a game that consistently made me chuckle. From you trying – and failing – to perform a particular action as Samuel to the graphical style and dialogue, the game's sense of humour is better than most modern comedies on the TV.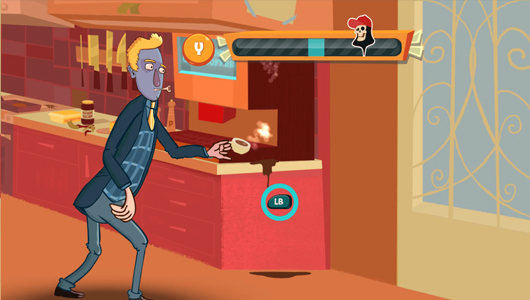 I don't want to say much more about Samuel's escapades, as the game has a beautiful narrative drive through it, and talking too much about it will spoil the fun. The 30-minute demo that I got a chance to play, got me well into the game. So far the scenes don't overstay their welcome, actions you do or don't do have comedic repercussions in future scenes, which means everyone's game will be slightly different. I enjoyed both the overall story and the characters, especially when some overused stereotypes have been turned on their heads, like, for example, with Death.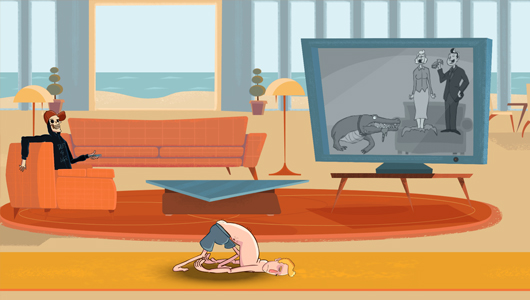 Manual Samuel will be equally fun to play as it is to watch someone else play it. I can easily see myself sitting in my living room with a group of friends and firing up a game to see who is the worst at walking or driving. I also can't wait to play more of the game and see what other mishaps come Samuel's way, as well as meet other colourful characters along the way.
Official Game Site
Tags: Curve Digital, PC, Perfectly Paranormal, PlayStation 4, Xbox One