With its unfortunate history of production disasters, it is surprising that Jane Got a Gun is not a complete mess. Director Lynne Ramsay left the project just before the film began shooting. The cast switched from one Big Name to another with no success. Jude Law replaced by Bradley Cooper, only for the latter to leave the project as well, then Ewan McGregor jumping on to the save the day in the last minute. Edgerton was originally set to play one character and then switching to another, to finally help to re-write the script. Only Natalie Portman stood strong from the beginning to the end. The final result, in the directorial hands of Gavin O'Connor tuned up to be a very passable Star War's re-union, but is probably not a western that you expected.
• Director: Gavin O'Connor
• Exhibition: 2D
• Rating: R
• Run Time: 98 mins

It is 1870, New Mexico. Bill Hammond (Noah Emmerich), a wanted outlaw, his wife Jane (Natalie Portman) and their daughter Kate (Maisie McMaster) have been hiding from a group of even more dangerous bandits, the Bishop Boys. However, it seems the time for hiding has come to end, and they will have to make a stand to protect their home and daughter. Hammond is dangerously wounded, and Jane has to turn for help to her ex-fiancee Dan Frost (Joel Egerton), which he gives, albeit reluctantly. Some built up feelings will need to be resolved and parts of history filled in.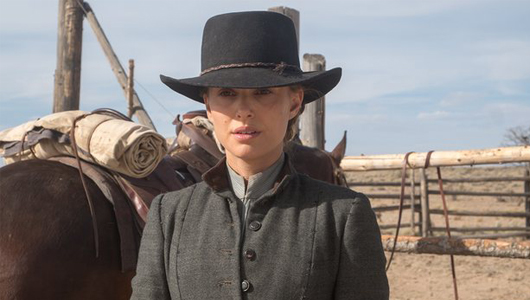 As a rare female-fronted western,
Jane Got a Gun
is fairly successful with its heroine. Portman plays Jane as a stoic woman of not many words, afraid, yet brave enough to face the inevitable and take the stand. Although Jane almost immediately runs to her ex-lover for help to protect her husband, who was also previously a cowboy in a white shiny hat, this dispelling any ideas of a feminist slant on westerns, at least there isn't a soppy romance in picture as well.
In fact, I really enjoyed the overall story of the film. Simple, with tight focus on the main characters, spliced with a flashbacks that fill the gaps in their histories. Ewan McGregor does well in the role of the main baddie, even with horrible hair dye and typical villain whiskers. Edgerton is equally believable strong and miserable, pining for Jane, who is devotedly in love with her husband, until the very end, although feeling understandably regretful about her relationship with her ex-fiance.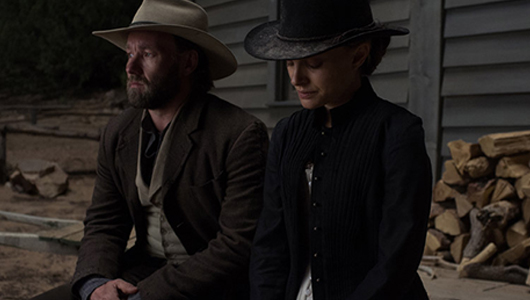 My barrel rating comes with a caveat, as I believe I enjoyed the film in part because of something that will act as a repellent to others. It is very much like a dry hay bale rolling over a deserted town. Although, I enjoy its mundane simplicity and serenity, I can see others finding it boring. In that case, subtract a barrel. I like the slow paleness of the film and how it takes time to read the feelings and the story in the character's expression and how little they say. I like how calmly, yet determinedly it sets the scene that is finally resolved in home-brewed explosions of the final act. I also feel that I am in a minority on this.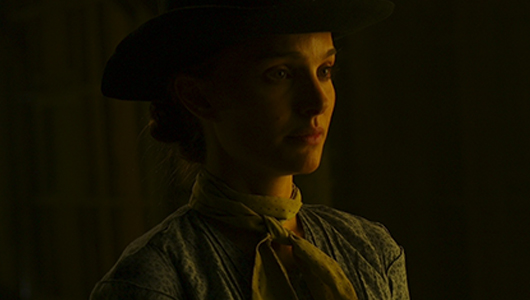 The main narrative of the story gets interrupted by several flashbacks that try to flesh out the characters back story. While I found some of them helpful, especially Jane's time while travelling with the Bishop Boys, others felt superfluous and distracting. Edgerton and Portman did a fine job of establishing their previous relationship from their interactions and conversations in the 'now', and flashbacks to them in love were not needed. A lot of these flashbacks felt like the remnant of the earlier script or at least a slightly different story.
Simple, character driven story
Good performance by the cast
Film takes it time getting through the story…
….which I suspect many won't like
Remnants of the old script don't fit well in the new story
To me, there is a lot to enjoy in  Jane Got a Gun. In fact, I am impressed how well the film turned out, all its history considered. It is a straightforward character story, with most of the action happening in act three for the film. It is also an emotional story, if not explicitly romantic one. The final cast do a fine job with their characters, although their ability to act story out, is sometimes depleted by flashbacks spliced far too regularly for my liking.
[youtube id="WMW1pjzEhfY" align="center" maxwidth="530″]
Grapevine Digital provided a review copy of Jane Got a Gun
Official Movie Site
Tags: Ewan McGregor, Gavin O'Connor, Lynne Ramsay, Maisie McMaster, Natalie Portman, Noah Emmerich, western