Fred Ballinger (Michael Caine), a famous composer, retires at a spa hotel in Alps, with his friend film director Mick Boyle (Harvey Kaitel), Hollywood actor (Paul Dano), Fred's daughter Lena (Rachel Weisz), the reigning Miss Universe (Madalina Diana Ghena) and an array of other celebrities and rich. And… not much happens. The setting is beautiful and so is the music, also Jane Fonda makes a great cameo.
• Director: Paolo Sorrentino
• Exhibition: 2D
• Rating: 15
• Run Time: 121 mins

Youth is Paolo Sorrentino's second English language film and this occasionally shows. The dialogue at places is clunky and characters spur into passionate monologues with little encouragement. However, the story is quite simple and beautiful, even if not novel. Youth is about brevity of life and fear of death, and each character in someway struggles with these topics.
Fred Ballinger excludes himself from the rest of the world. We meet him as he declined to perform his famous Simple Songs at Prince's Philip's birthday celebration for 'personal reasons'. His long time friend film maker Mick Byle is in the middle of writing a movie that would define his career. However, the future of the film rests entirely on whether Brenda Morel (Jane Fonda) will accept a role of a leading lady. Paul Dano, a Hollywood actor, studies the crowd of rich lounging around the spa, trying to figure out what roles he would like to play. He thinks himself quite clever and perceptive, until his prejudices are pointed out by Miss Universe.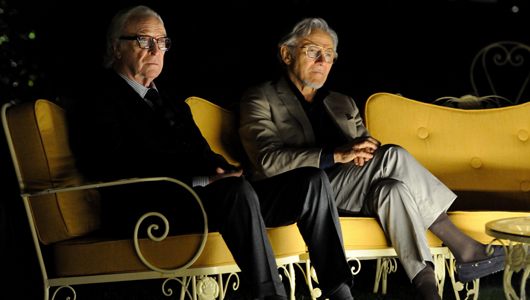 Lena, Fred's daughter, was probably the source of the most action in the movie, but her plotline kept getting side-tracked by other less interesting ones. Rachel Weisz is really good as estranged and slightly self-absorbed daughter, whose husband (also Mick's son) leaves her for a singer Paloma Faith (playing herself) because 'she's better in bed'. Resolution of Lena's plot was quite disappointing to me, however, as she quite literally jumped into the arms of the first man that introduced himself to her after the breakup. And while her relationship with Fred, her father, developed well throughout the movie, it seemed like something was missing from her arc, nonetheless.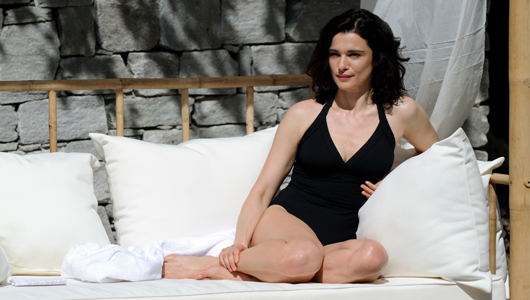 In fact, I felt similarly about quite a few storylines in Youth. The whole movie felt like a puzzle piece trying to come together from sometimes very different pieces. The storylines of the main characters are splashed together with picturesque views of nature around the hotel, with montages of naked bodies steaming in the sauna followed by music and entertainment performances that are staged for the hotel visitors. Sometimes there are pieces that feel completely out of a different box. For example, a dream sequence that Lena has about her ex-husband and his lover. Others are hit and miss. I was really touched by a story of a Diego Maradona-lookalike. Overweight and with breathing issues, he kicks around tennis (!) ball with excellent precision, trying to re-assemble the glory of his youth, until he falls down from exhaustion. While the couple that doesn't speak to each other, yet then has a very loud sex in the woods, was only as entertaining as Fred's and Mick's silly bet on whether they would talk to each other one day.
The movie is gorgeous, although sometimes, and quite deliberately so, it contrast with less pleasant scenes, following through on the themes of youth and death. Beautiful landscape is interrupted with scenes on naked bodies in the steam room, crouched from the heat, shot of an elderly naked man after he had sex with prostitute with idyllic field with cows and then a shot of naked Madalina Diana Ghena lounging in hot tub (and almost giving Fred and Mick a heart attack).
With actors of Michael Caine and Rachel Weisz calibre it is almost a given that performances will be at least good, and indeed it was so. Although, I thought that Michael Caine was a little bit flat, I could still watch his performance for days and not get tired of it. Jane Fonda, however, was an absolute scene stealer for all one and a half scenes that she was present in the movie. Her appearance is also one of the most story impactful ones in Youth.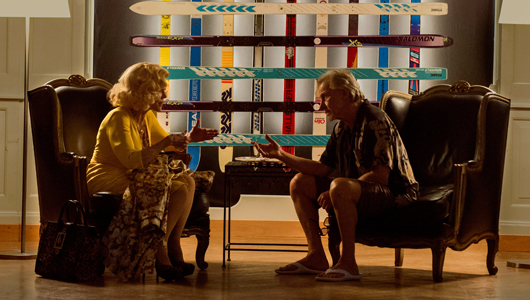 What I have enjoyed about the movie the most, and have not seen many other reviewers mentions, was the music. The songs are splashed through out Youth like little breather brakes, and each one of them is enjoyable on its own merits. The music of Mark Kozelek, Sun Kil Moon, The Retrosettes Sister Band and more are featured. The crown jewel of the movies is, of course, Simple Song #3, composed by David Lang which we finally get to hear as the movie closes. The song conveys the relationship between Fred and his wife, and thus has a lot of emotional weight to handle and it does so successfully. For me, hearing it finally being performed, was the most touching part of Youth.
Jane Fonda cameo is amazing
Gorgeous music, especially Simple Song # 3
Some storylines are undercooked
Monologues/dialogues can be clunky
Paloma Faith scene feels like it's out of a different movie
Youth was a very enjoyable experience. It is not without its fault, where characters and story are concerned, but it also has many merits that made me happy that I have seen it. Also, I will be definitely buying the soundtrack.
[youtube id="-T7CM4di_0c" align="center" maxwidth="530″]
Untitled Communications provided a review copy of Youth
Official Movie Site
Tags: David Lang, Harvey Kaite, Jane Fonda, Madalina Diana Ghena, Mark Kozelek, Michael Caine, Paolo Sorrentino, Paul Dano, Rachel Weisz, Sun Kil Moon, The Retrosettes Sister Band