Thanks to the soaring popularity of Psyonuix's part racer/part football title Rocket League since launching last year, we've been shown just how much demand there could be for a simple pick up and play style of alternative sports title. Another talking point in the games industry is the return of VR, with the HTC Vive & Oculus Rift headsets having released to the public recently – and looking around a packed out Tobacco Dock during the EGX Rezzed Expo, I don't think that there's any chance that this could be another gaming peripheral fad. Enter Rigs: Mechanized Combat League – a new type of sudo-sports game from Guerrilla Games Cambridge (the Killzone: Mercenary folks), that's set to launch exclusively for the PlayStation VR after it launches this October.
Rigs combines the aforementioned Rocket League with 2014's Titanfall, blends them together into a colourful paste and then pours it out into a giant American Football style stadium. You compete in three on three matches with the objective of scoring goals for your team (much like real football).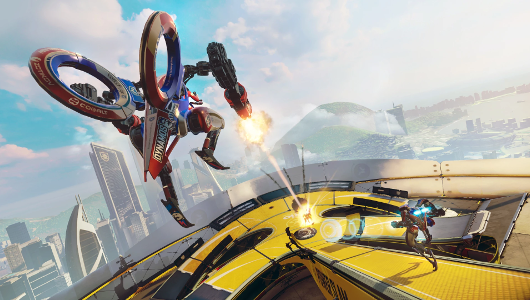 In order to score a goal you must collect orbs littered throughout the arena, gun down members of the opposing or a mixture of the two… oh and you do all of this whist piloting a giant mech suit. Powering up your armor will will give you to score a goal, which you'll then have to climb up a giant ramp in the middle of the stadium and then drop down a home whilst in this charged state.
From what I understand of the mech suits there are various classes that effect what role you will play within your team but as the match had been pre-selected for me and I'd played in a rather noisy environment, I couldn't really gain anything specific. Controls are of your typical FPS setup – left stick to move, right to set direction and triggers to fire your weapons, but where this is a game created for VR headsets, the aiming of weapons is decided by head movement. Now I've played shooters with both controller and mouse for aiming and while I'll admit that the average PC player will hold an advantage in faster aiming, I've always favoured consoles for their slower but easier to use style but using head tracking to aim could now be my new go to.
Obviously while you're climbing up a walkway that looms over the stadium's lower levels, this will leave you open to attacks from the opposition. This is where switching mech setups comes in handy, which can be done quickly and on the fly. There were three modes loadouts available; one for speed, attacking or healing – so you can change up your style to better suit what situation you're in. When making a dash to the goal for example, you'll want to have the speed mode activated to try and score as quickly as possible and avoid enemy gunfire.
[youtube id="gDO7Ockyurk"]
Having made my pre-order for the PlayStation VR last month, I was starting to doubt whether or not to cancel for the fear of the headset seeming like a novelty. Originally I had my first hands on experience last year to play some mini games, but to play something a little more substantial spells out to me that Sony are on the right path and releasing titles like Rigs: Mechanized Combat League, not only solidified my pre-order but also that the PlayStation VR may become more than just another flash in the pan peripheral.
Tags: EGX Rezzed 2016, Guerilla Games Cambridge, Mech Suit, Playstation VR, Rigs: Mechanized Combat League, Rocket League, Titanfall