There are video games that progress the medium in terms of their artistic value, such as Journey, Rez and Gone Home. This holds true for other media too, like film and music. There are multiple examples that make you re-examine what a video game/movie/song is and could be.
At the other side of the spectrum, there are titles that exist within the medium that just offer titillation and momentary satisfaction. The latest entry in the Senran Kagura franchise, Estival Versus, populates this area and does so unabashedly – and that is no bad thing either.
[youtube id="Bg6dtbJPPq0″ align="center" maxwidth="530″]
• Developer: Tamsoft
• Publisher: Marvelous Entertainment Inc.
• Reviewed on: PlayStation 4
• Also Available On: PlayStation Vita
• Release Date: Available Now

If games like Dragon Quest Heroes and Hyrule Warriors tickle your fancy, then Estival Versus may be for you. The campaign and most of the side missions take the form of large-scale battles across arena-like areas (usually beaches or hotel pool areas) where you take on various types of enemy ninjas and shinobi. Some fights then pit you against the other characters in the series also in ore long-form combat scenarios.
The game starts with a fully voiced anime cut-scene. The visuals are colourful and vibrant, immediately showing off the vastly improved characters models. They look identical to their cut-scene iterations. As Ryobi and Ryona mourn the passing of their sister, they stumble across a mysterious ceremony taking place in the woods nearby. When they see their sister, seemingly alive and well, they disrupt the event and suddenly shinobi from rival schools are transported into a parallel universe on a summer island (but of course).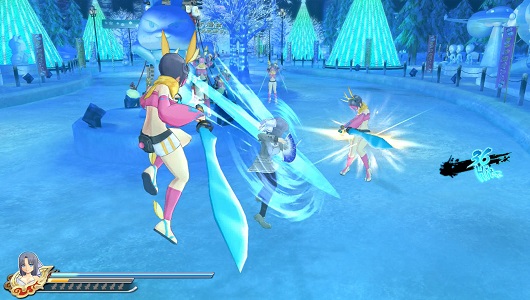 The campaign takes place over 8 in-game days. Titled the Kagura Millennium Festival, you get to play as all of the different ninja characters, getting all sides of the story from the perspective of the rival schools. This allows you to get a taste of all of the various fighting styles and moves of the ladies in question.
Like the other titles in the Senran Kagura franchise, each ninja has a transform animation called a Shinobi Transform. You can pull this off (excuse the pun) by pressing the L1 button. The animation begins by stripping the character completely; using either choice camera angles or beams of light to protect with little modesty they have left. An ancient scroll then materialises either between their breasts or legs and then their new costume appears on them. A Frantic Transform also exists that makes your character more powerful but they take more damage.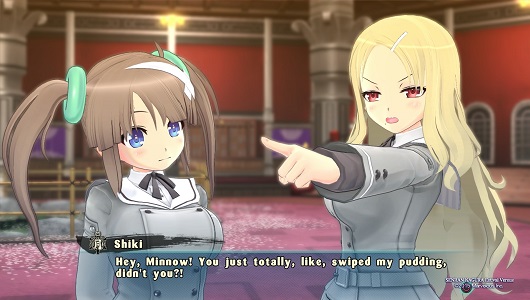 Outside of the campaign, there are Special Missions unlocked as you progress. These are usually tough battles with multiple rivals and require a lot of patience. There is also a shop that lets you buy music or visuals to view later in the Library, as well as accessories for the girls to use in the Dressing Room.
The Dressing Room is exactly what it sounds like – a teenager's wonder emporium basically! It allows you to dress all of the game's characters in a variety of outfits, with multiple accessories to choose from. There's also the Diorama that lets you become a virtual photographer and pose up to five girls as you see fit.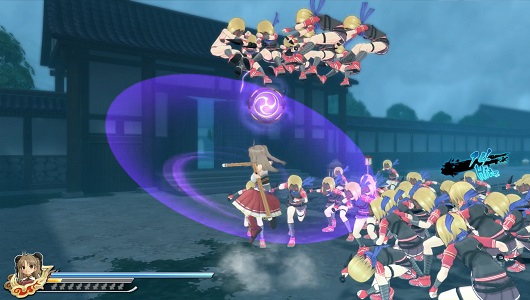 The core game-play is easy to pick up and difficult to master
There is a lot of content to unlock in the game
The story is unforgiving for non-fans
You really don't want to be caught playing this, by anyone
Video games are not one thing; quite rightly they are all things to all people. For every thought-provoking and emotional, narrative-driven game, there needs to be a fun, frothy (excuse the pun again), frivolous title out there to escape into. If the 'bewbs-and-ass' assault on your senses and perverse dialogue vex you, then pass on the game but if you want a fun arena combat game with odd but memorable characters (and you have no shame) then pick this up.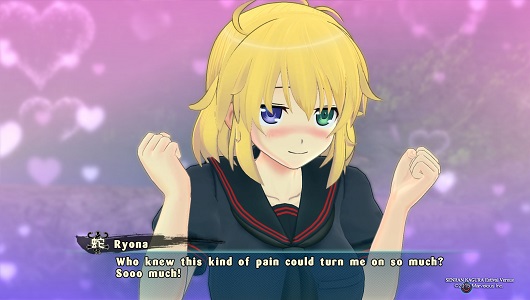 The review copy of this title was provided by Decibel-PR
Official Game Site
Tags: bewbs, Estival Versus, Marvelous Entertainment Inc., PlayStation 4, PlayStation Vita, Senran Kagura, Senran Kagura Estival Versus, Tamsoft