A zombie plague has taken over the world. Humans have all been turned into decaying, drooling creatures that want to do nothing else but eat you whole. Now, before you, dear reader, protest about yet another zombie-themed game (rightfully so, there have been too many) here is the twist: you are an animal. You are an animal with a gun. But there is more – your friends are here too, as sloths, armadillos, lions and giraffes, all with guns, flamethrowers and freeze rays. Together you need to survive the zombie hordes, save cute kittens and generally reign chaos everywhere you go.
[youtube id="axFUdT2Jcqo" align="center" maxwidth="530″]
• Developer: Aniode
• Publisher: Aniode
• Reviewed on: PC
• Also Available On: Mac, PlayStation 4, Xbox One
• Release Date: Early Access, Full Release Summer 2016
EGX Rezzed is always full of a tonne of fun, new games and this year was no exception. I have played many titles over the three days of the event but if someone would ask what is the most silly fun I had playing a game, I would answer Nature's Zombie Apocalypse without a second thought.
This is an up-to-eight players multiplayer co-op game from a little studio called Aniode. As a player you choose an animal, then your primary and secondary weapons (the crazier, the better). Along with your friends, you are dropped into one of the game's iconic settings to battle waves of zombies. The shooting in-game feels very similar to Tango Fiesta, a game born out of a Rezzed Gamejam, where eighties action superheroes shoot and explode… well, everything! Nature's Zombie Apocalypse is a similar top-down chaos inducing shooter, but its aesthetic and, frankly, animals, have more of an appeal to me. Seriously, try to look at a sloth with a huge gun and not smile, I dare you!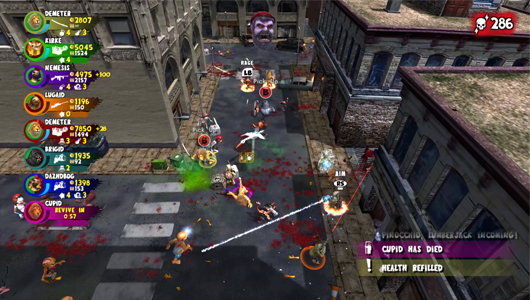 As you would expect the game offers a variety of animals, weapons, with more powerful ones unlocking as players progress through the levels and different game modes. At various points in the game, the player could activate a 'Rage Mode', making an animal leave their gun behind as it hulks out around the battlefield, rampaging through the enemy lines. Each animal has their own special 'Rage Mode': ducks suck zombies in the tornado, while elephants trample the hordes under them.  Smaller animals, suicidal snails, for example, could also be found around the levels, to help the player animals to strategically fight zombies.
Zombies themselves have several tricks up their sleeve. They can vomit toxic liquid, use their heads as bombs and more. Additionally, there are some tougher zombie enemies that spawn from different positions and times during the level. Zombie Queen (loosely modelled on England's Monarch) has probably induced most laughs, when we played it at EGX Rezzed. But there are other powerful enemies as well, such as clown and angry dinner ladies.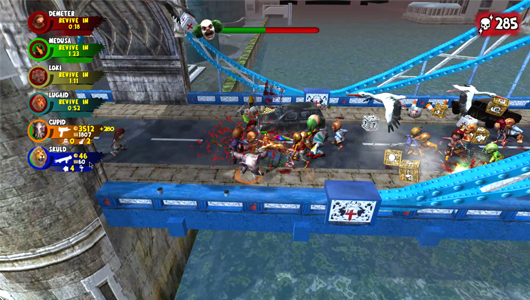 Graphically the game looks pretty great. The animal models look very nice and the various 'boss' zombies look well thought of. The game can get extraordinary busy and chaotic, and I have lost my character a few times during the game. Also our experience has not been without its glitches as the game did freeze during the match. However, as Nature's Zombie Apocalypse is still just in Early Access, I have all faith that this and the graphical issues will be ironed out for the game's release.
There has been no word from the developer if the game would have an online multiplayer as well, but, while I think this would be a worthy addition, I think the game is a lot of fun already. I am a really big fun of the same couch co-op, and wish more games would be able to offer these sociable experiences.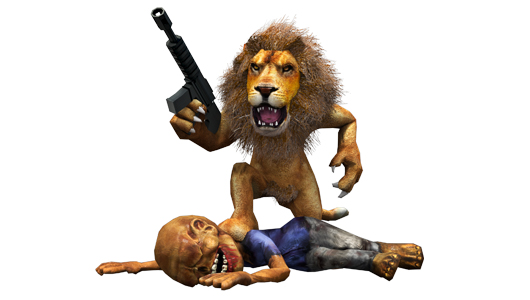 From what I have seen during EGX Rezzed, Nature's Zombie Apocalypse looks like incredibly silly fun that I need more of in my life. It takes an incredibly overused theme, but puts a new fun spin on it. I can see it becoming a game of choice when inviting friends over: something that everyone, even non-gamers, could pick up and play easily, but more importantly, a game that doesn't take itself too seriously, allowing everyone playing to laugh along with it.
Official Game Site
Tags: Aniode, BRB @ EGX, EGX Rezzed, EGX Rezzed 2016, Nature's Zombie Apocalypse, Tango Fiesta