It was a chance encounter, one glance across the counter of the department store, that lead to a beautiful, yet forbidden love story between Carol (Cate Blanchett) and Therese (Rooney Mara). Based on Patricia Highsmith's ahead of its time novel, The Price of Salt, which was originally published under a pseudonym to avoid controversy, is a story that was adapted by Phyllis Nagy and directed by Todd Haynes. It is touching, at times shy, yet always strong, story based in 1950s New York with great performances by the whole cast.
• Director: Todd Haynes
• Exhibition: DVD preview disc
• Rating: 15
• Run Time: 118 minutes

Carol is about to divorce her husband and going through the soul crashing process of fighting for custody of her daughter, who is the center her life. When browsing for a present for her daughter in a department store, Carol sees Therese, and they instantly fall in love. Forgetting her gloves at the counter, most likely on purpose, Carol leaves an opportunity for Therese to get in touch with her, and Therese does. Carol invites Therese for lunch, and she agrees. Their first conversation, although shy and awkward at times, as any new encounter could be, also shows clearly that both women are completely aware about what they are there for. Therese, although shy and doe eyed, is stunned only by Carol's elegance, beauty and money, rather than because of their feelings for each other.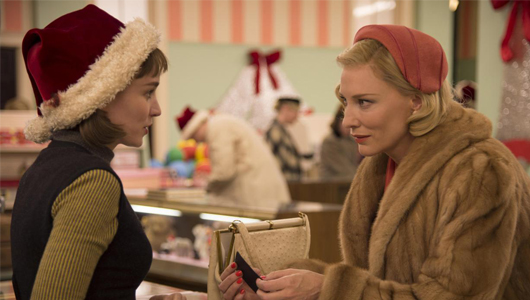 Therese is not the first female lover for Carol, who previously had been together with her childhood friend Abby (Sarah Paulson), who is still Carol's confidante and a reassuring hand in all troubles. She is also the reason why every Carol's female friendship is examined with scrutiny by the husband, Harge (Kyle Chandler), who is still in love with Carol and is grasping to keep the family together. The relationship between Harge and Carol is also a vehicle for the development of the relationship between Carol and Therese. In the hardest of times, when Carol, terrified of losing her child, can do nothing else but escape, she calls on Therese, the only person who can still make her happy, for companionship.
The Cate Blanchett and Rooney Mara scenes are always beautiful, the tension between the characters obvious in every word and every pause. Cate Blanchett is clearly the center piece of the movie. Although she acts, with great subtlety, this is exactly what shines on the screen. Rooney Mara is always slightly in shadow, like her character, who cannot compete with elegance and self confidence of Carol. However, it is really nice to see Therese character's develop into a stronger, more self confident woman, and by the end she is the one left making the decision, taking the front seat.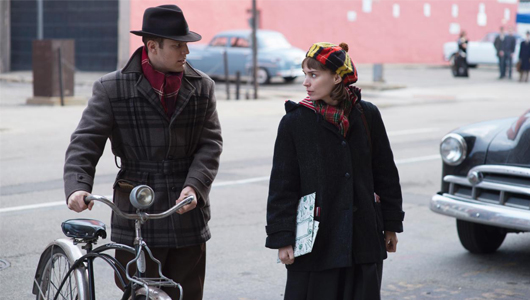 While Carol's and Therese's relationship are the center pieces of the movie, both of characters also have other lives, with husband and a boyfriend. The chemistry between Blanchett and Chandler was always great. Their every scene is filled with things unsaid and emotions that neither of them could quite get the handle on or explain. However, Therese's other, non-Carol life, is quite dull and left me unemotional. Richard, the boyfriend, is obviously wrong for Therese. He is too loud, for a quite, attentive Therese. He doesn't listen and doesn't know her. From the first time you see them together on the screen, you know exactly how he will react to every bit of the story. While Carol's husband, Hadge, is presented as a villain, there is still a lot of sympathy for him. He doesn't understand, he doesn't want to understand Carol, and he fights, by all means possible, to get back to his version of the perfect family. One of the last scenes between Carol and him, where Carol explains how their daughter is suffering because of their fights, is one of the most touching and emotional scenes in the movie. This slight unbalance in favour of Carol's life, left me untouched about any struggles Therese went through, that weren't directly linked to Carol.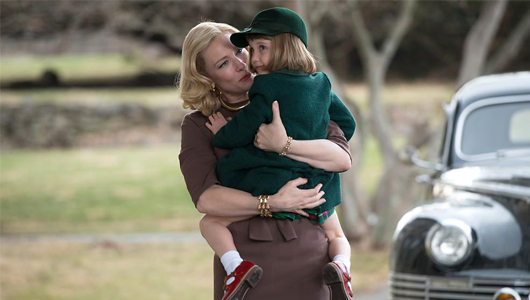 In fact, the most poignant and touching scenes for me, were not those between the main characters, but between Carol and her daughter. Carol explaining why she can't be with her daughter, Carol ready to sacrifice everything, even a woman she loves, to get her daughter back.
Every single scene in the movie is full of the 50s elegance and is a joy for the eyes. In fact, I tend to think it is too beautiful. Even those scenes in the movie that supposed portray poverty, old age and  neglect, are still somehow perfectly gorgeous in every little crack and rust mark. This, however, does not distract at all from the enjoyment of the movie. There is something about the 50s, that has a slightly fantastical beauty, which I enjoy.
Cate Blanchett is fantastic
Beautiful throughout
Poignant and emotional scenes between Carol and her daughter
A boyfriend character that is stereotypical and predictable
Carol is a gorgeous story about women's love, loss and confusion. I really appreciate that this is not another story about the confusion over feelings – I love that both characters are always quietly confident in their attraction to each other. Rather, this is a confusion from the consequences of these feeling, and how unfairly this love could be treated. It is a joy to see both main characters find themselves and their strength while navigating through this.
Carol is available on DVD and Blu-Ray from March 21st 2016.
 Untitled Communications provided a review copy of Carol 
Official Movie Site
Tags: cate blanchett, Patricia Highsmith, Phyllis Nagy, Rooney Mara, Sarah Paulson, The Price of Salt, Todd Haynes