Michonne was a fantastic addition to The Walking Dead television cast back in 2012, and it's unsurprising this katana-wielding heroine is the focus of Telltale's latest miniseries. For those familiar with the comics, the game explores Michonne's absence from issues 126 to 139.
• Developer: Telltale Games
• Publisher: Telltale Games
• Reviewed on: Xbox One
• Also Available On: PC, Mac, PlayStation 3, Xbox 360, PlayStation 4, iOS, Android
• Release Date: Available Now

One thing is clear from the start: the underlying theme of the series is Michonne's haunted memories and post-trauma. The episode begins as expected; Michonne, blade in hand, slaying zombies. Only this violent opening seems surreal; the scene flits between locations, and the presence of two young children seems to exacerbate Michonne's frantic actions. I might not be familiar with the comics, but it's easy to put two and two together. The story begins with Michonne experiencing a psychological struggle, plagued by guilty memories associated with her children.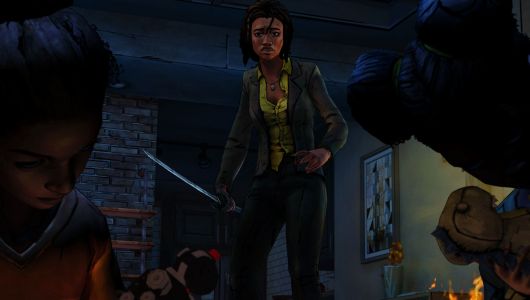 But (hopefully!) more on that in the next two episodes. What's clear from the first five minutes of In Too Deep is that Michonne is the focus, whilst secondary characters are thrown in without much introduction. Most of Michonne's "companions" fade away without much attention – apart from a sailor named Pete, who only stands out for his annoying optimism.
In Too Deep tries to provide a Walking Dead experience that offers something a little different. Michonne has become a member of The Companion's crew, scavenging and trading supplies along Chesapeake Bay. When the inevitable discussion of the zombie-apocalypse arises among friends, jumping ship always seems like the most logical idea… But In Too Deep suggests this might not be the safest option after all. When Michonne and Pete respond to a distress signal from across the waters, they fall into a situation involving an ominous "community".
Intriguing secondary characters do begin to emerge towards the end of the episode, a hopeful sign that episode two will not suffer from the spots of predictability in this first installment. Moments that clearly have a suspenseful purpose suffer from this; inevitably, her foot will miss that ladder rung and obviously, there's someone hiding in this room. Perhaps this is more due to the familiarity of the "Telltale formula", as it has come to be known. The QTE gameplay returns with little variation from the previous series of The Walking Dead game.
Thankfully, the central character provides the majority of the episode's liveliness. There's always at least one dialogue option that allows the player to present Michonne's iconic sass, which is very satisfying. You can choose to be forthcoming about Michonne's painful reminiscences, or instead react bitingly.  As Telltale games often remind players, silence is a viable response – and this works particularly well when playing as Michonne.
Michonne drives the action
Promising build-up to episode two
Suffers from considerable predictability
In Too Deep is a short but sweet Telltale experience lasting around an hour and a half, which is genuinely one of the best things about it. This episode was easy to complete in one sitting and lacks any slow "filler" moments. For lovers of Telltale's previous The Walking Dead adventures, In Too Deep is an enjoyable dive back into more of the same. Yet overall, anyone who loves the character of Michonne has the most to gain from this miniseries.
Review copy provided by Telltale Games
Official Game Site
Tags: episodic, In Too Deep, Telltale Games, The Walking Dead, The Walking Dead game, The Walking Dead Michonne, TWD