This is probably the hardest opening paragraph I've ever had to write. Usually I have a plethora of information regarding the game or comic in question, some insider information I think you'd find interesting, or an anecdote about my time at an event. This time round I have no information other than what's in the book, and nothing interesting happened to me while reading it. But I will say this, Death Vigil is one of the best comics I've read in years.
• Writer(s): Stjepan Sejic
• Art: Stjepan Sejic
• Colours: Stjepan Sejic
• Publisher: Image
• Release Date: Out Now

Written and drawn by Stjepan Sejic, Death Vigil sees the Grim Reaper (who is actually named Bernadette) recruit a small group of 'gifted' people to her cause to fight the primordial evil. She does this by approaching gifted individuals when they die and giving them the choice to fight for the Vigil, or rest in peace.
If they choose eternity with the Vigil they must touch the Reaper's scythe to obtain their veilripper, the weapon of the Death Vigil. Veilrippers take the form of something that was extremely important to the member in life, even if they can't remember at first. Each veilripper is different, and it's up to the individual to figure out what it is and how to use it.
This, in effect, gives each member of the Vigil a different super power, creating a group of something like a supernatural Avengers. It's a nice twist on a classic formula that (ironically) breathes new life into the super powered team dynamic.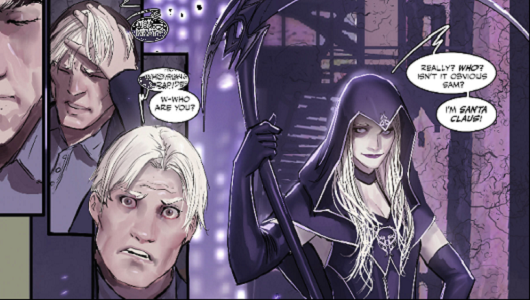 The agents of the primordial evil are the necromancers. Their weapons are the creatures that are bound to them through ancient and powerful symbols tattooed onto their skin. These creatures are grotesque beings summoned at will by the necromancer it is bound to to fight the Death Vigil, and just the sight of one can turn a regular human insane.
The story follows Clara, a young woman murdered by her necromancer boyfriend, as she comes to grips with her new 'life' and learns to use her veil ripper. The interesting thing here is the story is narrated by Sam, a member of the Vigil for 12 years, using his own experiences from when he first joined as a contrast to Clara's, while he tries to make sense of his own issues.
Meanwhile, the necromancers of the Pale Court are growing in strength and number, as their secret plans are coming closer to fruition. The story is an action packed ride from start to finish, full of twists, turns, and betrayal, it has everything you need to stay firmly planted at the edge of your seat.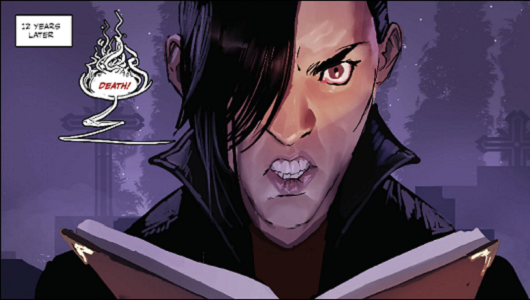 The fact it has one of the most epic final battles I've had the pleasure of reading in a very, very long time was just a gratuitous bonus.
Good versus evil is a tale as old as time, but Sejic gives it his own twist and flare, creating something wholly original. This is helped in no small part to the incredible writing on offer. Sejic has a way of writing characters and teams akin to Joss Whedon.
He allows each members personality to shine, emphasising the fact that although the Vigil are immortal, they are still human. Every single member of the Vigil is loveable, and the dynamic he creates makes them feel like a genuine family.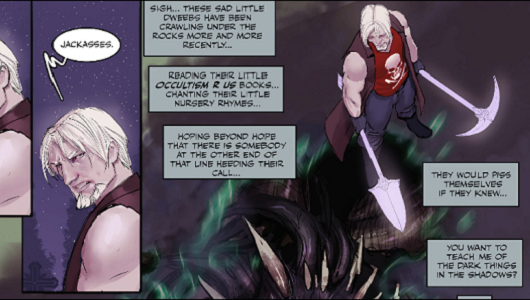 Even the enemy have been written in a way that make you empathise with them for one reason or another. Every character the Vigil encounter bring something to the table in the form of a personality, and even if only for a couple of frames, it shines.
The art work of Death Vigil is absolutely stunning. I've been a fan of Sejic since his Witchblade/Darkness run, and it's great to see how his own unique style has developed over the last few years, and the influences from his previous work make it clear to see he hasn't forgotten his roots.
Red, white, purple, and black absolutely dominate the palette to amazing, and at times truly haunting effect. The contrasting colours allow individuals to stick out in the most chaotic scenes, Death Vigil is simply beautiful. If anyone was to ask me what my idea of perfect comic book art would be, I would show them Death Vigil.
Solid story and writing 
Beautiful art work 
Genuine and loveable characters
I know this review may seem a little effusive, but there really is no other way to get across how much I adore Death Vigil. If you're a fan Sejic's past work, or simply a fan of fun, stylish supernatural stories then you will love this book. Stjepan Sejic has created something special, and I honestly can't wait to see where the story goes next.
Review copy provided by Top Cow.
Official Website
Tags: Death Vigil, image, Stjepan Šejić, top cow