Earlier this year, Colossal Order and publisher Paradox delivered a truly fantastic city building game which gave us fans a reason to be happy again after being burnt by the SimCity revival. Cities: Skylines has gone on to have a fantastic first six months, as with other Paradox titles we have our first expansion pack. Does After Dark fit well with the current model and does it expand well on the already awesome formula?
• Developer: Colossal Order
• Publisher: Paradox Interactive
• Reviewed on: PC
• Also Available On: Mac, Linux
• Release Date: Available Now

From the offset – the main change is obvious. A day/night cycle is a feature that I didn't realise wasn't in the base game until quite a few hours in. The game sucked me in so much that I didn't even think that it was something I needed. The original simulation concepts and implementation was already fantastic, and considering they weren't sure how well it would connect with fans (perhaps due to the SimCity debacle before it), coding in a night cycle that would behave differently was always going to be tough.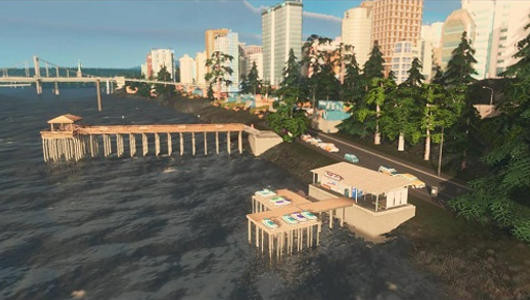 The time they've taken to make the expansion and patch so different to how the usual game works has gone a long way to making the transition easier. Now if you're reading this as a fan who is waiting to jump back in but don't want After Dark you're in luck. The day/night cycle is updated into the base game, meaning that the game changing features are given to all, not the select few. It's a business model that's been present in a lot of Paradox titles and is welcome here. Fans will be fine with the base game and the gameplay update that the Expansion bought, but it's what the expansion offers that makes it easy to recommend.
After Dark builds on what makes Cities Skylines so great. It allows anyone to have the features while offering added benefits to those willing to purchase more functionality and more to play with. It's an appealing business model and one that Paradox has been pushing a lot recently. When dropping into After Dark it's not immediately obvious to what is part of the paid DLC and what is just the content update. This is not overly a problem as After Dark is giving players the chance to build on their already existing cities. A couple of the changes are designed to make management more varied, but does not make it unfair to those not wanting to purchase the expansion.
So, what does After Dark actually offer for me to go that's worth the purchase? Although the focus was on night time procedures, there is also a focus on transportation. After all, traffic and citizen travel routes and dynamics change as the cycle plays out. There's plenty to offer for those wanting to make the most efficient transport system for their hardworking citizens. A new international airport, a new, improved and bolstered bus station and the introduction of taxi ranks means that creating a network of transport offers a more varied and challenging experience. Taxi ranks can be littered around your commercial areas for ultimate foot fall while saving your bus routes for the day time commute. The road infrastructure is also improved, building in concepts found in various traffic mods. There are now bus and bike lane options for several road choices, making the placement of a road network vital for slick city movement.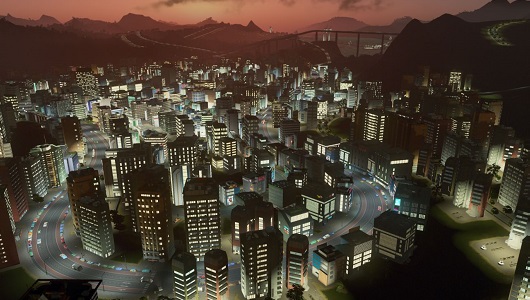 Everything mentioned so far makes a city look busier and more congested – fortunately there are some new parks and landmark buildings available for placement. After Dark also offers some new props, vehicle, citizen models and other cosmetic changes to boot.
Your districts also play a big role within After Dark, allowing you to give special tourism and leisure specialisation to certain districts. These are usually commercial and will turn shops into bars and restaurants. The leisure specialisation spawns in theatres and other leisure buildings for citizens to visit, while the tourism will favour buildings like hotels and specialist shops. You can also pair tourism with the marina and shoreline tours that are now objects you can place and move within the city.
Within the base upgrade, crime has been reworked so that during night time, the hive of scum and villainy come out to play, not fearing the watchful eye of the law. There are ways to combat this of course, more police in the night for example. After Dark now gives you something to do with the criminals once caught in the act. You can place a prison in your city to hold the criminals so that they don't get let go straight away. It's another way to combat crime, especially in the night time to make sure homes and businesses are kept safe.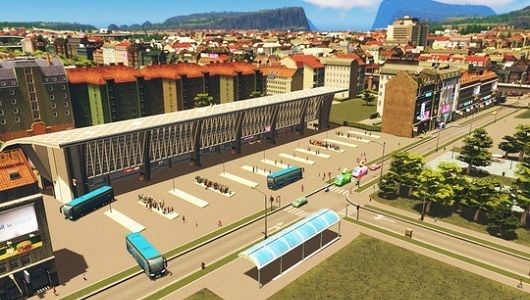 One big thing that makes After Dark a success or not is whether the modding community still support the game. During my initial reviewing playthroughs I turned my mods off so I could test the pure expansion. Once release rolled around and I could see whether my much beloved mods were still supported. I was happy to browse the workshop and see that mods did not need much tweaking to make them applicable for After Dark. Some of the cosmetic and building content downloads were upgraded. The community still supports Cities: Skylines and it bodes well for future releases.
New Buildings
New and Improved Cosmetics
 Doesn't Hold Too Much Back for Players Who Can't Get Expansion
Some May Not Find it Valuable
Cities: Skylines is like a toy box with plenty to take out and play with. After Dark puts some new toys in to those wanting to purchase them, giving some new and varied ways to play. The base game update makes the toy box more functional for those wanting to jump back in without purchasing the new toys. After Dark is a great addition to the Cities: Skylines library and leaves the future bright for future expansions. Shaping your city is now even better.
Review copy provided by Johnny Atom Productions
Official Game Site
Tags: After Dark, Cities: Skylines, Colossal Order, Paradox Interactive