We here at Big Red Barrel do love a good bargain, and if the money from said bargain goes on to help people then that's even better! Last week, Top Cow and Humble Bundle teamed up to offer the biggest book bundle in humble history, offering over $600 worth of quality comics for as little or as much as you'd like to pay.
The money from this brilliant bundle will go on to help two great comic book causes; the Comic Book Legal Defence Fund, and the Hero Initiative.
In their own words, the Hero Initiative (which can be found here) "is the first-ever federally chartered not-for-profit corporation dedicated strictly to helping comic book creators in need. Hero creates a financial safety net for yesterdays' creators who may need emergency medical aid, financial support for essentials of life, and an avenue back into paying work. It's a chance for all of us to give back something to the people who have given us so much enjoyment."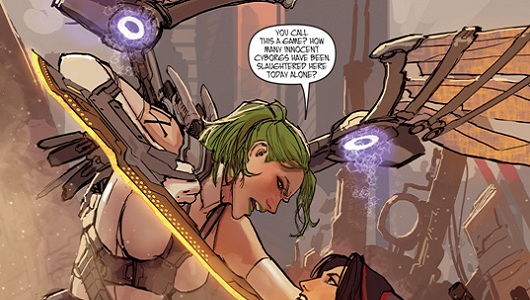 And the Comic Book Legal Defence Fund "is a non-profit organization dedicated to protecting the First Amendment rights of the comics medium. Our work takes us into courtrooms, classrooms, conventions and libraries all over the United States where we provide legal aid, education, and advocacy to protect the First Amendment rights of the readers, creators, retailers, publishers, and librarians of comics, manga, and graphic novels." and can be found here.
Not only is this great deal helping two incredibly worthy causes, it also ties in nicely to Top Cows annual Talent Hunt, which looks to find writers and artists with no previous major publishing history, offering a cheap way for budding participants to pick up the relevant reference material.
The Bundle already reached over 6,000 purchases on its first day, and I already picked up the Bundle myself last week. The amazing deal is on until Tuesday November 3rd 2015 (just five days left!). You can find the Bundle itself right here, so if you are looking for something to read over the weekend and feel like helping out some causes I highly recommend you get on this.  I'm glad I did.
Tags: CBLDF, Comic Book Legal Defence Fund, Hero Initiative, humble bundle, top cow