My first port-of-call at EGX 2015 was the Star Wars Battlefront stand in the Sony section of the show. Like many, I queued for about 90 minutes in Hall 19 of Birmingham's NEC to get my pass and waited impatiently for the 10:00 opening to arrive. I may have trampled a few small children and elf cosplayers to get to the Sony booth, but it was worth it as I got my hands on DICE's intergalactic war simulator soon after arriving.
• Developer: DICE
• Publisher: Electronic Arts
• Previewed on: PlayStation 4
• Also Available On: PC, Xbox One
• Release Date: 17th November 2015 (US) / 20th November 2015 (Europe)
There were actually two separate demos for Star Wars Battlefront at the show. The one in Sony's area was the co-op mode and was playable on about 16 stations. The level was set on a desert planet and pitted two surviving Rebel troops against oncoming waves of Imperial forces. Before the mission started in earnest, Admiral Ackbar lays out your dilemma and asks you to secure pod drops to survive until an escape shuttle can arrive.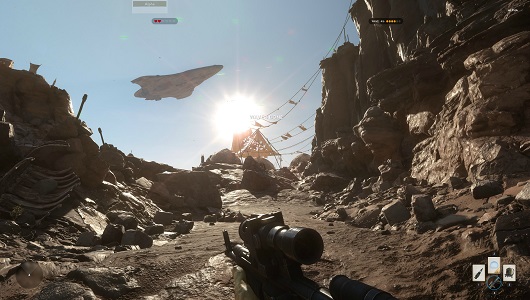 The gameplay was formed around wave-based rounds of increasingly deadly Imperial attacks. Starting out with standard, blaster-wielding Stormtroopers and moving swiftly to AT-ST walkers, the challenge ramped up quickly. Even the troopers offered differing levels of difficulty, with many equipped with jet thrusters and portable energy shields.
While surviving the onslaught was a task in itself, the game also challenged you with reaching pods scattered around the rocky terrain and defending them. Communication was key so as you might expect of a show floor with deafening noise everywhere, it was a challenge. Regardless, my teammate and I still managed to maintain our composure until the very end.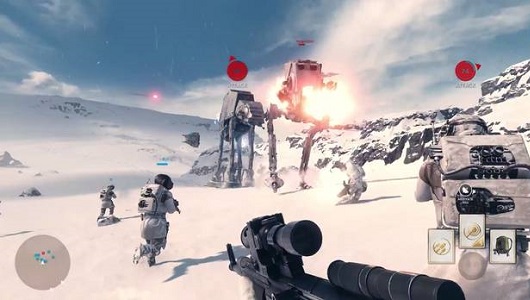 As well as the standard blaster, we also each had ion weapons to use against the walkers. Each wave hit our health bars significantly but thankfully the pod rescues afforded us health and ammo refills. We started out with two life tokens also. If you died, you could choose to use one of these to get straight back into the fight or wait until the end of the current wave to respawn automatically.
I enjoyed the mode overall, though it didn't do anything new. It was the defence of the Rebel base on Hoth that sold me on this game. In the EA booth, with a queue length of two and a half hours, there were forty stations set up with a 20 vs. 20 battle on the snow planet on show. After a brief mission intro from Ackbar again (not a single 'it's a trap' in his dialog by the way), we were each placed at a station and thrust into battle.
[youtube id="jXU5k4U8x20″ align="center" maxwidth="530″]
Once again placed in the Rebel Alliance, we were tasked with defending the communication towers surrounding the base which would allow our Y-Wings to target the oncoming AT-AT walkers. It was a tense battle, fought with bravery… which we ended up losing. Despite this, I had the opportunity to play through each aspect of the mission.
Starting out with a generic Rebel soldier, I was able to rack up a few kills. However, the very first power-up I found on the battlefield ended up being the hero one, which temporarily turned me into Luke Skywalker. I managed to get through about ten troopers before it ran out and it was a lot of fun!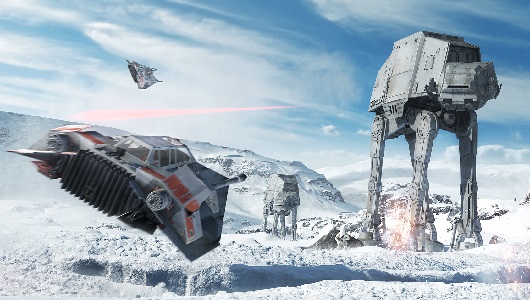 Moving to the nearby tower, I held it for as long as I could but was eventually overcome with enemy troops. Respawning inside the base, I found a Y-Wing power-up which allowed me to briefly take on the walkers. Once again, it was fun!
In fact, the entire time I played Star Wars Battlefront, I had fun. I didn't see much new in what DICE is offering with this game, but what it does offer is a joy to play. I don't know if the servers or match-making will work on release but my lack of faith is justified. I will probably wait for the first few weeks to go by before making the jump.
For those who join the battle from the beginning, may the Force be with you.
Official Game Site
Tags: BRB @ EGX, DICE, EGX, EGX 2015, Electronic Arts, PC, PlayStation 4, Star Wars, Star Wars: Battlefront, Xbox One