A Bethesda-led conference at this year's E3 could only mean one thing – and fans anxious hopes proved worthwhile when Bethesda revealed a full-length cinematic trailer of the madly-anticipated title, Fallout 4. Heightening people's excitement pre-E3 was a great tactic by Bethesda, whetting fans appetites for further content to be shown during their first ever conference. Approximately half of the presentation was dedicated to showcasing Fallout 4 – but that's not to say the other portion wasn't packed with exciting news. First up was some revived nostalgia with a Doom reboot that is due for release in Spring 2016.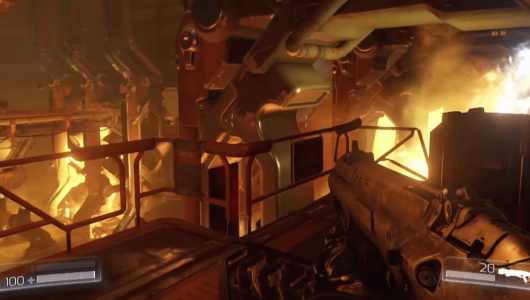 For fans of the original Doom games, the corridor-running tradition now appears evolved with new-generation graphics and gameplay changes. The iconic orange luminosity remains, only with a realistic aesthetic that makes mowing down demons all the more satisfyingly gruesome. Those familiar with the game – many of whom were in the live E3 audience, judging by the loud cheers – will happily note the presence of the super shotgun and the BFG (Doom's iconic "Big ****ing Gun") in the gameplay footage shown. There's some verticality and jumping to different levels, yet ultimately Bethesda seem to want to stick to the traditions of "moving really fast", wielding iconic weapons and killing the heck out of some demons. Only now, the glorious bloodthirstiness is at its full potential with the reboot's graphic quality and new engine. For those not so convinced that this reboot will involve much change to the game, there's Doom SnapMap. This is a brand new feature that allows players to design and create levels, maps and modes. Marty Stratton, Doom's executive producer, shows one example of a custom made co-op mode that sees players facing off against waves of demons.
[youtube id="NteAPGprDJk"]
Next on the Bethesda agenda was Dishonored 2. This sequel to the 2012 game has been assumed for some time, and Bethesda unveil a CG trailer alongside news that a Dishonored: Definitive Edition is also in the works, and set to be released on new-gen consoles this Autumn. Of all the re-releases Bethesda could have announced, I have to admit that personally it wouldn't have been my first choice – but it makes perfect sense, allowing for players to replay or first-experience the atmosphere of Dunwall, which undoubtedly will look stunning on Xbox One and PlayStation 4. Dishonored 2 will see the return of Corvo Attano, the protagonist of the first game, as well as Emily Kaldwin. Players can choose to play as either of these pre-existing characters, and the beautiful CG trailer shows off Emily's smooth stealth-action skills. Little else is known about the game as of yet – the steampunk-style looks very similar to the first game, although it is set in the new location of Serkonos. As with Doom, we can expect to see this title hitting the shelves early-to-mid 2016.
[youtube id="UnsDyv-TtJg"]
Watching Bethesda's conference did leave me wistful for a re-release of Skyrim. It's a farfetched hope – Bethesda have more than enough to keep them busy. Nonetheless, the reveal of The Elder Scrolls: Legends is exciting news for fans and is likely inspired by the success of Blizzard's Hearthstone. Like Hearthstone, TES: Legends will be a free-to-play digital card game built around the lore of The Elder Scrolls world.
[youtube id="X7VQa-sOlz4″]
And so we arrive at the pinnacle of the conference – and Bethesda definitely delivered. Beginning with a look at an array of concept art that shows how Fallout 4 was first envisioned, the latter portion of Bethesda's conference is filled with gameplay footage and explanations of new features that make Fallout 4 appear a game worth getting enthusiastic over. When the announcement trailer was released, it appeared to have a somewhat more polished, brighter environment than that of Fallout 3. This makes sense now that we know that the game actually works as a prequel in part, offering a look into the world of Fallout before the nuclear war caused such desolation. Your character has a wife or husband, a baby, and a robot butler named Codsworth. Your character resides in a beautiful and futuristic home on a utopian suburban street. The fact that we see Fallout's world pre-apocalypse is a wonderful advantage, as the old-fashioned yet futuristic technology we have seen in its beaten-up, post-nuclear form is in its element. Not to mention it allows the player to create their character in what appears a very unique and dynamic way – design both yourself and your partner by looking in the bathroom mirror; smoothly interact with different facial structures whilst continuing to interact with one another. The Sims fan in me was going crazy when watching this gameplay. According to Bethesda, the look of your child in the game will be generated as a result of your character customisation, which is a neat little detail.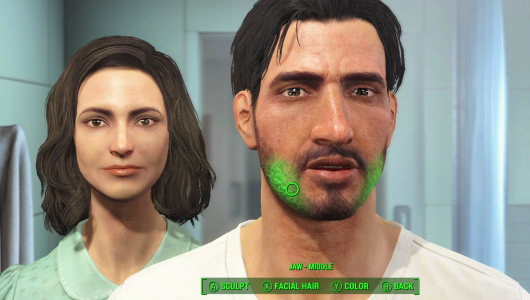 Obviously developers will strive to display their titles in the most attractive way possible through use of the most powerful technology, and what was shown at E3 definitely displayed the potential beauty of Fallout 4. It's been seven years since Fallout 3, and this graphic quality is going to feel like a wonderful update. So too do many other elements of the game seem improved; the VATS combat no longer sees enemies freeze in place whilst you dither over whether to aim for their torso or leg. Instead, enemies decrease in speed, hopefully making combat feel a bit more fast-paced and urgent. The attention to crafting/upgradeable weapons and armour looks to be an invaluable feature that will make the combat feel more personal and creative than ever; there are over 700 modifications available for weapons alone.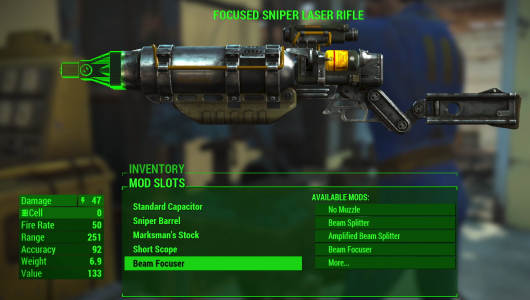 Crafting for combat and also for defences looks like it could fill a lot of time – and again, The Sims fan in me is delighted. Your Megaton house seems rather sad in comparison to the structures you can build with materials and resources you find in the Wasteland; it appears that you can literally build from the ground up. The footage showing the item placement in and around your dwelling suggests serious potential for customisation, as you don't appear confined to specific dimensions or angles on the ground. All these small touches combined promise fantastic immersion in the game – and whilst perhaps home-designing isn't for you, the option to create is there, and appears very open to the player's imagination.
I think it's safe to say that Fallout 4 stole Bethesda's conference, and arguably the entirety of E3. Whilst there's still five months to wait, the mobile game Fallout Shelter (a cross between FTL and The Sims) is a good fix before the new game arrives. Better yet is the collector's edition, which is more than a little tempting. This edition of the game comes with a Pip-Boy the player can insert their smartphone into and wear. The Pip-Boy will then function as a secondary screen for features like stat-viewing and accessing the inventory. Unlike the usual repertoire of collector's edition figurines and art books, for £99.99 – not bad, considering the Halo 5 collector's edition comes in at around £199.99 – fans can get a piece of kit that will allow for a whole new level of escapism. Throw in some VR and you're sorted!
In all, Bethesda definitely proved that hosting their own press conference was a smart move. We knew it had to be Fallout 4 – but the amount of content that was unveiled at this year's E3 was definitely enough to satisfy Fallout fans and pull in some new ones before November 10th rolls round.
[youtube id="Lnn2rJpjar4″]
Tags: Bethesda, Bethesda E3, Dishonored, Dishonored 2, Doom, E3, Elder Scrolls Legends, Fallout 4, The Elder Scrolls Online