Lawyer by day, vigilante by night. Daredevil's first season marks the beginning of not only the Netflix originals team-up series The Defenders, but also a rapid increase in the number of costumed crusaders into the Marvel Cinematic Universe. But while Daredevil is firmly set in a post-Avengers New York city, it's not reliant on that connection to appeal to the masses, and is an outstanding series in its own rights.
[youtube id="XC7GPdBV9WQ"]
• Created By: Drew Goddard
• Availability: Netflix
• Rating: 15
• Episode Run Time: 60 mins
• Episodes: 13

Based on the Marvel comics character of the same name, Daredevil follows the story of Matthew Murdock (Charlie Cox) during his early career as both a lawyer, and a vigilante. Blinded by a chemical spill as a child, Murdock's other senses become super heightened to the point where he can feel the smallest of changes in his surroundings and hear heartbeats from blocks away. Being a lawyer and vigilante, as well as a catholic, Matt's morals are constantly in question throughout the series and mould the evolution of Matt from vigilante, into the hero Daredevil on a mission of justice.
Like most good heroes, Matt's journey is not without other players, both friend and foe. Foggy Nelson (Elden Henson) has been Matt's friend throughout law school and now law firm partner. Foggy's first impression may lead you to believe he's there for comic relief, and while it's true to an extent, he also goes on a journey of personal growth but still keeping his charms. The season opens with the pair opening their law firm "Nelson and Murdock," where their first case sees them come to the defence of Karen Page (Deborah Ann Woll). Though she begins the series in a fragile state, Karen joins Nelson & Murdoch in what becomes a crusade against a criminal empire that has the city on its knees, all under the control of an unknown kingpin, Wilson Fisk (Vincent D'Onofrio).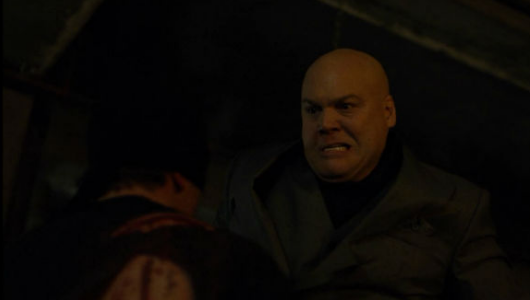 One of the first things to address when discussing Daredevil though, apart from its choreography, pacing, editing and performances, is the darker tone to the crime drama series. Daredevil's rating is higher than its current DC counterpart, Arrow, and is the highest rating of any Marvel film or series since Marvel Studios began its cinematic universe. And of course, it's warranted throughout the show with a lot of bloody violence that you would expect from a street level vigilante series.
This violence carries weight though, mostly due to the superb performances of the entire cast, although Vincent D'Onofrio's portrayal of Wilson Fisk is particularly exceptional. Here we have a very complex villain that believes what he's doing for his city is purely for its benefit, going into business with the triad, yakuza and Russian mobsters. He keeps out of direct involvement in most matters, working through his aide, James Wesley (Toby Leonard Moore), but his dark history has made him an unpredictable character, and he becomes positively primal in his aggression.
The comparison  between Fisk and Matt's journey throughout the series brings an excellent contrast to how they each dealt with traumatic experiences in their childhood, but it's their respective rise and fall that really defines their comparison. When we begin the season, Matt's starting with nothing and no one in his crusade to save Hell's Kitchen, meanwhile Fisk has seemingly unlimited resources and a number of powerful allies. The scales never truly tip into Matt's favour, but just enough to keep hope alive.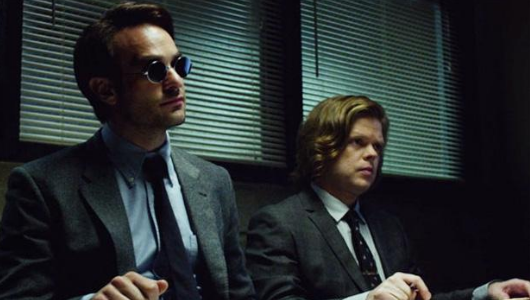 Unlike other hero shows, combat in Daredevil feels very realistic. Matt's blind, he doesn't have superhuman strength, or the inability to feel pain. Throughout the series, he, and everyone else that engages in fisticuffs react in a way the audience can believe, and more importantly, they show signs of fatigue. Never is this clearer than the now infamous hallway scene from the end of episode two, where a badly injured Daredevil has to take down more than ten hired goons, and reels from that pain between every punch and kick.
The subtle nods to the Avengers are spread out enough that they're still exciting for viewers of the entire Marvel Cinematic Universe, without overloading potential casual viewers with an onslaught of mentions of thunder gods, super soldier serums and gamma radiation in the same way that Agents of S.H.I.E.L.D. did early in its first season. Additionally, unlike other comic book TV shows currently on our screens (Arrow, Flash, Gotham), Daredevil neglects the standard villain-a-week formula and follows one cohesive plot line.
Fantastic cast and performances.
Keeps very true to the source material.
At the end of the day, Daredevil needs to be seen for what it truly is – a gripping crime action drama. Take away everything that references to the original source material, and you'll still have a fantastic viewing experience. But as this is most definitely a true adaptation of the Daredevil comic books, the show should serve, for now at least, as the benchmark that all future superhero shows should be judged against.
The reviewer of this series pays a Netflix subscription
Official Series Site
Tags: Daredevil, Marvel, Marvel Cinematic Universe, Netflix, TV