I enjoyed the original Stealth Inc. quite a bit. Its mix of stealth platforming and Super Meat Boy-esque violence was charming. It did not come as a surprise when a sequel was announced – what was a surprise was its exclusivity to the Wii U.
Whatever agreement was in place for that deal has come to an end so everybody else now gets to join the slaughter in Stealth Inc. 2: A Game of Clones!
[youtube id="XiUlGfFj6PU"]
• Developer: Curve Studios
• Publisher: Curve Digital
• Reviewed on: PlayStation 4
• Also Available On: Xbox One, PlayStation 3, PlayStation Vita, PC, Wii U
• Release Date: Available Now

Similar to its predecessor, Stealth Inc. 2: A Game of Clones places you in the uniformed shoes of a clone. With no knowledge of what your purpose is or where to go, you are immediately tasked with escaping multiple attempts on your life from an ever-changing and almost-sentient environment. Who is controlling this? Why do they seemingly want to kill you? How will you escape?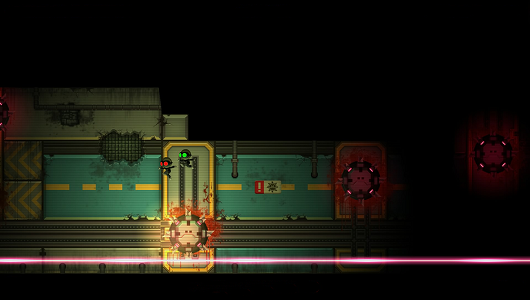 PTi Industries is the corporation running the facility you find yourself in. Unlike the first game, A Game of Clones gives you a little bit more context for what is going on – a worker in the company is trying to maintain his long-running winning total. However, when you survive the initial purge, his record is put at risk so he sets out to end your life in whatever way he can – it turns out there are lots of ways.
The biggest change from the previous entry in the series is the use of an overworld to link the level doorways together. This places you inside the PTi Industries corporate building, unlocking areas in a Metroidvania-like fashion. Each of the five areas contains test chambers for you to progress through, with sixty in total.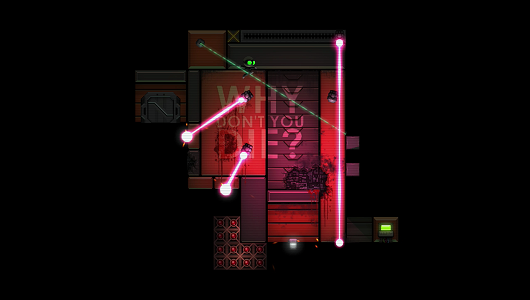 As well as manoeuvring around obstacles, avoiding lights and dodging security cameras, test chambers also feature enemies and traps that will end you as soon as you enter their line of sight. While the game does start with a gentle enough learning curve, towards the end I was gritting my teeth a few times as some of the solutions required quick reflexes as well as brain-power. For as many times as the game is frustrating, it is also rewarding.
Some features return in A Game of Clones, such as online leaderboards which will keep score-chasers happy. Items are also earned by completing test chambers, allowing you to reach new areas in the game's overworld. The Inflate-o-Mate is probably my favourite new gadget, allowing you to create your own platforms. By the time you reach later levels, you will be mixing gadgets together to get even further – it is about now when the finger cramps start.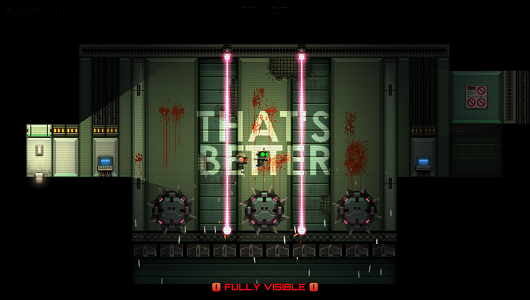 In Stealth Inc.: A Clone in the Dark, the visuals were incredibly important, not just to its appeal but also to the gameplay itself. Similarly, A Game of Clones is beautifully lit, with no ambiguity over when you are in light and when you are in shadow. As new areas open and close, light reacts as you would expect too – so you know if you are about to be spotted. As a smooth sixty frames per second, the game also runs far better than before too, making precision platforming more manageable.
Devilish puzzles that require quick-fingers as well as quick-thinking
A far more robust story wrapped around the game
The gadgets are imaginative and just plain fun
Frustration levels may be tested in later levels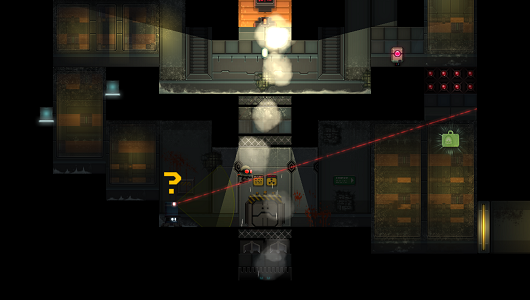 While I was not able to mess around with the local co-op play or the level editor too much before writing this, I can confirm that there is enough in the main game to make this a worthy sequel. The game-play is fun and rewarding, the story is more involving and funny and the various methods of dying rarely get old. It may frustrate towards the end, but Stealth Inc 2: A Game of Clones is definitely worth your time.
Review copy provided by Curve Digital
Official Game Site
Tags: Curve Digital, Curve Studios, PC, PlayStation 3, PlayStation 4, PlayStation Vita, Stealth Inc 2: A Game of Clones, Stealth Inc.: A Clone in the Dark, Wii U, Xbox One