On the surface, Keebles is an enticing prospect. The screenshots give an impression of complete freedom for completing each level, in any fashion you see fit. What gets delivered is a limited experience which doesn't seem suited to the platform it was delivered on. Keebles looks and plays like an iOS or Android game which was ported over to PC for extra reach. The art style and gameplay doesn't necessarily do anything egregiously wrong, it just doesn't do anything with any extra features compared to similar titles. Overall that's the problem with the game, it's a mediocre experience with no real redeeming features.
• Developer: Burnt Fuse
• Publisher: Green Man Gaming
• Reviewed on: PC
• Release Date: Available Now

The concept of Keebles is a fairly simple one, the cute and furry Keebles are trapped and you have to create a vehicle or structure to collect them and reach the end of the level. There are thirty creative and inventive levels for you to explore and replay to your heart's content. Each level is marked on how many Keebles you save and how fast you complete the level. Having these two requirements for a level usually means there's plenty of reason to replay the levels once you've completed each one in the initial phase. Although this replay-ability is a strong positive, the scope of the levels is a bigger hindrance and outweighs the positives. The first few levels give you a couple of building materials which means you can't customise as much as you'd like within the early stages.
The building mechanics themselves are fine. With a click and drag from the items on the side onto your structure, it's quick and easy to get items tagged together and get into the level to test them out. The item limitations outlined in the previous paragraph means the interface can look a little empty with all of these missing objects. Using the beams to connect the wheels to the primary bubble is mostly self-explanatory, but can sometimes overlaps can be deceiving, forcing more and more trial and error.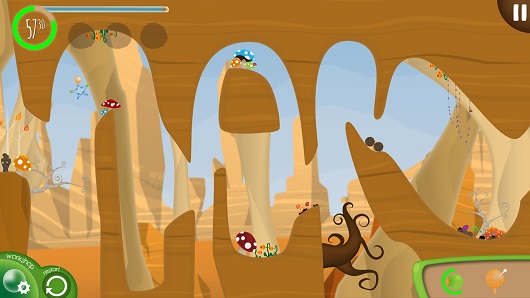 What Keebles does right is what you can actually achieve with your vehicles. Not all Keebles are possible from being saved each level, so tinkering slowly but surely with your contraption until you get something that manages to fully completes the level is a truly rewarding endeavour. Games in this style always do well if you're willing to put the time in and be rotating and tweaking constantly. It's rather addictive, a majority of the time. Although the physics are mostly spot on, there is the occasional hiccup where the slightest adjustment throws the contraption off – or you do nothing and the level plays out in a completely different way to how it did previously. This is an issue which is inherent of the genre, with an idea that you'll not get the same result two runs in a row, despite what you think. The game is challenging, the levels can be quite complex and require a lot of thinking and tweaking before you find the right balance. The game definitely benefits from being open ended – you can save all of the Keebles or go for the quickest time possible (sometimes requiring different vehicles.
The direction Burnt Fuse took with Keebles seems to be to make it as simple and quick as possible to get through the level and try again if needs be. They accomplish that to some degree, loading times are small and the game runs well. Restarting a level is rapid so even if you don't need to make changes to your structure, it's fast to re-try your existing tactic.  The idea of the game being designed for tablets or touch screens isn't far-fetched as buttons and icons are big. The UI within the workshop screen lend themselves for someone to drag their finger across the screen and have a play around, rotating with gestures pinches. It almost seems like a mis-step that the game is marketed through Steam without this feature being prominent. It's possible to use the touchscreen if you have a compatible device, but it's not a native experience.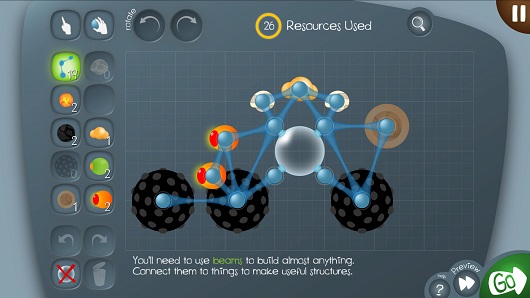 The fuzzy and colourful Keebles themselves are cute, with backdrops and environments popping. The quality of the art style is fantastic, it's just laid on too thick both throughout the menus and the game play itself. The graphics fidelity is strong however, pairing well with the chosen art-style to make things crisp and sharp. In terms of tutorials, it's a bit of a grey area. The game does a very standard job of showing you the basics and giving you ideas of what you need to do. The basic building mechanics are shown, but that's about it.
Colourful, inventive and simple to learn
Build mechanics work well
Seems built for tablets
Limitations throughout early stages
Keebles is a real mixed bag type of experience. It's inventive, challenging and a good little bit of fun, but it's just that, it's little.  It's both a positive and a negative really, there's complete freedom which means you can do what you want on each level but you can be constantly refreshing the level to tweak one small feature about the structure. This sometimes means fiddling with a rotation knob until the item has the desired effect, causing a great deal of frustration.  Although there is the freedom, as you go through the levels you only use what the level allows you to use. Although you might be going into the workshop with a particular idea in mind, you won't actually be able to do what you thought as you may only be given some wheels and beams. The UI seems too designed for tablets and didn't suit my set up, others will be fine mind.
Review copy provided by Green Man Gaming
Official Game Site
Tags: Burnt Fuse, Green Man Gaming, Keebles, PC