I have to admit that adventure games never really did it for me when I was growing up. I had heard the names Maniac Mansion and The Curse of Monkey Island, but the genre didn't grab me – probably because they were never on a platform I owned. I can remember having a demo of Grim Fandango installed on our old PC and I did play through that a few times – more to experience the fantastic writing rather than to explore the world any further than the demo would have allowed.
After its release, LucasArts decided to get out of the adventure game business and so, despite being adored by critics and fans, one of the most acclaimed titles in the genre would not be revisited for quite some time. It was not until 2014 that Double Fine, with help from Sony, secured the rights to Grim Fandango after Disney's acquisition and closure of the LucasArts studio, that work began on a remastered version of the title and I could finally get to see what the fuss was about!
[youtube id="QRB6Likh478″]
• Developer: Double Fine
• Publisher: Double Fine
• Reviewed on: PlayStation 4
• Also Available On: PlayStation Vita, PC
• Release Date: Available Now

Set in the Land of the Dead, Grim Fandango tells the story of Manny Calavera, a travel agent working for the Department of Death in El Marrow. Manny is forced to work there in order to pay off a debt. However, the clients he gets are terrible – meaning it is taking far longer for him to work off this debt than it should. Taking the matter into his own hands, Manny manages to nab a far more lucrative client from his rival at the company, Domino Hurley. However, when his computer assigns Mercedes Colomar, his client, a far less attractive trip than he was expecting, Manny sets out to put things right.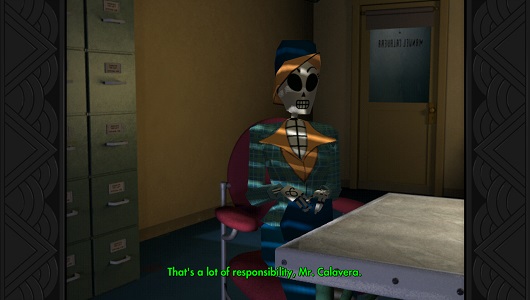 Grim Fandango Remastered is exactly that – a remaster. Anyone expecting a remake with an overhauled graphics engine and pristine HD visuals and sound will be sorely disappointed. Double Fine have remained faithful to the original game in a way that could be seen as admirable or foolish – the game appears at first glance to be relatively untouched. However, switching to the original visuals is an option and that shows off the added lighting engine and improved character models.
One area that has most certainly been left untouched is the game's obtuse difficulty. Unlike more recent adventure games, there is no hint system in Grim Fandango Remastered. There is also no easy way to distinguish which items can be interacted with or not. This may be acceptable for a game that is 17 years old, but when you look at this through the eyes of a modern player (or someone like me who never fully experienced the first game); it will have people running for the online walkthroughs – or refund button.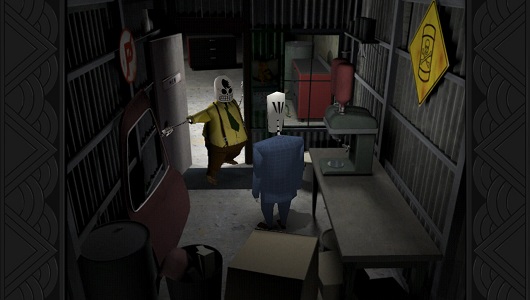 Thankfully, there are plenty of walkthroughs readily available so people can sit back and enjoy one of the best written games in years. Grim Fandango is a darkly humourous game with charming, memorable characters and snappy dialogue throughout. Split over four years, the narrative is intrinsically linked to the game-play, with vital puzzle clues popping up in the scenes and conversations that litter the game.
Probably the feature that most intrigued me before the remaster was released was the developer commentary. While I am glad that Tim Schafer features heavily, as the man is brilliantly witty, plenty of other creative voices have input too. We get to hear about the minutiae of development, from the haggling that was done to gain just a little bit more processing power to how particular scenes changed during development. I found myself loitering around in multiple scenes, listening to the full track before moving on.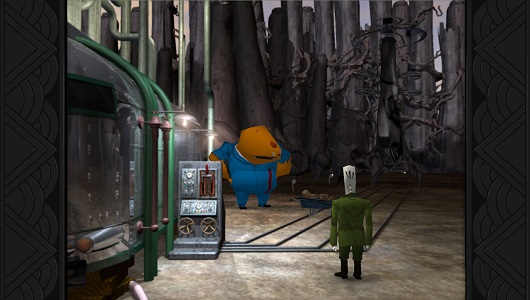 Another feature added to the game is the ability to change from the original 4:3 ratio (which incorporates a frame to make it fit on modern TVs, to 16:9 (which looks overly stretched). Neither option is ideal but is one of the downsides of a pure remaster over a remake. Thankfully, as the game is also available on PlayStation Vita, there is a cross-save function that helped me greatly in completing the game as I could play it home or away.
A faithful remaster of a classic adventure title
Superb writing and voice-acting that holds up today
The added developer commentary should be a part of all re-released games in future
Many puzzles require exhaustive trial-and-error or walkthroughs to get through
Both the 4:3 and 16:9 options look terrible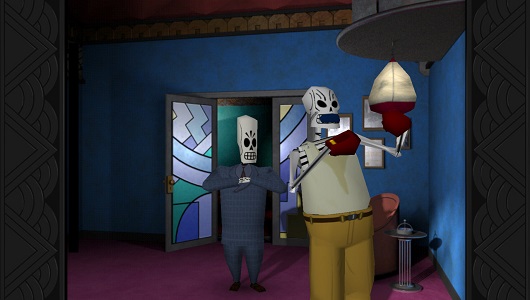 Grim Fandango Remastered is most certainly a faithful recreation of a 17 year old game – and this is both a good and bad thing. There are elements of the game that are nostalgic and elements that are archaic. As a piece of history, I appreciate that Double Fine has succeeded in restoring a game more people now get to play. As a game released in 2015, this is an unforgiving, often overly-obtuse puzzle adventure game with some top-quality writing. If you are a fan of adventure games and want to see one of the genre's classic titles, I would recommend a trip to the Land of the Dead (just be careful who you get as your travel agent!).
The review copy of this title was purchased by the author.
Official Game Site
Tags: double fine, Grim Fandango, Grim Fandango Remastered, PC, PlayStation 4, PlayStation Vita, Sony Computer Entertainment