If you've been in any state of consciousness over the past 12 months, you will have noticed the domination of all things child-friendly by Disney's Frozen. More than a year after its hugely successful release, it's still impossible to escape – Disney seems to have struck gold with the longevity of this one. It may not have been the most charming or adventurous endeavour – but hey, it worked. Now Disney's next title, Big Hero 6, has the challenging task of generating the same amount of love, money and merchandising possibilities.
• Director: Don Hall, Chris Williams
• Exhibition: 2D
• Rating: PG
• Run Time: 108 mins

Disney has reached to the darker recesses of their newly-acquired Marvel catalogue here. Pulling the story from a lesser-known, and probably better forgotten, title of the same name, there has understandably been no attempt to link the film with its source material in marketing efforts. Hiro Hamada (Potter) is a robotics prodigy, who spends his evenings earning stacks of cash at illegal robot street fights, until he is coached to more law-abiding greatness by his brother Tadashi (Henney). But after a devastating loss, Hiro is left at the centre of a mysterious masked villain's sinister plot to utilise his creations for unknown evil. Hiro and a group of like-minded automaton enthusiasts must get to the bottom of things with the helps of his brothers creation – Robot nurse Baymax (Adsit).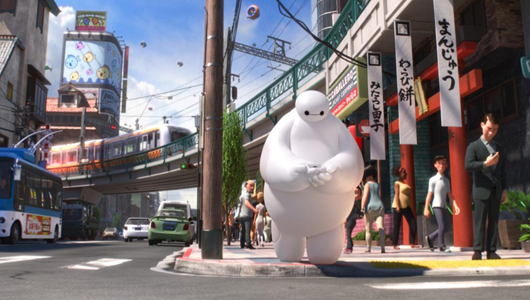 While Frozen often felt rooted in Disney's tried and tested comfort zone – fairytale-esque adaptive material, princesses and a good few musical numbers – BH6 has its sights set on something far more contemporary and surprisingly refreshing. Technology, geeks, gadgets and most importantly robots of all shapes, sizes and purposes are what's in vogue here. The gates have been flung open to fresh external influences, from Power Rangers to Miyazaki. The result is a piece that feels energised and invigorated with no sense of staleness and a good grasp on its own originality. Indeed there's more than a touch of anime inspiration, most evident in the fabulous east meets west setting of San Fransokyo. Think streets of painted lady houses lined with cherry blossoms, cable cars adorned with hanging lanterns and a Golden Gate bridge resembling a Torii gate. It's a bustling, bright and exciting backdrop that reflects the films breezy future-focused attitude.
On paper, it's another straightforward superhero origin story, but what's great about BH6 is that it often doesn't feel like one at all. Considering how saturated the genre has become in recent years, its ability to sidestep clichés and slip its vigilante intentions by, almost unnoticed, is uncanny. Unfortunately however, this makes it all the more disappointing when it veers closer to genre standards in its final act, and staying invested becomes a little bit more of a challenge. But even then, it's all done with a fun, if slightly smug, self-awareness. There's more than a few winks to the camera in the form of characters announcing gleefully that their 'origin story begins!' or commenting on how cool it is to be chased by a super villain. While it's not totally devoid of tropes – well we have to have a bereavement in an origin story don't we? – it's an alternative take on a narrative arc that's been all but exhausted.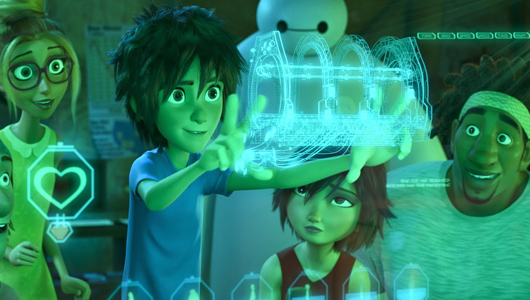 But what really elevates BH6 is scene stealer Baymax and his carefully crafted relationship with Hiro. The cuddly robot nurse is in equal parts hilarious and disarmingly lovable – think Wall-E meets E.T. by way of an Apple design team. Baymax provides the film with its heart and its funny bone, and helps anchor a fairly crowded ensemble. His Bond with Hiro is so engaging it comes dangerously close to rendering the cast of colourful secondary characters irrelevant. It seems Big Hero 6 could pretty easily become Big Hero 2, and we wouldn't miss much. The burgeoning relationship of the lead two may be predictable, but that doesn't make it any less compelling. It's learnt from The Iron Giant school of boy-and-robot friendships, and has similarly effective results.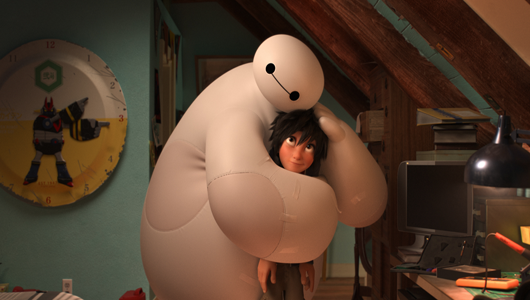 Unfortunately, BH6 may not be quite on the same level of sophisticated CG storytelling as Pixar, as it skips briskly along to a Scooby-doo conclusion with a few standard 'take the higher moral ground' life-lessons. But it's still a step in the right direction for Disney compared to the bland designs and stilted, icy (excuse the pun) storytelling of Frozen. It's certainly got the big-budget action, but for a film that's so besotted with robots, its got a human heart. It's the moments of heartfelt brilliance, and touches on some genuinely moving subject matter that sets BH6 out from the rest. The action sequences are largely forgettable by comparison.
Bright and beautiful visuals
Lighthearted but often touching storytelling
Baymax is an absolute delight
Slightly disappointing conclusive chapter
A relatively valueless source material that you wouldn't be blamed for shrugging off has become something special and earnest, reason enough to root for this peppy piece of cinema. Directors Don Hall And Chris Williams have combined zippy, high-tech spectacle and cuddly, sincere story telling and made something beautiful. And it's all wonderfully epitomised by everybody's new favourite sidekick, Baymax.
[youtube id="khtFNzVPIh8″]
The author paid to see Big Hero 6
Official Movie Site
Tags: baymax, Big Hero 6, chris williams, Disney, don hall, Marvel