Point-and-click adventure games have experienced a renaissance in recent years. Telltale's The Walking Dead games have thrust the genre back into the gaming public's consciousness and the successful re-release of Grim Fandango on the PlayStation Network has helped to re-establish interest in its more old-school elements. As is the case with all gaming genres, the indie scene invariably takes the formula and does something new with it – and that is exactly what is happening with Fictiorama's Dead Synchronicity: Tomorrow Comes Today.
[youtube id="Put2iZH16n0″]
• Developer: Fictiorama
• Publisher: Daedalic Entertainment
• Reviewed on: PC
• Also Available On: Mac, iOS
• Release Date: TBC
After a successful Kickstarter campaign, Fictiorama are nearing completion on their more adult-oriented, story-driven adventure title. Dead Synchronicity is a classic science fiction plot set in a dystopian future. You play as Michael, a man awoken in a desolate, ravaged landscape with no memory of who he is or what has happened to humanity. We learn that a cataclysmic event known as The Great Wave caused society to rip itself apart, with limited resources available and a power vacuum waiting to be filled. The downtrodden people, known as rats, are subjected to cruelty on a daily basis and this is the world you now inhabit.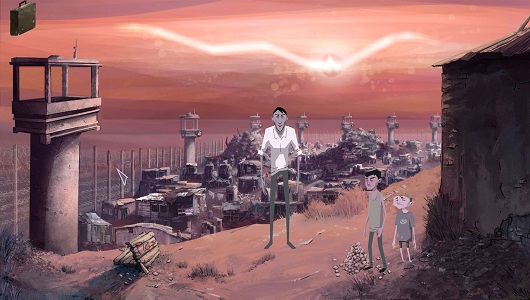 The oppressive tone the game exudes is palpable. One of the more sinister effects of the Wave is the plague that now infects many. It causes hallucinations and visions for those infected. As if that wasn't enough, the overzealous military kill anyone they find either showing symptoms or harbouring those that do.
The visual style used in Tomorrow Comes Today is arresting. It reminds me strongly of Waltz with Bashir or the animated sections from the recent Cosmos series remake. The washed-out colours and hand-drawn backgrounds suit the tone and atmosphere perfectly. The character design is also interesting, with plenty of memorable faces in the cast. The game also avoids the static shots some adventure games overuse by adding panning shots and zooms to its repertoire.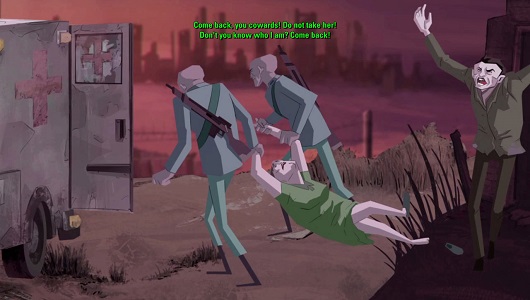 Equally, the music used in the game is perfectly pitched. I was immediately taken back to the dystopian movies of the 70s and 80s by the creepy soundtrack and sound design. Being a preview build, there were some issues with missing dialogue and audio cutting out – but the threads were there to extrapolate how the game will feel when you play it at release.
Dead Synchronicity is a relatively straight-forward point-and-click game. You get a suitcase for storing any objects you find in the environment and context-sensitive interaction points. The lack of complexity may make you feel like the game is somehow boring, but the style suits the game's minimalist aesthetic. You are also given the option, at times, to tackle puzzles in different orders. For instance, you may have a number of objectives to complete to accomplish a particular goal, but the order you choose to attack them is up to you.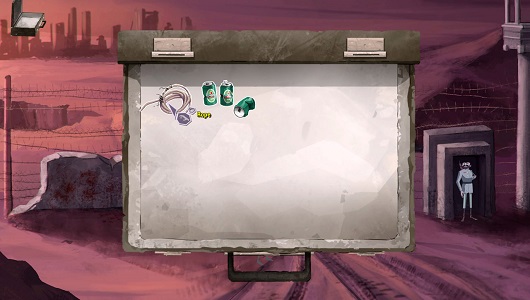 Similar to Grim Fandango, there is no hint system to speak of – however, pressing the space bar highlights all of the "interactable" areas in a scene. A journal is used to log information so if you find yourself stuck in a puzzle, you can either go off to tackle one of the other objectives, or use the journal to glean some new insight that may help you.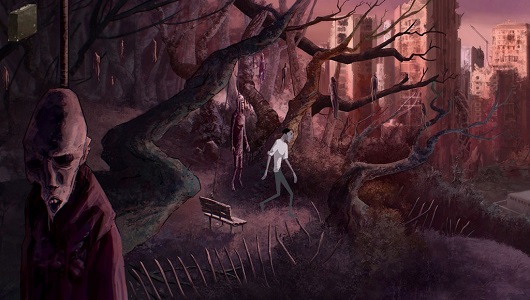 I am impressed with the game, even in its current preview form and can see it being a game worthy of playing on release. The tone and atmosphere it is able to create with its dialogue and aesthetic make it a world I probably would not want to live in but certainly one I would visit again.
Official Game Site
Tags: Daedalic Entertainment, Dead Synchronicity, Dead Synchronicity: Tomorrow Comes Today, Fictiorama, iOS, Mac, PC, point and click, Tomorrow Comes Today