It was a day like any other, I took my coffee the same way I always did but this morning, it tasted a little different; Maybe it was a sense of knowing in the air, knowing that there was a crime that had to be solved… But this was not a Film Noir, this was Kings Cross in 2015 and I am far from a detective.
• Developer: Wooga
• Previewed on: IOS
• Also Available On: IOS/Android
• Release Date: 26th February 2015
Over the last few years we have seen many games with intriguing and immersive press/promo/launch events: be it at a convention or a stand-alone scenario.  Developers have realised that it sometimes takes more than creating a good IP, it takes style to ensure that people remember your game and make it a success.  However, when the stunt is more engaging than the game; you have to wonder about the confidence of the company in their title.
On a cold February eve, we were taken to an undisclosed location to solve a crime and escape capture; little was revealed to anyone at the start of this particular press event but the mystery was inviting.  A cunning plan to get journalists excited for the title they were yet to experience was to place them into the setting of the game itself, 1960's murder mystery with an introduction by the title character herself – the eponymous Alice and a lesson in detective work by her two colleagues, Ben and Pete.  From the outset I believed this to be a room escape murder mystery title since that the situation they had placed us in, I soon found that I was mistaken.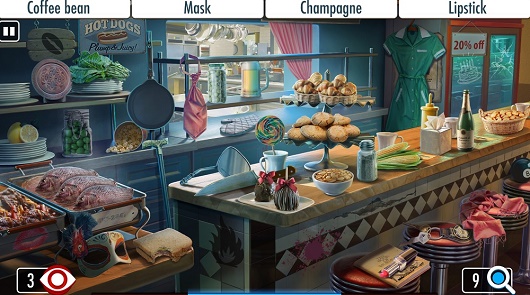 Agent Alice is a new Free-to Play hidden object game from Wooga, who previously brought us titles such as Diamond Dash, Monster world and the new title's predecessor, Pearl's Peril.  Agent Alice follows the same format as Pearl's Peril, find the objects in the picture as fast as you can and then solve a mystery.  Solving mysteries takes stars which you earn by completing the picture challenges which take energy to undertake; during which you find various clues to the overarching plot and they need money to solve quickly or you will have to spend several hours waiting for a blood sample to be tested (not like on CSI)
Set in the 1960's, you play as Alice who is attempting to solve a kidnapping which turns into a mysterious murder scene.  The aesthetic style of the game is very appealing, you can tell it was developed for mobile devices as the visuals are very clear and not stretched or squashed, plus the objects within the pictures may be hidden but they are clearly defined.  The game plays as more of visual story, broken up with various puzzles and plot points, there is not much set up for the character or the story as a whole; you are dropped right into a mystery with no real explanation.  While I was playing, I felt a bit passive: there seemed to be little for me to do rather than tap the screen to move the story on, which can skipped. I was playing the same scene repeatedly, trying to find the same objects over and over again.  Occasionally there is some variation in challenge with the introduction of shooting mechanics and jigsaw-esque puzzle but even that felt passive.
Each episode if fairly short but you can replay each section within it to obtain more stars and money for future chapters. If you enjoy simple story-driven puzzle games which you can easily play on your commute, then this may be for you. The game is set to be released in episodes every week so you will be not be short on puzzles and the story will be divided into 12-week arcs to keep you interested.
[youtube id="Pn5p4BHbPeg" align="center" autoplay="no"]
Official Game Site
Tags: 1960, 1960's, agent alice, Android, Apple, crime, hidden object, iOS, iPad, iphone, murder, murder mystery, mystery, noir, pearl's peril, puzzle, puzzle game, woogo