There are many reasons why you might want to buy a digital version of a board game. You don't have a table. You don't have friends. You live in a dark basement. You are obsessed with Ticket to Ride and want to own everything that is even remotely related to it. Oh wait, that one is actually me… On a slightly more serious note, there are a lot of great digital versions of board games for consoles, iDevices and Androids. You might have already been playing a game without realising that it is based on a board game! Digital board games are more affordable than their physical counterparts, and they are also a stickler for rules, always remember to turn over cards and to count the victory points. Although this will hardly come to as a surprise, with digital board games you can play online with people all around the world, or play against AI. Finally not having table, friends to play with or good lighting in the room will not be a barrier between you and your favourite board game! Unless that particular board game has not been made digital…
I am not a big fan of lists and I have not played all available board games in their physical and digital formats to judge them all fairly, so this will not be a list of the 'top' variety. Rather I like the idea of a series of articles which will give me time to play and cover as many games as I can. So here are the first three board games, in no particular order, which you can enjoy on the table as well as on the screen.
Lords of Waterdeep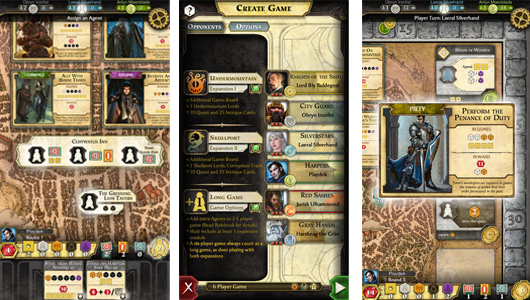 Lords of Waterdeep is one of the best examples of a worker placement games. It is also based in the D&D universe but has an interesting premise. Instead of playing as rogues, mages, warriors who go on various quests, you are a mysterious Lord that commands them and also does a lot of behind the scenes scheming to gain more power and money.
The digital version of Lords of Waterdeep is great for many reasons. Anyone who plays the game knows how much time the setting up and packing the game takes. Also counting points, admittedly an exciting part of the game, can also take a while. The app plunges you straight into the exciting part – the game – with all setting up done with a magical power of graphics. The app will always remember to add your points when the quest is completed and give you extra resources/cards if you have plot quests. When playing the physical version of the board game, one player always has to act as a bank and remember to do all setting up tasks each round while also trying to figure out how to win. I know these tasks seem obvious, but in the heat of the game it is so easy to forget to add resources to the building or that you have a special card that gives you more of the game goodness. Making certain steps in the game automatic is not a unique quality of Lords of Waterdeep app. I expect all good board game apps to at least count points at the end of the game. However, in some games, like in this one, where setting up and being organised affects the gameplay in a significant way, it is nice to transition from the physical to the digital and have those duties lifted off your shoulders.
Playing the game with several people can be done by passing the tablet or the phone around. There is enough indication to when the other player's turn begins and the app is really good at replaying what has happened on the board to each player while they could not see it. Admittedly, this adds time to each player's turn, but this sort of hazard is almost unavoidable with digital versions of board games.
It is also nice to see that when the game has been transferred to the digital version, some small but clearly loving details have been added. For example, the sounds of conversations and opening doors, or little animated griffin flying in circles around the board. As minor as they are, these additions successfully immerse players into the universe.
My final suggestion, if you would like to get the game digitally, is to buy it on a tablet rather than on the phone. The board is quite big and detailed, and the size of the phone screen is just not big enough to play the game comfortably.
–Lords of Waterdeep is available on iOS–
Ticket to ride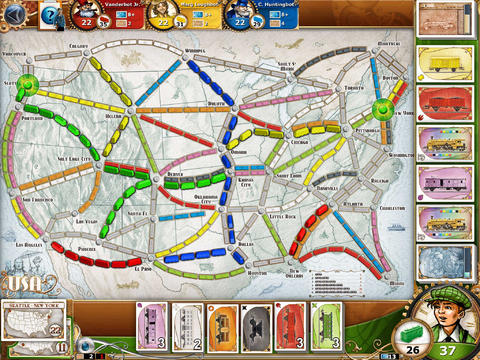 As a board game classic and one of the most popular Euro games, I would have been astonished if Ticket to Ride would not make it to the screen. There are a variety of maps available from USA, Europe, Switzerland and others. It is still incredible addictive fun, even more so as a digital version, that can't really be transmitted by words but is obvious from the first minute of playing the game.
The digital version has the same collection of advantages the digitised board games do — no setting out time, all point are awarded and recorded correctly and so on. The other great asset of the game — and also a slightly cheating asset — is that the app marks the destinations on the maps, making it easy to work out routes and also see when the routes have been completed. However, other than this small detail nothing has been added to the look of the game. Maps look exactly like the board versions, as do the little trains and cards. None of this is said to the games detriment. The beauty of the Ticket to Ride is its minimalistic approach with clear simple rules that is easy to understand and fun to play. The app reflects exactly that – simple, clear, straight to the point. In its design I would not want to change a thing.
Ticket to Ride app has a cross platform multiplayer so it is easier than in most digital board games to find players online, as all iOS, Android and Console users can happily enjoy building railroads together.
While in Lords of Waterdeep's AI is slightly competitive and it is possible to lose games, Ticket to Ride's AI is incredibly easy to beat. Even set to the highest difficulty, as long as the player connects all their destinations in a long-ish road, the victory will be guaranteed. Playing on the same device with someone is also slightly awkward. The device has to be passed around but as the turns are so short, the game becomes almost a sport of throwing the table or the phone backwards and forwards.
Having said all that, for me, the Ticket to Ride addict, collecting cards and placing trains is indispensable part of my work commute. It turned into a far more addictive activity than making three gems disappear. I don't really care if AI is not competitive enough as long as I get to complete my ticket.
–Ticket to Ride is available on Android, iOS, Steam (PC and Mac) and via web browser–
Forbidden Island
After watching Wil Wheaton's TableTop episode on the Forbidden Island, I instantly had 'I need this game in my life right now feeling', and that's how I purchased the app – apparently, being stranded on a sinking island that tried really hard to kill you was the experience I needed right then… Indeed, a team of divers, pilots, engineers would drown a lot under my command. In this sense the digital version of the board game is as merciless as its physical counterpart.
As your main opponent in the game is randomised set of cards and the difficulty can be set by the player, the game does not suffer from the 'easy AI' problems. Play the game with friends and it turns into co-operative board game. Play it alone, and it is all about the best way of organising the members of your stranded team. The app caters well for both options. As a co-operative board game, Forbidden Island is perfect for the transition to the digital devices. Every card is open on the virtual table so there is no need to pass the tablet. In fact, Forbidden Island has two layouts – one for the single player where all cards are orientated towards the player, and another one for multiple players playing on the same screen, where the cards are orientated towards four different directions.
Again turning cards at the right time is very crucial for this game, and as stupid as it sounds, people forget to do this often.  As the most enjoyment of playing Forbidden Island can be achieved when playing the game exactly by the book, I prefer it when my game-play is governed by an always vigilant app, rather than rely on my own memory. This game is a rare instance when I would always advocate playing the digital version over the physical, even together with friends. Also small electronic island tiles are always perfectly straight on the screen, whereas on the table the layout always ends up in a semi-chaotic state. I might have slightly more problems than just a Ticket to Ride addiction…
–Forbidden Island is available on iOS–
Join the forum discussion on this post
Tags: Android, Forbidden Island, iOS, Lords of Waterdeep, Steam, Ticket to Ride, Web