If you're someone who likes catching their games at a steal price, perhaps with a well-compiled wishlist on Steam ready and waiting for those holiday sales, you probably know Humble Bundle inside and out – and if not, you should. Not only does this organisation offer collections of games every week at brilliant prices, but it does so with charitable style that makes it all the more worthwhile.
Formed in 2010, Humble Bundle, Inc. established a "pay what you want" scheme that involves the customer paying whatever sum they wish for a bundle of games, most of which are indie titles. The amount paid is then distributed and split by the customer's own say between the developers of said games, Humble Bundle, Inc. itself, and a selection of chosen charities.
So, what's not to like? We're party to some brilliant deals, and treating ourselves never felt better considering a portion of the proceeds can go towards worthy causes; past Bundles have promoted charities like Child's Play, an organisation that donates games and toys to hospitals and Doctors Without Borders, which seeks to provide emergency medical aid around the world. A range of charities have benefited from the impressive $50 million so far raised through this program. Its popularity and success has enabled expansion into the realms of eBook collections, mobile games and developer backed Bundles such as the Humble Origin Bundle, which included big name titles like Dead Space and Mirror's Edge.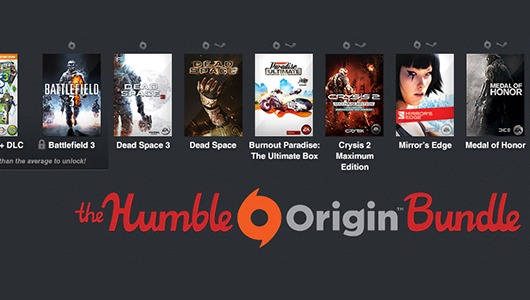 This became the biggest selling bundle ever – made even sweeter by EA's announcement that their share of the profits would go to the charities chosen.
Better yet, 2015 shows no sign of slowing down. The second weekly bundle of the year hosts a whopping seven games from publisher Mastertronic Games, including retro titles such as 1993 The Chaos Engine for any run-and-gun fans and newer indie releases such as Owl Cave's first full game Richard and Alice, a mystery adventure set in a post-apocalyptic world. Others bundled up in this pack are Montague's Mount, Blast Em!, May's Mysteries: The Secret of Dragonville, The Shopkeeper, and Speedball 2 HD.
As always, Humble Bundle offer a collection of games at a "pay-what-you-want" rate – yet paying above the average price unlocks some extra gaming goodies. It's often the case that paying above the average simply has to be done in order to bag a game that, by itself, would usually cost more than the bundle altogether. This week it's the genre-blending Concursion and the superfast 10-Second Ninja, a game about ninja-slaughtering Nazi space robots. Which does sound rather fabulous. Both games are currently priced at £6.99 on Steam and the Humble Store, making the average price of $3.75 (£2.48!) to unlock both (alongside the seven games aforementioned!) an absolute steal.
Even that's not all your few quid can afford. £2.48 also gets you Early Access to ORBITALIS and Over 9000 Zombies!, with both games having gained a very positive response so far.
A third option is available which nabs you the entire bundle for $15 (£9.94). On top of the eleven games already mentioned, the collection is rounded off by developer Hypersloth's first game, Dream, currently in Early Access and looking rather stunning indeed; Tango Fiesta, a procedurally-generated co-operative shooter, also in Early Access;  and Runers, a well-received class-based dungeon crawler.
The charities that will be receiving a portion of the funds are the ever-worthy SpecialEffect, whose work has been mentioned in our Gaming for Good section before, and GamesAid, a UK based-gaming charity.
CEO and founder of Mastertronic, Andy Payne, took the time to tell BRB why exactly these charities were selected. Interestingly, Andy was a founding member of GamesAid, which commits to supporting smaller charities that in turn are helping the young disadvantaged and disabled.
'These charities run with a turnover of up to £5m per annum and thus are small and always under funding pressures. Think a sort of Comic Relief or Sport Relief.'
'GamesAid is also the only fully democratic charity in the games space, as members of the games industry propose and vote for the charities of their choice annually. No one else does this. The charities who get the top number of votes annually then get an equal share of all the monies raised that year, proving that games and gamers can do great things for others.'
[youtube id="GH4C7cgytCg"]
It's easy to see why assistance in gaining financial aid is invaluable for smaller charities. Examples of those benefiting from GamesAid's support includes the Oxfordshire-based charity SpecialEffect, whose work has helped overcome the boundaries of physical disability. By designing and creating individual custom gaming equipment, young disabled people can achieve inclusion and fun in video games.
'They use technology ranging from modified joypads to eye-control, and give people a way to play to the very best of their abilities.'
Andy describes their work as 'transformative'.
'By levelling the playing field, Special Effect bring families and friends together which has a profoundly positive impact on therapy, confidence and rehabilitation. More and more games are played online and now disabled gamers can compete on a level playing field for the very first time, unjudged by their peers and truly on equal terms.'
[youtube id="5uhsUKFDiso"]
If you decide to spend £2 or £50, Humble Bundle is unique in that you engage with the meaningful charities that are being supported. Not only is it interesting from a consumer perspective for the customer to be able to choose how much of their money goes to the parties involved in the sale, it's a rewarding one. Single figures may not seem like much when donating to widespread causes, but its worth really does prove effective; the fact that Humble Bundle, in affiliation with developers, publishers and organisations have raised $50 million for charity so far is astounding. We're all Gaming for Good here, and it's even sweeter when you've also scored a variety of games to keep you occupied… Until the next Humble Weekly Bundle swings around!
Tags: Child's Play, Doctors Without Borders, GamesAid, gaming charity, Gaming For Good, humble bundle, Mastertronic Games, SpecialEffect