I loved 2011's Mortal Kombat reboot. It did everything it needed to do to successfully bring the series to a new generation; it upped the gore, returned the series to it's side on perspective, and cleaned the slate in regards to the series incredibly convoluted story. But, most importantly, it was insane amounts of fun. So when the teaser trailer for Mortal Kombat X was released earlier this summer I was as excited as a rich kid at Christmas.
• Developer: NetherRealm Studios
• Publisher: Warner Bros. Interactive Entertainment
• Reviewed on: PlayStation 4
• Also Available On: PlayStation 3, Xbox 360, Xbox One, PC
• Release Date: 14 April 2015
The teaser was a beautifully animated two minute fight between series icons, Scorpion and Sub-Zero, and to the observant viewer it was a treasure trove of information and hints at what was to come, which were later confirmed at E3 2014 when we got to see the first gameplay footage. I've been eagerly awaiting some play time with MKX since, and at EGX 2014 I finally got to play it, and it was simply outstanding.
I didn't just get to play one of my most anticipated games in years though. I was lucky enough to do so with Derek Kirtzic, one of the designers at NetherRealm Studios, and ask him a few questions about the games many new characters and features while he showed them off in all their glory as he handed my ass to me on a plate:
What are the major differences between Mortal Kombat X and 2011's reboot?
We brought in a system called the variation system, where each character has three different versions that you can select based on how you want to play that character. For example; Scorpion has his Ninjitsu variation, where he has his swords on his back that he can use for normal attacks and combos, makes him a little bit faster, and gives him better reach with some of his attacks. With his Hellfire variation he can summon fire, do ground fire, set himself on fire, and throw a fireball, which is the first time Scorpion has ever done that. And then he has his Inferno variation which allows him to summon a demon to assist him in battle.
All characters still have their core special moves across all variations. Scorpion will always have his spear, his teleport, and his leg take down; and Sub-Zero will always have his ice ball, along with his slide. Variations just add additional special moves, or combos.
We're also introducing the interactables. They're more used for leveraging spacing in Mortal Kombat X, unlike Injustice: Gods Among Us, where it was more projectiles and damage. You can still use projectiles for damage in Mortal Kombat X, but you can block them and the chip damage is very low.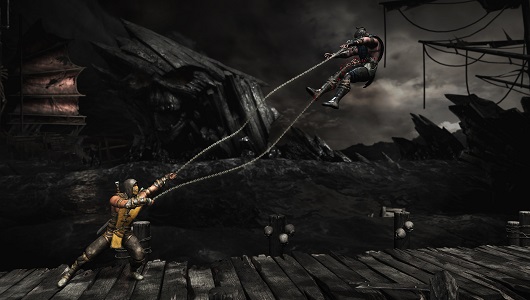 Were the interactables always going to be a part of the stage design because of how well they worked in Injustice, or did the decision to use them come later?
I think that we saw that we had done something really good with Injustice, and we wanted to bring that functionality, but we didn't want to use it the same way as Injustice. We wanted to give it its own identity so that you could tell that it's different from Injustice in the sense of using it to leverage space. So if you're a zoner you'll use interactables to get away from your opponent, or if you're a rush down player you'll use them to get in closer to your opponent.
One of the most positively received features in Mortal Kombat was its outstanding story mode. Will that be returning in some form, and if so, what can you tell us about it?
It will be returning. It'll take place at the end of MK9, where Quan Chi and Shinnok are sitting there looking crazy. It'll start from there and go five years, ten years, and even twenty five years into the future. That's what allows us to bring in some of the new characters such as Cassie Cage, D'Vorah, Ferra/Torr, and Kotal.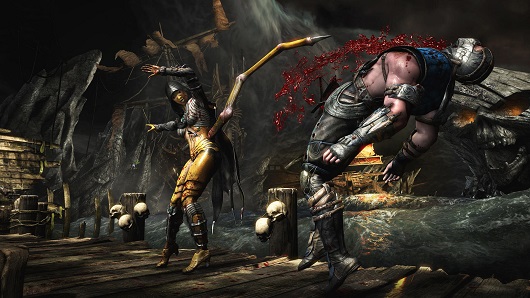 What can you tell us about the characters you've just mentioned? How did their design come about, and what are their stories?
Cassie, is a really good mixture of Sonya Blade and Jonny Cage – she's there child – so she has some similar shadow kicks, and a similar military like stature about her like her mother, so she's a really good hybrid of the two characters. Kotal Kahn is an Aztec who summons totems you can use to buff him, and he also has some classic Mayan weaponry that he uses. They're great characters that fit into the Mortal Kombat world flawlessly.
From what I've seen, the Fatalities have been taken to the next level. How did you come up with the ideas for them, and how were they implemented into the final game?
With having next gen it allows us to just show more details. They'd basically almost be like the MK9 fatalities, it's just that we can put more detail into them now we have better hardware to work with. When it comes to coming up with the fatalities, a lot of us just sit in a boardroom, hang out, come in with ideas and basically bounce ideas off one another until we go 'Oh yeah, that'll be good, people will like that', so it's a lot of fun and it's a great creative experience.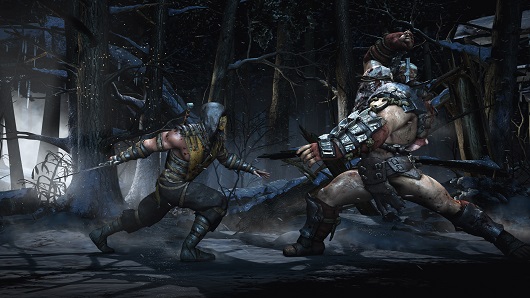 Before we wrap up, is there anything you'd like to add?
Mortal Kombat X is super fun, it's fast, everyone who's had a chance to play it absolutely loves it. We're coming out April 14th 2015, and if you pre-order it you get Goro as a pre-order bonus. Everybody seems to love the game and it gives you a real good nostalgic throwback feel.
[youtube id="Ci6lMQNLKZU"]
Mortal Kombat X was my game of the expo. It's as fast as it is furious, and so beautifully violent it's bound to make fans as ecstatic as it makes haters upset. Even at this stage of development, the improvements between this and MK9 are obvious, and it's only going to get better. And with more character and content reveals between now and release, it's certainly a great time to be a Kombatant.
Official Game Site
Tags: 2014, EGX, Eurogamer, fatality, Mortal Kombat, NetherRealm, scorpion, sub zero, Warner Bros.