Once again, another excellent Eurogamer Expo is almost upon us! However, this time, it is calling itself "EGX London" – and that isn't the only change this year! Not content with just sitting on the sidelines, playing a tonne of the latest and greatest upcoming videogames and then telling everyone else about them, this year, we have taken the plunge and will be rolling out the barrel onto the EGX show floor itself!
Fresh from the continued success of our Tabletop Tuesday events we are going to have our own stand to help demonstrate some of the Tabletop games we know and love, as well as giving EGX visitors the chance to buy a selection of Tabletop games. Given our roots and EGX's focus on video games, we will be leaning towards a few titles that should appeal to the video game audience and fans of franchises such as Street Fighter, Mario Kart, Gears of War, World of Tanks and Civilization.
We should also have games of interest to the discerning tabletopper, with some new releases and the chance to buy some recent Tabletop Tuesday favourites such as Ca$h'n'Guns. We will also have a selection of imported custom designed meeples to buy and, if all goes well, should be launching our first design in an upcoming range of Tabletop-inspired T-shirts!
This should make it much easier for our forum members, readers or listeners to come find us at the show, so be sure to pop by and say hello. We will also be playing games throughout the show and will have a few community special events with some extra special prizes to watch out for. At least one item will have a special sale price for every day of the show, with the selection changing throughout the Expo, so be sure to check back with us when you can.
Obviously this is a bit of a new venture for BRB, but one that we hope to be successful enough to empower us to go on and do Bigger, Redder and Better things elsewhere. We would appreciate any support you can give us at this year's EGX and look forward to seeing you there!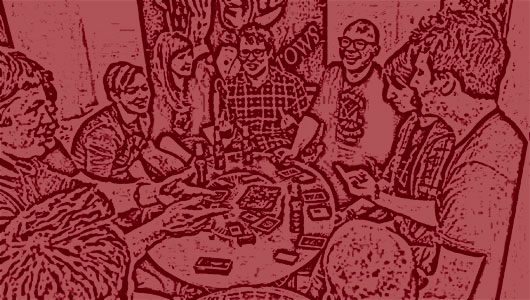 Tags: BRB @ EGX, EGX, Eurogamer, Eurogamer Expo