Gabriel Knight – the suave amateur adventurer with a slightly unsettling taste for the grim and gruesome – is a very fond memory for me. Huddling around a PC monitor and playing the part of assistant-detective to my dad, sneaking through sinister mysteries and strange puzzles, began a strong love for classic adventure and point-and-click style games. The Gabriel Knight series was integral to this and a 20th Anniversary remake is very exciting news for players of the original games, and hopefully will make a welcome addition to the adventure gaming field that is rising in popularity once again.
• Developer: Pinkerton Road Studios & Phoenix Online Studios
• Publisher: Pinkerton Road Studios
• Reviewed on: PC
• Also Available On: Mac, iPad & Android
• Release Date: Late 2014
Sins of the Fathers is the first of three third-person point-and-click supernatural adventures centred around Gabriel Knight, a down-and-out author with a keenness for the oddities in life – hence his role in this game, researching a series of 'Voodoo Murders' that have shaken New Orleans' French Quarter. One of my favourite aspects of adventure games is seeing real-life settings injected with mystical intrigue; places like Jackson Square, St. Louis Cathedral and Lake Pontchartrain can all be found around New Orleans.
The game begins with that fondly recalled southern American accent as Gabriel brushes off his assistant's snarky remarks about his late night. It's not quite the same; Tim Curry hasn't returned to voice the character, a bit of a sad spot for fans of the original, yet Gabriel's new voice is still injected with some of the familiar witticisms. Considering that the original sound footage is lost to time and the only alternative was to rerecord all of the dialogue, the studio seem to have taken the task on positively. There's a mix of retro origins and redesigned features of this game that blend together wonderfully, starting with the opening credits and brilliantly re-recorded – yet authentic -soundtrack.
The music is particularly important in providing ambience and movement when scenes involve fixed cameras and settings. Robert Holmes has taken the iconic main theme and remastered it to a fuller, more energetic result; likewise, the rest of the music has clearly been developed upon to create a great remastered soundtrack. The result is glorious – these tunes evoke nostalgia in older players, but also provide a sense of retro mystery the game inspires thanks to the energy of the score.
But what is most impressive is the gorgeous visual reboot. Graphics quality has definitely evolved since 1993, and the care at updating these old pixel environments is gratifying; looking at comparison screenshots shows the feat involved, and the developers definitely deserve a nod for their accomplishments. The 3D-converted settings match up against modern adventure titles; hand-drawn backgrounds and elegant art styles are definitely popular, and Gabriel Knight: Sins of the Fathers is a worthy match with its 3D characters, gorgeous lighting impressions and graphic novel art present in dramatic intervals and cutscenes.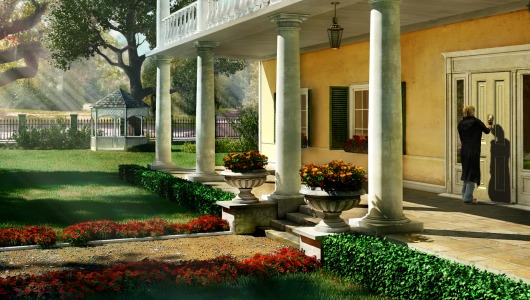 The additional features in the remake definitely fill out this classic with content that immerses you into the nature of Knight's character. The journal menu is a great hub of Gabriel's thought processes (and bachelor humour) that makes it easy for the player to re-familiarise themselves with the story and current clues. There's plenty here for new players, who can experience this highly-rated well-written mystery story for the first time with some great user-friendly features. Hint systems are commonplace in modern games, perhaps to eradicate the reference to unofficial walkthroughs – and whilst there's an age-old argument that modern games don't present the same challenge as their predecessors, this isn't always the best thing. User-friendliness is important and Gabriel Knight benefits from these helpful additions that are implemented well into the game. The hint system is found on a tab in the journal menu, and help tips are separated into pages for individual objectives. It's ideal if you're a little unsure about a specific puzzle standing in your way, and it won't give away too much if you don't prompt it to; the game still wants to provide some difficulty!
There is bonus content for new and previous players alike in this remake. Probably my favourite extra is the behind-the-scenes portfolio that offers a look at the foundations of the game at its very beginning. Depending on what area of the map Gabriel is situated there is location information, comparison screenshots and character sketches that are a real treat to flick through if you're a long-standing fan or interested in the development side of gaming.
With these encouraging features not only is there the incentive to delve into this enigmatic story, there's the bonus of unlocking new areas and content as you do so.
The graphic-novel style opening of the game showcases a similar voodoo inspired murder spree that occurred centuries before Gabriel's story. This enigma is explored in the Sins of the Fathers graphic novel, also written by game director Jane Jensen, a digital version of which is included with the game. This is the original graphic novel that was sold alongside the game twenty years ago, and is a spooky little read that links Gabriel's character to an ancestor of his who left his German home for America in the 17th century, and similarly dabbled in supernatural happenings. As a short story it's great to take a look at if you're drawn in by the vividly ominous tone of the game's plot; and the good thing about this digital version is that you can now read through the graphic novel straight from the menu, with Robert Holmes' fantastically orchestrated music in the background for that extra atmosphere.
Gabriel Knight: Sins of the Fathers is a game that was very highly regarded upon its release, and the remake has furthered this. Jensen's plot and collection of characters have definitely stood the test of time, and when combined with the redesigned graphics, re-orchestrated music and added content the Gabriel Knight: Sins of the Fathers remake has given the game the justice it has deserved since 1993. I can't wait for the full release, and for Pinkerton Road Studios to continue to impress – hopefully with some further remakes of this classic series down the line!
[youtube id="SwzzKEb04Go" autoplay="no"]
Official Game Site
Tags: adventure game, Gabriel Knight, Gabriel Knight: Sins of the Fathers, Jane Jensen, Phoenix Online Studios, Pinkerton Road Studios, point and click, Robert Holmes