Daily commutes are made easier with video games. It is a simple fact of life. Your generic Google-, Microsoft- or Apple-powered device comes equipped to play said games and, as many of these titles are free, the barrier to entry is practically nil. In order to succeed, a game either has to establish its own genre (very difficult to do) or take an existing genre and add something to the formula.
Top Gear: Race the Stig has taken the latter approach – building what many would consider a well-worn mobile game type, the 'endless runner' (in this case, 'racer') and incorporating elements from the popular BBC TV show, Top Gear, to add a new twist on things.
• Developer: BBC Worldwide
• Publisher: BBC Worldwide
• Reviewed on: Android
• Also Available On: iOS, Windows Phone 8
• Release Date: Available Now

Race the Stig puts you behind the wheel of Oliver, Richard Hammond's beloved car from their famous Africa road trip, and asks you to not only avoid obstacles and other traffic, but also avoid the Stig, who is constantly chasing you. The game uses basic swipe motions to move your vehicle from side-to-side and a downward swipe to get you to duck down in the seat. Inexplicably, swiping up causes the car to jump – but if you are putting that much thought into this game, you are already lost.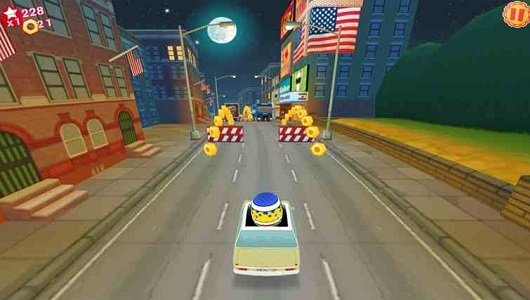 Taking a third-person, behind-the-car view, the game feels more reminiscent of Temple Run as opposed to games like Canabalt or Jetpack Joyride. Race the Stig uses most of the tropes of the genre – for instance, the obstacles are procedurally generated and, as you progress through a run, your speed increases gradually. The goals of the game are also commonplace – collect currency in the form of nuts to purchase upgrades and new items, complete challenges to unlock further missions and increase your score multiplier, and earn as many points as possible to beat your friends' high scores.
The art style is suitably comic and colourful. While it won't strain the graphics chip on your phone, the business model the game is trying to use requires it to be playable on as wide a spectrum of devices as possible – meaning that high-fidelity visuals would be a waste here as far as the publishers are concerned. Regardless, I found them appealing.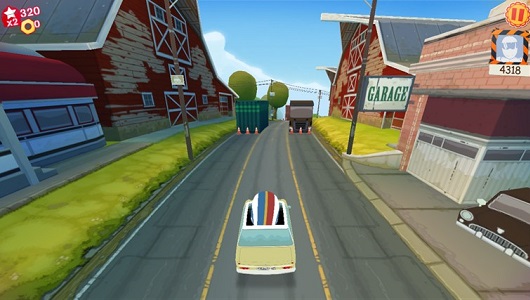 The Top Gear flavour of the game is also refreshing – though it may be odd for people unaware of the show. The game includes the aforementioned Oliver as well as Jeremy Clarkson's Italian police car – complete with Ben Hur wheels – and James May's amphibious Triumph Herald. Other show-specific vehicles make appearances as power-ups, like the Indestructible Toyota Hilux – just called a pickup-truck here – which acts as a temporary shield. The game also features the Reliant Robin rocket which takes you above the traffic temporarily.
New content is being added added regularly. The most recent update added New York as a location and included a number of items specific to the region. For example, the well-known yellow New York taxi has been added as a vehicle available to purchase. New challenges are also added regularly, as are new power-ups and crash helmets.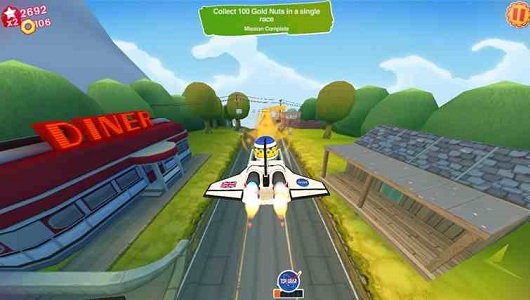 The controls are simple, with only four basic motions involved
The visuals are palatable
Besides the layer of Top Gear paint, there is nothing new here
Earning currency is ponderously frustrating
There is only enough depth to the Race the Stig experience as is necessary. It is meant to be played on-and-off, whenever you have a few moments of free-time you want taken up with a game. People who want a console-like experience are looking in the wrong place, but for what it sets out to be, Top Gear: Race the Stig fits the bill.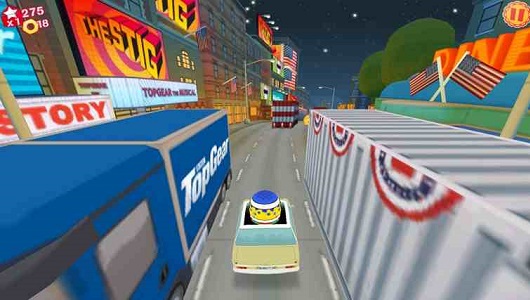 The review copy of this title was purchased by the author.
Official Game Site
Tags: Android, BBC, BBC Worldwide, iOS, Race the Stig, Top Gear, Windows Phone 8