Yesterday's Tabletop Tuesday featured, the highly rated, Age of Soccer – which is a tactical "board-based card game" themed around football, but with a liberal comic sprinkling of ancient history and mythology, that sees the likes of teams of Vikings facing of against teams of Spartans.
It is not a game that relies on a love of 'the beautiful game' and is a quick fun game suitable for all the family. The description also notes; "Age of Soccer ™ is a card and hand management style game. Players are tasked with building up their team's strength through recruiting new player cards in addition to adding powerful action cards to help influence a match and defeat opponents."
A well timed feature game considering, in case it had escaped your attention, the World Cup has just started. Two of the developers of the game came along to the event last night and they were so pleased with the stunning result and support given to the game, that they decided to team up with Big Red Barrel to give you a clear goal scoring opportunity to shoot and save yourself 15% off of the normal retail price.
All you need to do to claim your 15% discount is;
1) Purchase Age of Soccer from Amazon, which can be viewed here: Age Of Soccer on Amazon
2) Enter the code: "London14" at checkout.
3) Dance like England just won the World Cup.*
4) Win.
*Stage three is optional.
The code is valid until the end of the World Cup (Sunday 13th July) so don't sit this on the bench for too long or you'll be substituting that winning feeling with a lamentable loss.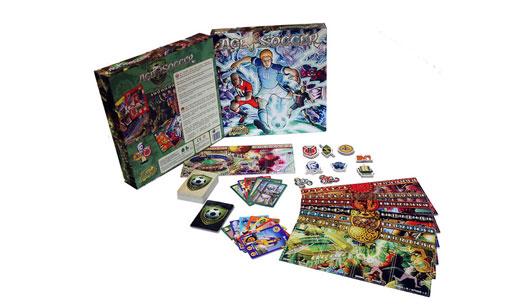 A Big thanks to the fine folks over at Legend Express for their avid support of Tabletop Tuesday (I am pretty sure they said it was "the same Tabletop Gaming event they supported as a boy!") and for teaming up with us for this offer.
Tags: Age of Soccer, BRB, Tabletop Tuesday, TtT