This week sees the release of Firefly Runner from Red Kite Games, a free-to-play endless runner on iOS, Android and Kindle Fire. It is a beautiful, fast-paced game with a cute firefly protagonist named Switch. I've been playing the game for a few hours now and it is addictive, easy-on-the-eyes and fun.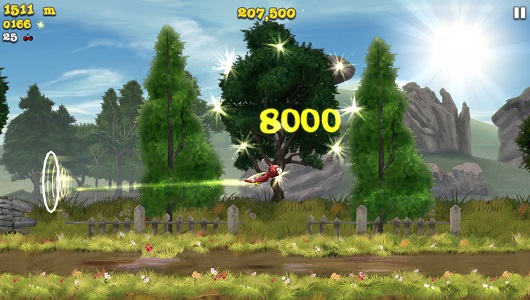 However, the reason it falls under Big Red Barrel's Gaming For Good banner is the fact that 15% of the game's revenue, from ads as well as a single in-app purchase to remove said ads (for 69p), is going to charity – namely Special Effect and GamesAid. As you can imagine, playing a game that helps others is what we are all about here at Big Red Barrel. The added bonus here is Firefly Runner is a game worth playing even without the altruistic benefits.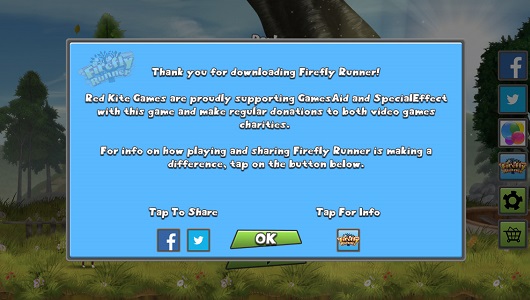 When you first start, the game plays a lot like Jetpack Joyride, with you controlling the flight of Switch with a single touch on the screen. The length of time you press, the higher you will fly. However, Firefly Runner differs by offering you more offensive abilities without the need to collect items to trigger them. Simply touching an enemy will fire a shot at them, not only destroying them but also earning you points.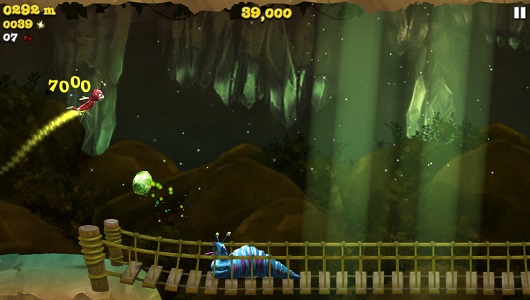 Unfortunately, you are equally fragile and the enemies are not cardboard cut-outs either – they will fire at you if they can and move quickly to attack you. There is also a variety of environmental obstacles to overcome as well. In fact, variety is prevalent in Firefly Runner, with a large number of different enemies and three different landscapes to explore.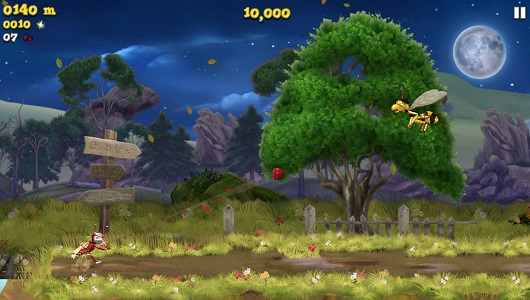 This is not a full review – I have only just started playing and wanted to let you guys know that the game is available free right now. If you are interested, I have linked to the game below.
We have written about these charities before so you know they are worth supporting. Credit to Red Kite Games for not only supporting such fantastic causes but doing so with such a fun game. Check it out.
Official Game Site
Tags: Android, Firefly Runner, GamesAid, Gaming For Good, iOS, Kindle Fire, Red Kite Games, Special Effect