When Plants vs. Zombies: Garden Warfare was announced at E3 last year I was of mixed opinion on it. It was good that an established franchise was taking a step into a new genre – we've seen franchises successfully make the jump to a new genre before with the likes of Halo Wars. But at the same time I couldn't shake the feeling that it could fall flat on its face and simply be a quick money grab riddled by micro-transactions. Now that I've had plenty of play time with Garden Warfare I can happily say many of my worries have been put to rest.
• Developer: PopCap Games
• Publisher: Electronic Arts
• Reviewed on: Xbox One
• Also Available On: Xbox 360, PC
• Release Date: Available Now (Xbox 360, Xbox One) Spring 2014 (PC)

Plants vs. Zombies: Garden Warfare is a strictly online multiplayer game – though there is split-screen local co-op too if that's your thing. There's no plot to speak of, though if you've played a Plants vs. Zombies game before you'll understand what's going on. An incompetent zombie horde controlled by Dr. Edgar G. Zomboss has risen and the plants are the last line of defense in order to stop them from consuming the world's "brainz".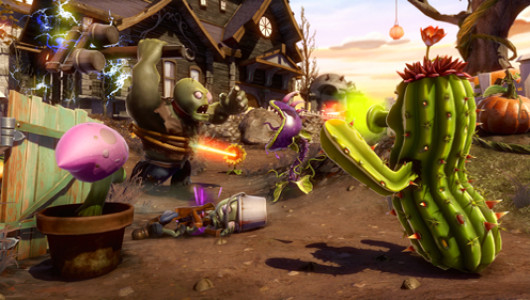 There are four classes to play as on both the plant and zombie teams. The plants allow you to play as the Peashooter, Sunflower, Cactus and Chomper. The zombies allow you to play as the Foot Soldier, Scientist, Engineer and All-Star. Each of the classes fill a certain role within the team – infantry, medic, long range and close range and there is a good degree of balance between them.
Each class has their own abilities and these  include the likes of heal stations for medics, rooted attacks for the plants, teleporters for the zombies, garlic/robot drones and also powerful bomb attacks for the Peashooter and All-Star.
The game is composed of a horde mode and a competitive multiplayer mode. The horde mode – named Garden Ops – sees you and three others taking control of the plant team to stop A.I. controlled zombies from wrecking your garden. There are ten waves to get through before you're able to be extracted by Crazy Dave and each of these waves increases in difficulty as you progress. The fifth and tenth waves are dubbed "boss waves" where Dr. Zomboss spins a slot machine to indicate you of the enemies you'll be facing. The enemies include the basic brown-coat zombies along with the likes of the engineer, all-star, scientist, disco, yeti and Gargantuar zombies. Sometimes the slot machine will spin three of the same kind of zombie initiating a "super boss wave". On other occasions the slot machine will back fire and award the players in-game coins to spend in the sticker shop.
There are five maps to play Garden Ops on and each of them has their own unique theme. Each of them showcase excellent level design and they all flow very well. A vibrant palate of colours is prevalent across the maps and they all look gorgeous running in the Frostbite 3 engine. My one complaint is that once you've played all of the maps you begin to crave a change of scenery. A few more levels certainly wouldn't go amiss.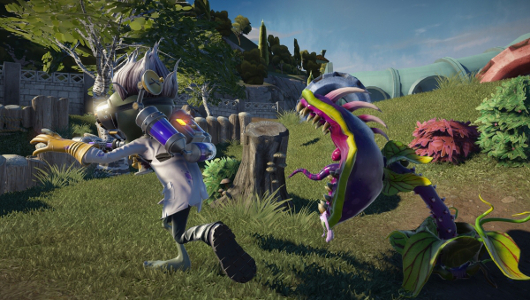 If you're craving a change of scenery then the competitive multiplayer is the way to go. As of typing this review there are only two game modes to jump into – which I feel isn't nearly enough. But with that being said, each of the game modes is extremely fun and will keep you coming back for more. Team Vanquish is your typical death-match mode where plants and zombies fight to be the first to vanquish fifty enemies. Team Vanquish takes place on the same maps from Garden Ops, which again is quite disappointing given that the second game mode was given its own set of maps. Gardens and Graveyards is the jewel on Plants vs. Zombies: Garden Warfare's crown. There are three Gardens and Graveyards maps – which also have night variants so some could argue there are six. The zombie team start out in their graveyard and must attempt to take over six gardens controlled by the plants. Once one garden has been taken over, the map opens up and the plants are given another garden to defend. If the plants fail to defend six gardens then the final objective of the map is opened up. These final objectives include destroying the plant's secret weapon of mass destruction – the tactical "cuke", destroying the mega flower which lights up the coast in a lighthouse or invading and taking over Crazy Dave's sweet mansion. It's riotous fun and keeps me coming back for more. I just wish that perhaps a few more maps were added which would see the plant teams assaulting the zombies instead of the other way around.
Once you're finished up with your multiplayer sessions then you should head into the sticker shop to spend your in-game coins. The sticker shop is the key to unlocking a variety of items in Garden Warfare. You use in-game coins to unlock different sticker packs with the higher tier packs costing more. The stickers can include new character variants for both the plant and zombie teams – such as the Ice Peashooter or the Hot-rod Chomper – or will award you with potted plants or zombie minions to use in Garden Ops or multiplayer. You can also unlock a vast amount of character customization items such as hats, tattoos, sunglasses and more. There are always new items which I've never seen before being worn by other players in games, the number of items on offer is insane.
My only worry regarding the sticker shop is that it's set up in such a way to introduce future micro-transactions  which would be completely unnecessary as the sticker packs don't cost a whole lot of in-game coins to begin with. The highest tier pack can be unlocked after a handful of games. Time will tell how this will pan out.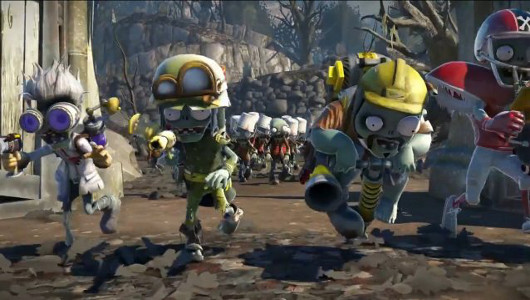 The accompanying soundtrack to Garden Warfare is extremely catchy and the comedy the series is renowned for is intact through gameplay, with each of the characters being given gestures which are both adorable and hilarious – the Peashooter's "cackle" gesture is by far one of my favourites.
My one big gripe with Garden Warfare however is the bugs which are still present in game. I was stuck under the map after being revived on more than on occasion forcing me to reboot the game and also had some trouble starting up the game at times. There were also moments when the backgrounds in the menus would disappear leaving me with a black screen – which isn't game breaking but is certainly annoying.
Excellent game design
Gorgeous to look at
Gameplay is fluid, fun and works well…
…but there's not very much on offer
A few persistent bugs
At the end of the day, Plants vs. Zombies: Garden Warfare is the first surprise hit of this year. It might not have a great variety of maps or game modes to promote longevity and has a few persistent bugs. But it's a decent little third person shooter that doesn't take itself too seriously. Everything on offer in the game is fun and works very well. Plants vs. Zombies: Garden Warfare yet again showcases that it is indeed possible for a franchise to successfully venture into a new genre if it hits all the right notes and I look forward to seeing how PopCap will support the game into the near future.
The review copy of this title was purchased by the author.
[youtube id="0c6Qd4Rck1o"]
Tags: EA, games, Plants vs Zombies, Plants vs Zombies: Garden Warfare, PopCap, Xbox One