Daedalic Entertainment have a history with quirk. I played through Journey of a Roach, which featured a mutated yet heroic cockroach journeying through a series of gravity-defying underground settings in search of his buddy. Memoria seems a deeply artistic adventure that struck a chord with many through its well written story. 1954 Alcatraz has potential; set in the criminal depths of 1950's San Francisco, the game provides an intriguing backdrop for a traditional style of gaming – good old point-and-click.
• Developer: Daedalic Entertainment, Irresponsible Games
• Publisher: Daedalic Entertainment
• Reviewed on: PC
• Release Date: Available Now

Following a heist job gone wrong, Joe finds himself locked away on Alcatraz, notorious for its history as a maximum security Federal prison. As a result, we have two characters – a criminal handyman and his poetry publishing wife – with the intention of relocating the money stashed away from a job gone awry, whilst dodging other shady individuals who have wind of this goldmine. 1954 Alcatraz is far more about relationships than it is about criminality; interestingly for a genre that has long-followed linearity, this game offers a number of paths to its completion, many of which are dictated by the manner of Joe and Christine's changing relationship.
A feature of the game that eases any slow moments in the narrative is the ability to switch between the two protagonists at any time, allowing the story to continue moving if you seem to hit a wall with one. Despite their separation for most of the game, their stories remain linked, making it necessary to switch between the two and effectively play them alongside each other, as Christine seeks to help Joe's plan for escape through her dealings outside of the prison walls. Christine seems a much more developed character than Joe, whose sole interest is escaping prison – unfortunately beyond that, not much is given away about him as a character, before or after Alcatraz. Christine has a collection of friends and hints at her past through the uneasy interactions she has with her ex-boyfriend Dale, and mentions of her troubled relationship with her parents. Her character is one high point of the game, executing a brilliant dry humour and sharpness of wit that pays tribute to some well-written dialogue.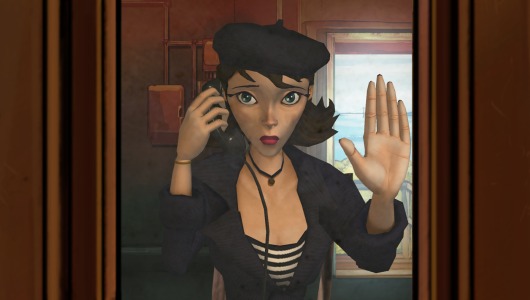 The depth achieved through the focus on the game's context is another strength. There's countless references to being 'Beat', relating to the 1950's era of Beat society in which many sought to live an unrestrained life of creativity and self-expression. It's clear that this social environment has great impact on the characters, Christine in particular. The San Franciscan Beat Generation is a real chapter of our history books and one that makes for some interesting exploration, with locations such as Caffe Napoli and The Lower Depths bookstore bringing the mood of this era forth well.
The focus of the game is clearly Joe and Christine's marriage, yet this attention to sentiment results in a lack of challenge in the puzzles that doesn't put across the weight that the plot's situation implies there should be. The consequences don't feel emphasised enough in the entirety of the game; Christine receives her fair share of death threats from Mickey, Joe's disloyal partner who seeks to claim the money for himself, as well as a countdown of one month for her to find where it is hidden. Yet there is no great sense of urgency that is shared with the player. The music is a good indicator of the intended tension in the story and Christine and Joe's continual sense of imminent danger; the voice acting is perhaps the most impressive aspect, bringing a natural vitality to the characters. Unfortunately, all of the key elements needed do not seem to meet the same level to bring great atmosphere to a game that has the potential for such.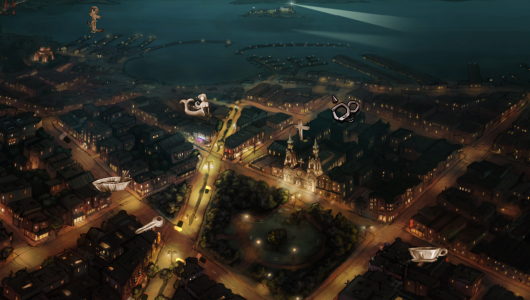 However, having multiple strands to the narrative is a plus; it eases up on some of the slower moments that can be found in the endless interaction with objects, many of which are merely decorative. It's fun to have the freedom to chase up several leads, particularly as Christine's character, as she has access to the larger environment of North Beach. We can go and visit her landlady, and piece together evidence that suggests her past business ventures weren't strictly legitimate. Or, we could talk our way into Mickey's club, and with some well selected dialogue, have a crack at raiding his office. Unfortunately, the numerous lines of interest can get somewhat jumbled, which isn't helped by the lack of a guide or note system; one playthrough can take up around eight hours, so it's possible to enjoy in a number of sessions that will have to rely on you remembering exactly where you left off. However, it is a positive that there is potential for multiple playthroughs,as the game offers different endings based upon the attitude Joe and Christine have about their marriage and the way they handle situations and confrontations.
The chosen art style is often important in games that involve simple gameplay. 1954 Alcatraz doesn't disappoint in the hand-drawn style of a great number of backdrops, and the map view in particular is a great example of polished hand-drawn settings at their best. The only issue with such detailed design is the use of 3D characters amongst it, something that's also noticeable in similar games. The animation of characters is good, but the 3D, cartoonish design of the subject sadly looks rather basic and unimpressive against to the dissimilar background. It makes sense to have the characters distinguishable from the style of the 2D settings, yet when it's noticeably inferior, it can be a letdown.
Well-voiced characters
An unusual context to explore
Lack of emphasis of story on gameplay
Uninteresting cast, with the exception of Christine
Unchallenging puzzles
1954 Alcatraz provides a successful emulation of the moodiness of 1950's Beat America, helped along by the jazz soundtrack and successfully voiced characters. Unfortunately the mood isn't all-encompassing in this game, with a lack of involvement in a fairly toneless plot and unchallenging gameplay letting it down. Whilst replayability is emphasised through the different outcomes in the story, there isn't considerable pull to do so, as seeking different endings for certain characters does not feel hugely important. Whilst not Daedalic Entertainment's best work, 1954 Alcatraz's depth lies in its context and setting that provides some escapism for a time.
Review copy provided by Johnny Atom Productions
Official Game Site
Tags: 1954 Alcatraz, adventure, Daedalic Entertainment, indie, Irresponsible Games, PC, point and click