Following on from it's Android success and heading on over to the iOS App Store comes Yeti on Furry, a game that tasks you with defending a Yeti from baddies by tapping on the screen and switching between an array of attack powers.
• Developer: AMA LTD.
• Publisher: AMA LTD.
• Reviewed on: iOS
• Also Available On: Android
• Release Date: 12th December 2013 (iOS) /Available Now (Android)

Climbers have been attacking Yeti's mountain for far too long and he always managed to keep them away. However, now he's getting on a bit and has reached retirement just after the game's tutorial finishes up. Now it's time for Yeti Junior to step up to the plate and defend his mountain home. This is where you come in –  with your help, Yeti Junior will have to make the most of the skills the old Yeti taught him and pick up new powers along the way to vanquish the home invaders and keep the slopes safe from danger.
When it comes to gameplay, Yeti on Furry basically works like a defense game mixed with some kind of frantic tapping title. Evil Yeti-hunting climbers will work their way up the mountain face from either left, right or bottom of the screen in waves and with varying skill sets. For instance, yellow climbers will come at you with great speeds, while the blue guys will have the ability to use teleportation pads that will allow them to skip straight to the mountain's peek. If one of these climbing pests reaches the top, then they will fire at the poor Yeti Jr and the game will be over. In order to stop the bad guys, you must tap on each one individually to launch snowball attacks until they have been defeated.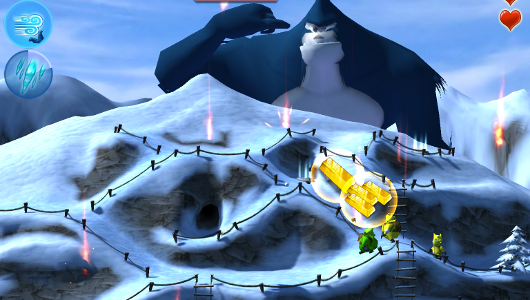 Snowballs aren't your only line of deference in this fight, new powers along the way will allow you to summon a giant snowball by holding you finger on the screen, and strong blustery winds can be implemented by swiping in the direction of your enemy. Then there are Yeti Jr's super powers which should be used sparingly and when your back is up against the wall. The first power is a sound attack which calls upon Yeti Jr to whip out his instrument of destruction… the triangle! One ding on that baby will instantly eliminate all of the climbers on-screen and give you a bit of breathing room before the next wave. Yeti Jr's other attack is a sneeze, which will cause all you enemies to freeze in place and for you to take them out with one tap each (very handy for tougher opponents).
As with the majority of free-to-play mobile titles, you gain experience during your playthroughs and level up, this unlocks different powers which are then made available to purchase in the game's store. Store items range from new Yeti powers, boosts and items that include special attacks and continues. As you advance in the game upgrading will become necessary, so you'll need gold in order to unlock those power ups. In-game currency is collected through a few different methods; You can pick up gold dropped by fallen climbers by tapping on it, you can earn it though performing tasks outside the game (such as watching trailers, entering competitions or signing up to advertised services) and of course there is good old micro-transactions for you to spend actual money on.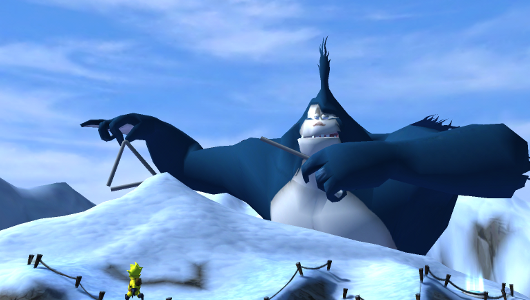 Where Yeti on Furry lets itself down however is on the game's variety. You have the one setting of a snowy mountain, the character of the Yeti and not much else. All of the available powers are unlocked pretty early on and leave you with just the upgrades to look forward too. But these are all small issues when comparing them to what makes the rest of the game fun, great looking visuals, tight controls and fun gameplay which anybody can get to grips with.
Fun addictive style of gameplay
Simple and effective control scheme
Good looking visuals
A lack of variety may make the game feel repetitive
[youtube id="AJgTLx21fCc" align="center"]
With such a simplistic game style, Yeti on Furry easily becomes one of those addictive quick-play mobile titles made popular by gamers looking for a quick fix on their phone. With no entry fee charged to download the game, I'd definitely recommend giving it a try.
Review copy provided by AMA Ltd.
Official Game Site
Tags: AMA Ltd., free-to-play, iOS, mobile gaming, Yetti on Furry