Courtesy of the fine trading men, women and birds of musicMagpie.co.uk, we are giving away a copy of Call of Duty: Ghosts on the next-gen console of your choice. Yes, once again, we are partnering with musicMagpie.co.uk to bring you one of the biggest games of the year and this time it is also our first ever next-gen contest!
Call of Duty: Ghosts may already be possessing 360's and PS3 up and down the country, but consider that a training exorcism, soldier! The real war starts when everyone finishes their research into next-gen tech and new hardware starts reaching the frontline. This is your chance to be on that frontline, for free!
Contest
Anyway, if you want to win a brand spanking new next-gen version of Call of Duty: Ghosts for Xbox One or PlayStation 4,  just answer the question below;
Q. If you were a ghost who would you haunt and why?
All answers will be entered into a prize draw and one of the answers will be chosen at random to win the copy of the game. Please note that as this is being sent out directly by the lovely birds of musicMagpie, *I* am placing a limit on this being UK only. Please note that no guaranteed delivery date has been specified. All entries will only be counted as valid if made before 12 Midnight on Sunday 17th November. As it is an 18 certificated game, I will only allow existing forum members to be eligible, as it is easier to identify the age of the recipient. All other standard BRB contest terms and conditions apply and can be read here.
And There Is More Where That Came From
What is even better than a chance to win a free copy of CoD: Ghosts? How about a free copy of the Hardened Edition of the game AND a PS4! (Pictured below) Just head over to musicMagpie.co.uk to see the details of the even better CoD: Ghosts contest that they are running until the 6th December.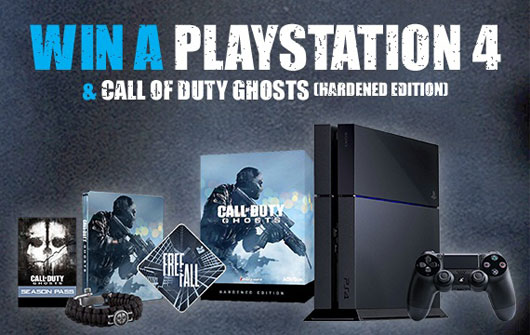 Thanks, Disclaimers and Gamers
A Big Red thanks to the lovely birds from musicMagpie.co.uk for offering up a copy of CoD: Ghosts to give away to our forum members. If you are a bit confused about why a music bird suddenly cares about games, then it may be worth noting that they trade in video games and consoles too. I have included some links and details below for anyone that is interested.
See here for anyone interested in trading in PS3 hardware and software to help fund your next-gen research. More details of the contest can be found on Music Magpie's blog and Facebook page.
In the interest of full disclosure I should note that the copy of CoD: Ghosts was originally offered for us to keep. We said that we would rather give it away to our lovely forum members. The only agreement made for us to receive the copy for the purposes of the contest is to make the post that you are reading now, but no content requirements were made other than the mentioning of their contest. Below is a quote directly from musicMagpie.co.uk and should not be viewed as a recommendation or endorsement of their services.
musicMagpie.co.uk allows you to get CASH for your unwanted Games & Consoles, as well as your old CDs, DVDs, Games, Tech & Electronics.

It's really EASY to sell your Games & Consoles. You can sell PlayStation 2's, sell PlayStation 3's, sell Wii's or even sell your Xbox 360 with musicMagpie! Just type the barcode of your Games or the name of your Console, into the valuation engine above and get an instant price – kerching!
Tags: Activision, Call of Duty (Series), Call of Duty: Ghosts, cod, CoD Ghosts, Contest, MusicMagpie