The Oxford English dictionary defines a video game as; a game played by electronically manipulating images produced by a computer program on a monitor or other display.
Proteus, a surreal exploration title developed by Ed Key and David Kanaga, which has been ported to the PlayStation 3 and Vita by Curve Studios, satisfies this definition in very loose terms – stumbling at the 'game' part. Regardless, it certainly brightened up my morning commute into work to the point where I looked forward to the journey – and that is quite a feat.
• Developer: Ed Key, David Kanaga, Curve Studios
• Publisher: Curve Digital
• Reviewed on: PlayStation Vita
• Also Available On: PC, Mac OS X, PlayStation 3
• Release Date: Available Now

If I had to describe Proteus (and I do, seeing as this is a review), it would entail much umm-ing and ahh-ing, followed by mentions of Minecraft, flow and Journey. There is no story to speak of – or at least, no story I could wrap my tiny little brain around – and the purpose of the experience is just as vague as the last few sentences. The only way to explain this game is to describe my own experience with it – with the caveat that if you choose to play it, you may come away from it having had a completely different tale to tell.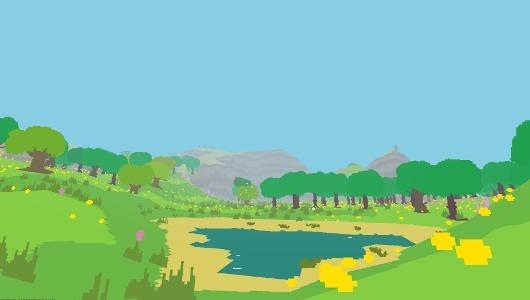 When the game began, I was in control of… well, me. Using a first-person perspective, with no blocky appendages coming into view at any point, it became clear that the protagonist here was in fact me. The controls involved using the analog sticks to control movement and view, with the X button used to sit. I was able to also touch the screen to make pretty sparkles appear but I have yet to discover what the purpose of this was.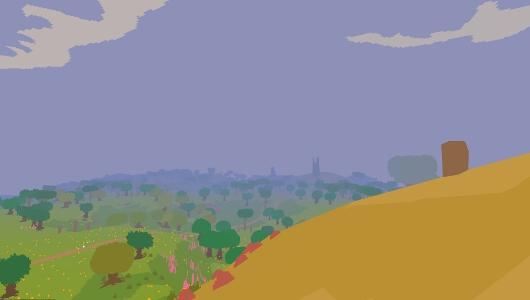 A procedurally-generated island appeared in front of me, made up of pixelated beaches, hills, mountains, trees and animals, which I immediately christened Diarmuidland. Moving around the world, I ran into different plants and creatures which emitted strange noises when approached. In fact, depending on how fast I moved and where I went, the music and atmospheric sounds I heard varied. Unlike the visual aesthetic of the game, the sounds were all quite smooth and tranquil, giving the impression that I was on a real fantasy island but with atrocious eyesight.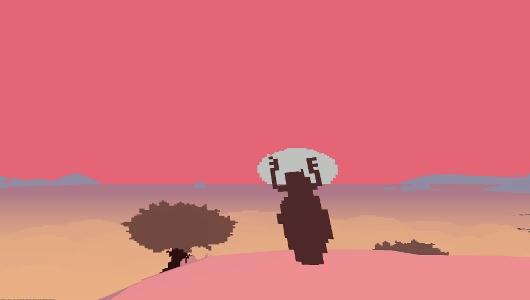 I soon became aware that there appeared to be a day-night cycle. The sun went down and the cloudy sky was replaced with a sea of stars. It was around this time that I noticed a swirling pool of light in one area. After moving into it, the island vanished briefly and then re-appeared – this time, the season appeared to have moved on to summer. The aim of the game, if you can call it that, then became apparent – progress through the seasons.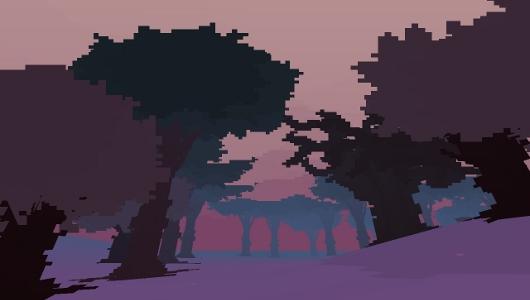 By the time I came to the end of winter, I was thoroughly enchanted by the game. I didn't care that I was basically achieving nothing. I was transported from the doldrums of human misery that is public transport, to a unique and beautiful island. Upon completing the game, I earned a single trophy. Perplexed, I checked the trophy list and was utterly confused by them. The description on each one was basically a cryptic clue as to how to earn them. Instead, I used the island generator which unlocks after you complete the game. It can either be used to randomly generate a new island or can use your location to create one – which when I used it, didn't look like any of the actual landscape around me.
A truly beautiful aesthetic, both visually and audibly
A truly unique experience
A truly compelling game
Truthfully, it may not actually be a game
Proteus is difficult to describe – at least in a way that gets across just how good it is. The feeling of liberation and tranquility you get from playing it is something I have not experienced in quite some time. If any of the above sounds even remotely interesting to you, I would strongly recommend giving it a chance. If it doesn't, then I still think it is worth a look.
Review copy provided by Curve Digital
Official Game Site
Tags: Curve Digital, Curve Studios, David Kanaga, Ed Key, Mac OS X, PC, PlayStation 3, PlayStation Vita, Proteus