If I was to choose a critter to be a game's protagonist, I'm not sure a cockroach would be high on my list. Journey of a Roach is a product of game developer Koboldgames' innovative imaginings, and is the third game in this relatively young company's history.
• Developer: Koboldgames, Daedalic Entertainment
• Publisher: Daedalic Entertainment
• Reviewed on: PC
• Also Available On: Mac
• Release Date: Available Now

Jim and Bud, two cockroaches getting by in life atop a post-apocalyptic planet, spot an anomaly in the barren landscape; a single flower pushing its way through the dirt. Bud and Jim's reaction to this spectacle leaves them excessively awe-struck, introducing the wacky and quite infantile comedy found throughout the game. Their eagerness to claim this sign of life as their own is a driving force of Bud and Jim's survival.
Unfortunately Bud's misfortune takes a downwardly turn as he falls through an abandoned bunker, leaving Jim alone and in pursuit. His journey through an underground labyrinth begins, presenting some otherworldly experiences courtesy of the various insects that are similarly making the most out of a bad situation. Unfortunately, the story's commencement is met with a visual style that is quite irksome. With the introduction cinematic presenting comic-book style graphics, it seems ill-fitting to have character models and certain objects in 3D during game play. It's noticeably juxtaposed to the background environment and also makes the various cut scenes feel slightly disconnected.
Thankfully, 3D graphics are effectively utilised through the use of anti-gravity in Jim's movements. The ability to walk on any flat surface in the environment has several benefits; it widens the environment's potential, presenting further hidden items and ways of surveying different areas; it adds a new layer to the puzzle-solving premise of the game through the alternate paths available; and lastly, it adds further interest for the player – I found it a startlingly enjoyable and unusual way to explore, and was something I haven't yet experienced in the point-and-click genre, of which exploration and discovery is key.
The game's setting is a notable feature, as well as this unusual method of exploration. Even the small tunnels connecting different areas add to the sense of vastness that the underground environment presents, made more impressive when you hold spacebar; doing so zooms the camera out slightly, allowing you to see the wider surroundings and the various routes you haven't encountered yet. The lack of any real gravitational awareness you gain as a result of being a wall-climbing cockroach is emphasised, as there are tunnels and rooms spanning in many directions from where Jim is stationed at one time.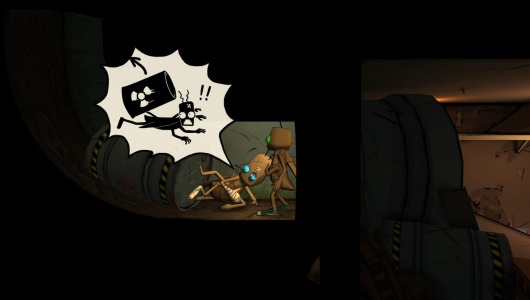 Another element treated quite differently by Koboldgames is communication. Rather than actual dialogue, Jim interacts with the player and characters through images and sounds, similar to The Sims franchise, where meaning is conveyed through images coupled with a fantasy language – similar to Simlish. Whilst this is another unusual experience in the game, it's not as successful as the use of anti-gravity.
Considering there is no in-game hint system, the player may rely on the character's instruction and what they say, which is often the case in point-and-click games. Therefore, solving puzzles in Journey of a Roach can be vexing. One such example occurs when Jim is trying to cheat some gamblers out of some items in a bar; to do so you have to carry out a set of interactions, first with the gambler, then with objects in your inventory amongst the bar environment. For me, it took several tries to understand what I had to do, and the input from Jim's speech bubbles when you mouse over points of interest were not helpful. This does add a layer of trickery that can be refreshing, but solving difficult puzzles can feel unrewarding when you don't actually feel as though you're contributing to the puzzle's solution; rather, it's aimless guesswork.
This is fairly disappointing, as it makes some of the puzzle-solving in order to rescue Bud less thought-provoking than it should be; and it does deserve to be. When you progress past tricky points, it's easy to appreciate the intricacies involved. For example, Jim's quest to retrieve his friend has him barrelling into an old lady arachnid's flat, just as she's settling some of her (presumably adoptive) baby fly's into bed. Chaos ensues, and Jim attempts to make up for his intrusion by collecting all the fly's together into a multi-hammock contraption. To do so, the player must solve a mini-puzzle for each in order to catch them. A memorable one was the circling fly, running around the floor, caught only by fixing the net hanging on the wall, positioning Jim in the fly's path, thus causing his run to be diverted onto a mini-ramp aimed at the net's opening. The reason I found this capture so entertaining was the indication that your control over Jim's movements is significant. It is very easy to feel detached from character's in puzzle games, as the interaction is usually focused between the player and the enigma. Jim's small presence in this mini-puzzle brought something new, and that is to be appreciated.
Appreciation for the characters increases throughout the game. This is odd considering their species; perhaps it's a result of their discernible yet earnest interactions. They have simple, uncomplicated outlooks, marking them innocent do-gooders, even if they are bugs. The depressed wasp, sleeping his life away, is actually a past captain who was beaten down by an ant army and stripped of his pride when he was stripped of his army coat. When Jim is flicking through this sorry case's diary, learning about his past, it's hard not to feel an irrationally sympathetic attachment to such batty, sweet natured characters.
Exploration is made much more enjoyable
Jim and Bud are very lovable oddities
Difficult to grasp objectives due to unclear dialogue
Graphic style can initially feel incompatible
Only several hours worth of gameplay
The puzzles are somewhat too ambitiously over-complicated considering the lacking hint system, and the visual style seems slightly mismatched and lacks consistency; yet this is matched by a unique exploratory experience and a story that is basic, short but isn't lacking in escapades and feel good sentiments as Jim attempts to rescue his friend, and maybe even his flower.
Review copy provided by Daedalic Entertainment
Official Game Site
Tags: adventure game, Daedalic Entertainment, indie, Journey of a Roach, Koboldgames, Mac, PC, point and click, Steam