After numerous attempts at licenced, episodic adventure games, Telltale Games struck gold when they adapted The Walking Dead comic into a game-of-the-year winner. The next game on their agenda is The Wolf Among Us, based on Bill Willingham's Fables comic book series. After just one episode, it is clear that they are on the path to success again.
• Developer: Telltale Games
• Publisher: Telltale Games
• Reviewed on: PlayStation 3
• Also Available On: PC, Mac OS X, Xbox 360
• Release Date: Available Now

Before launching the game, I had a limited knowledge of the Fables series. Thankfully, this did not affect my enjoyment of the game in any way. Episode 1 provides a comprehensive introduction to Fabletown, the fictional location in New York where all of the characters from your childhood now reside. They were ousted from their homeland by an entity known only as The Adversary. Taking refuge in our 'mundane' world, the fable characters have tried to eke out a life for themselves, disguising themselves using Glamours.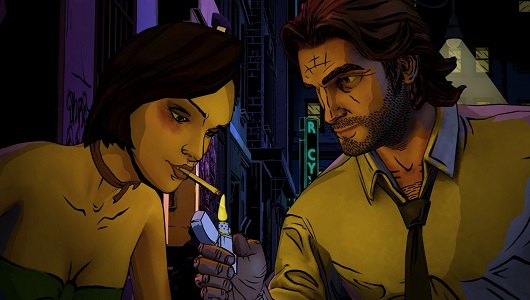 As the story begins, you take on the role of Bigby Wolf, the sheriff of Fabletown. He is tasked with keeping the other Fables from killing each other – a task you quickly learn is more difficult than it sounds. Like Lee in The Walking Dead, Bigby has a past he cannot get away from – but unless you were never five years old, you probably have a good idea what that past entailed. Some of the best moments in Episode 1 involve our titular protagonist battling not only other threats, but himself. Within minutes, you meet the Huntsman, Toad, Beauty and Beast, as well as Snow White. You learn that Fables who cannot control themselves or their disguises end up at 'The Farm' in upstate New York (described by many as a prison), or take a one-way trip through 'The Witching Well'.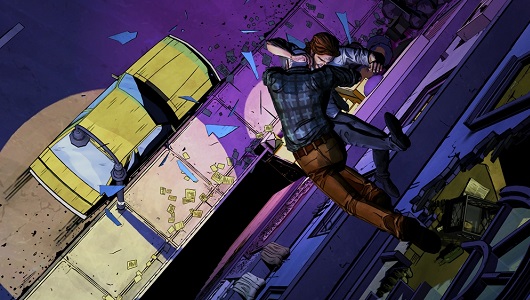 Using film noir-stylings, the mood and tone are set early on. The world of Fabletown is a less child-friendly place than you might think. Populated by thugs, pimps and ladies of the night, life in the real world has taken a toll on more than a few. Despite the first episode being only 2-3 hours long, the snappy dialogue and terrific voice-acting mean you pick up on subtle hints in the character interactions. Bigby's relationships with Snow White and Colin, one of the Three Pigs, are alluded to effectively without needing further explanation.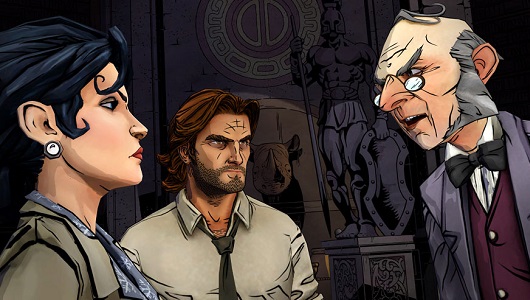 Due to the majority of the characters being spins on well-known fables, a lot of their character traits do not need to be oversold. Colin makes a quip regarding his destroyed house. The Huntsman threatens Bigby, stating that the last time they met, things didn't turn out well for Mr. Wolf. Although these may allude to a more fantastical history, they are sold as true by the phenomenal cast.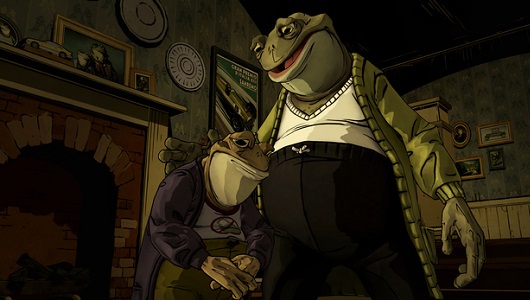 Unfortunately, the Achilles's Heel for Telltale Games remains the controls. Again, the prompts can come out of nowhere, and again, pressing a button often causes lag. At times, a pattern emerges where you begin to use analog stick movements to achieve a goal, then suddenly you have to press R2 instead. It always feels like you are battling the controls, rather than having them facilitate your progression. Some improvements have been made. For instance, instead of using the right stick to move a reticule and face buttons to perform actions (both using the one thumb), you are now asked to use the triggers, allowing you to adjust your aim more easily. Also, button prompts are far bigger, meaning they don't get lost in the action of a scene.
Intriguing story and characters
Superb voice acting
A refinement on Telltale's gameplay…
…but not enough to overcome its issues
If I'm honest, I enjoyed Episode 1 immensely but like The Walking Dead, I expect the real fun and games to begin later. When the gameplay starts to lean more towards the decision-making and binary choices, the story will be chugging along nicely and the control issues will be less prominent. At least they better be, otherwise I'll huff… and I'll puff…
The review copy of this title was purchased by the author.
Official Game Site
Tags: Mac OS X, PC, PlayStation 3, Telltale Games, The Wolf Among Us, Xbox 360